At the door of the premises located at number 5 Calle León (Madrid) hangs a blackboard with names of little-known wines. "I want people to read them and ask questions," says Amanda Leite Fornes, sommelier and Alma mater of Puff. This recently opened small space in the Las Letras neighborhood pays homage to natural wine and some of the leading figures of the new gastronomic wave in Madrid are passing through its kitchen. The reason? Not even its owner ventures to say it.
Leite is 30 years old, does not come from a hotel family and has a career behind him that began opening bottles at the Kabuki Wellington restaurant. She continued with Media Ración at the URSO hotel, where Fernando Cuenllas entrusted her with the winery, she went through Club Allard —when she had two Michelin stars— and ended up at La Caníbal de Lavapiés, where she stayed for three years. With the savings she did a master's degree in management at the Basque Culinary Center, upon returning to Madrid she rented this place and has set out to set up a "microtaberna", as she defines it, in which no more than 15 people can fit.
The greatness of the small
The idea of ​​Bocanada is to chat for drinks and that the clientele never finds the same. "I buy a maximum of three identical bottles and when they are finished I open new wines. I write the prices on the bottles in plain sight so that people get an idea and the glasses usually oscillate between 4 and 5.50 euros", he says. It also has a simple food menu, with a stew of the day (15 euros), a selection of cheeses from small cheese shops (half a table, 12 euros) -knowledge that he acquired while working at QAVA, one of the temples of cheese in Madrid- or a terrine of foie of chicken to the cut stick (9 euros). It also serves buns such as the rib, honey, red cabbage and coleslaw (9 euros) or the roast beef, melted cheese, gherkins and mayonnaise with mustard (9 euros).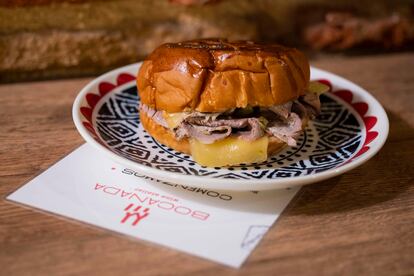 The bread they serve is from Moega, one of the best artisan bakeries in the capital, which is located on the same street and where they prepare the Swiss with which Leite makes a goat's milk French toast (6 euros). "My philosophy is to work with small producers," she defends. And she adds: "This is how I learned in Cuenllas and throughout my time at La Caníbal. In addition, I know the distributors because I have traveled a lot to production areas, I have held events with them, I have made wine, I have gone to their homes and I have become friends ", he emphasizes.
Events with chefs
The premises do not exceed 30 square meters and the part open to customers occupies a third. "Those from Chifa—a Latin and Asian fusion restaurant in Chamberí run by the Gil brothers—as soon as they entered they asked me where the room was," he says, laughing. But then some clients appeared, she gave off her hostess skills and these brothers not only left delighted, but also closed on December 1 to have a curry-themed night in Bocanada, her specialty. The same thing happened to Pablo Roncal, the chef at El Brote, a reference place to eat mushrooms in Madrid and whose date at Bocanada will be announced soon on his Instagram.
"All the cooks like the place because of the relaxation and because there is nothing imposed. It seems like a toy. Each chef dictates the rules of his day, I dedicate myself only to wine and I don't get involved in his food proposal. The agreement is that the profits from the food are for them and the profits from the wine are for me", explains Leite. As for the prices of these events, she does not want them to exceed 30 euros per person for food and offers a very wide choice of wines by the glass, with the usual prices in the tavern.
The next ones to make Bocanada their own will be the Gofio canaries. Safe Cruz and Aída González, chef and head waiter of the Michelin-starred restaurant, are preparing a 30-euro menu for November 21 and all the wines will be Canarian. "For me it is an incredible motivation", affirms Leite. And although she inaugurated these unique days with Chuka Ramen making sushi and Brutalista has also passed through here, the events are not exclusive to chefs. The world of drink has shown interest. One of the fashionable cocktail bars in the capital, Savas, took over the Bocanada bar last Tuesday offering four cocktails on the occasion of Sherry Week. "In the coming weeks we will do a tasting with a champagne distributor. Customers will pay a set price and we will leave the bottles on the table for them to try and serve what they want", says Leite. The rest of the nights, when there is no fuss, the neighborhood's customers inhabit the high chairs and let themselves be advised on unknown wines while they snack on something. Bocanada is a small place from which great stories are already coming out.
Bocanada (León, 5) opens Monday, Thursday, Friday and the eve of public holidays from 7:00 p.m. to 11:30 p.m. Saturdays from 1:00 p.m. to 4:00 p.m. and from 8:00 p.m. to 11:30 p.m. Sundays and holidays from 1:00 p.m. to 8:00 p.m. To book you have to do it by phone 606 65 60 83 and to find out about upcoming events you have to follow them on Instagram.
Subscribe to continue reading
Read without limits