Two kilos of clay are enough to build a botijo. But it took thousands of years and the wisdom of the artisans to perfect the object until it became an icon. Its refrigerator effect gave it a traditional leading role to prevent thirst, especially in rural areas. Today relegated to a secondary role, it has been replaced by refrigerators and plastic and its use now tends towards decoration, caprice or nostalgia. However, there is a handful of wise men capable of preparing them in a few minutes, without giving relevance to their knowledge. They do it above all in towns like Agost (Alicante) or La Rambla (Córdoba), while the new pottery tries to adapt it to the 21st century with aesthetic contributions and new uses that bring it closer to art. Sign of the new times, it has gone from showing a collective use of the crews in the countryside to an individual one in the city.
"poof", is heard in the workshop of Álvaro Montaño (53 years old), surrounded by jugs, when he drops those 2,000 grams of clay on a lathe that rotates at full speed. He only needs a few seconds for the block to take a rounded shape that he molds with his fingers and a small piece of cane. Born in La Rambla (7,515 inhabitants), he started at just eight years old in his father's workshop, the same one he still runs. With ten, in 1978, he won second prize in the local contest for apprentices at a time when there were 40 traditional potteries in this Cordoba town. Today there are only two left. One is his, which he runs together with his brother Antonio in the old-fashioned way. "We don't have machinery, except for the one that helps clean the impurities from the clay and cuts the pellets for each piece," explains Montaño, who also acts as president of the association that brings together 65 local pottery artisans. "Half as much as before the 2008 crisis", he affirms, to later make a gesture that has become heritage while drinking from one of his jugs. He repeats it frequently: in this town —where in 2017 they dared to launch a jug into the stratosphere— it is necessary to drink frequently: 40 degrees are easily exceeded in summer.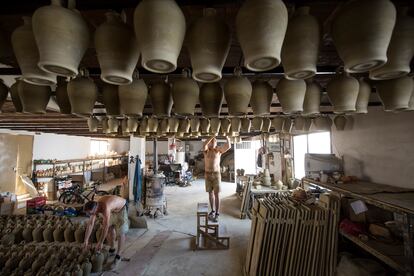 This potter likes to work with the radio on. It's an old car gadget cleverly repurposed and splattered with mud, like everything in this humble lair where magic happens. The Montaño brothers make almost a hundred pieces a day and around 15,000 a year. The roof of the workshop is full of jugs because that is where they dry. They seem to float in the air and offer the image of simplicity. They are all similar but never the same. And they will spend 24 hours in an oven that reaches a thousand degrees. They will then be ready to travel to where they are claimed, above all Spanish territory. Its capacity varies from seven liters —requested, above all, by field workers— to 0.5 liters, purely decorative. The medium ones, between two and three liters, are the most in demand. They are their flagship product, although here they also make money boxes, pitchers, vases, bowls, pots, mortars or even tiles.
fridge effect
This potter has several trucks of clay lying in the yard of the workshop. He comes from a quarry that has allowed the town to base its economy on ceramics over the centuries. It is the key material, since its porosity allows the jug what is traditionally known as sweating. That is, filter water to the outside of the container, which evaporates due to the effect of heat. Just the one that is stolen from the liquid contained inside, hence it gets cold. "They can cool the water even in full sun, since they hardly absorb solar radiation, and part of the heat due to the ambient temperature is dissipated by evaporation," the writer and mathematician Carlo Frabetti explained to this newspaper in 2015.
The mud hardly needs treatment. And this is exactly the same in La Rambla as in August (4,906 inhabitants), the two municipalities that are home to the vast majority of factories of this contraption. First, it is decanted with water to remove impurities in basins or other containers. Salt is also added —seven kilos per ton of material— so that it acquires consistency and its traditional whitish color is homogeneous. Later, the water is discarded and the mud is spread on the ground until it loses its moisture, when it is collected and stored under plastic. All that remains is to remove the small stones or pieces of lime impregnated with it, work that is done with a machine called a cookie maker. "We continue to use the same quarries as our ancestors because not just any land is worth it," emphasizes Pau Vicedo, eighth generation at La Navá Pottery, on the outskirts of the Alicante town.
"The jug is our emblem, but we have remodeled it with more contemporary forms without losing its functionality", says Vicedo. "It is an indisputable piece. It does not respond to trends and it is impossible to improve for what it is: drinking fresh water", he points out. In its facilities, six people make about 35,000 units a year of different shapes and sizes, many of which travel to Europe or the United States. There are elongated, flat, lobed or rooster-shaped. Always with a round handle, a trademark of this town, which contrasts with the one on La Rambla, which is square in shape. You can see the differences in the Agosteño Pottery Museum, where the botijo ​​is the protagonist. It is also in three of the most important museums specialized in the object: the one in Argentona (Barcelona), with 4,000 copies; that of Toral de los Guzmanes (León), which accumulates more than 3,000 pieces; or that of Villena (Alicante), which includes a thousand units from a multitude of Spanish towns and other countries.
new uses
These spaces should also look, once again, at La Rambla to expand their collection. It was there that Cerámicas Iván Ros was born in 2009, led by Iván Figueroa, 41 years old and a benchmark for the new generations that promote Rambleña ceramics. He has specialized in tableware, but last year he came up with a new product that has become one of his biggest sales successes. In the middle of the pandemic, he decided to open a hole in one of the sides of the jug and, after drying it, glaze it to offer different colors. He has turned it into an ice bucket. "It is now the best-selling piece on the web. Orders come to us even from outside of Spain", emphasizes Figueroa, who has patented the invention, made with the traditional clay of the municipality, but with an extra treatment so that it does not sweat and allows the ice to be kept inside.
The electronic commerce that Iván Ros has launched is an exception in a sector that still has an analog majority. This is what Javier Real, 46, from Jaen, does not fully understand with a company that is dedicated to services on-line and with which he decided to launch the Bootijo.com website in 2020. "We wanted to respond to those people who remember that they had a jug at home and want to buy one or prefer to give it away and don't know where to buy it," says the founder of the Objetivo 360 company. "We didn't do it to get rich: yes to keep it alive and give it the distinction it deserves, for the simple pleasure of promoting what is sustainable and ecological", he adds. The page has around thirty models for sale, including two exclusive ones: the model fitness and the bottle model. Many come from Álvaro Montaño's workshop, but he also has those made by artisans from Bailén (Jaén) and from the capital of Jaen itself.
Its greatest demand comes from Madrid, right where Valeria Palmeiro, better known by her stage name, was born 33 years ago., coco davez. In 2019 she wanted to transfer the memory of his childhood summers to art and she did it through the botijos. She devised the collection chaos and other lights with about thirty pieces that were shown in the Cocol store, in the capital, and sold out quickly. The project was based on the artistic intervention of pieces made, precisely, in the La Navá Pottery. It has not been the first to do so: last year, the Segovian artist Ismael Peña showed works by Dalí, Forges or Canogar who also used these vessels as canvases. Now, while Dávez prepares an exhibition in Los Angeles for 2023 and hopes to start the fourth season of his Participants for a Delirium podcast, he turns to a second collection. "I had a great time and I am surrounded by jugs in my studio", she points out while she highlights the "unusual" fact that there are towns where the craftsmanship of objects like these is still alive when it is a world that is dying. "The new generations don't even know how to use them," says she, who highlights the existence of artisans who maintain tradition and others who innovate. She long live the jug.