Dubai, Japan, New York and Ibiza. The chef Dani García has accumulated thousands of kilometers in recent months to strengthen his business group around the world. Hence, finding him at the Atelier, his headquarters in Marbella, is almost an exception. There he surrounds himself with cookbooks, blackboards full of plans for the future and photos from his student days at La Cónsula, a hotel school in Malaga. He works with one eye on the computer and the other on the kitchen while cursing the permanent sound of the radio from a nearby construction site, which has been playing for six months.
With that soundtrack, take video calls, check mobile messages, develop new dishes or take a leap to try something else. "I end up doing everything," he explains amused. "I can't even disconnect on vacation anymore: the team leaves me alone, but my head doesn't stop," says the cook, with a bad conscience if he escapes one day too many, as he did a couple of months ago at the British Golf Open, in Scotland.
Without too many holidays in sight and with a multitude of open fronts, García has opted for Marbella's Golden Mile as his epicenter of operations. That is where the Atelier hides, the embryo of everything, where the kitchen that he envisions becomes reality. "I barely cook anymore. I do it more in a psychological way: I think the dishes and I create the cards. My role is to give meaning to the brands and have things very clear to act as a beacon for the team. I think about everything and then someone executes it", points out the chef, who does spend more time cooking at home.
A step away from its offices is its Lobito de Mar restaurant and also Puente Romano, a tourist complex where Leña opened last year. This spring Babette did the same and last July, Alelí and Kemuri. They are three of his new brands. French, Italian and Japanese cuisine, all within a span of each other thanks to a business opportunity to acquire three nearby locations. In a few weeks it will be the turn of Tragabuches —already close to San Pedro Alcántara— with whom the man from Malaga wants to recover the house that he made known to him in 1998 in Ronda. His menu will include dishes from that time, such as oxtail ravioli, cherry gazpacho or jowls with shrimp and peaches. "Everything with products from the environment", he assures.
Relaxed, animated and happy, the cook is optimistic about the future. He welcomes the opportunity to put down roots in his city. His face appeared until a few months ago on an advertising billboard near Puerto Banús along with the motto From Marbella to the world. The base is on the Costa del Sol, but the group that the chef has formed together with businessman Javier Gutiérrez continues to grow internationally. It is enough to see his openings in the last two years in Doha, Madrid or London, as well as projects, not yet final, that could soon take him to Marrakech. The new Leña restaurants in Dubai and Miami have been confirmed, as well as La Chambre Bleue in Paris, all by the end of this year, when they expect to bill 75 million euros. The arrival in Amsterdam will be in 2023 and by then they expect to exceed 125 million in billing. "We could be based in Madrid or London, but we can afford to stay here. It is where we were born and where we want to be", says someone who remembers the winters of a decade ago, when there was hardly any tourism on the Costa del Sol. "The city has grown along with us and has given us the opportunity to continue investing in she. Here our new restaurants, it is the first touchstone ", he explains.
Since the blind of its three Michelin stars came down in 2019, the Marbella has opted to expand the portfolio of brands to ten, to which is added La Gran Familia Mediterránea —with 22 kitchens dedicated to food delivery— and El Pollo Verde , in United States. "The restaurant world is like Netflix: it needs a lot of content," says someone who believes that expanding the range of proposals has allowed it to adapt to different cities and countries. And, at the same time, it makes it easier for you to offer possibilities to different pockets. "The menus are wide and have exit doors for those who want to spend less," he emphasizes.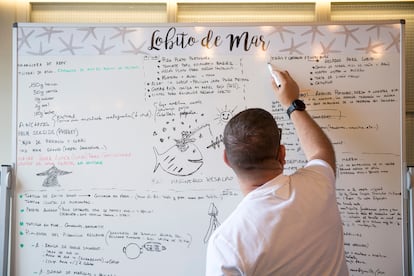 With thousands of daily customers, the financial muscle of the Dani García Group, which had a turnover of 40 million in 2021 and has 1,400 employees, makes things easier. "Now we can bring two of the best Italian chefs to teach us how to make pasta or go with the team to Japan to learn the keys to its gastronomy," insists the chef, who assures that his is an "honest" bet with the cuisine of each country. "Alelí is very, very, very Italian, with carbonara without cream, for example. And Kemuri, a Japanese respectful of Japan, without mayonnaise or strange things that are added to sushi here ", affirms who asks his team to be aware of the importance of a person spending their money in their restaurants. Also on the negative side: the constant exposure. "Thousands of people try something of yours every day and analyze everything for being you. 90% of the things I see on social networks is positive, but the negative 10% sucks more than the rest", points out who defines himself as "tremendously manic".
García says that traveling tires him, that the nerves and stress prior to each adventure around the world are traumatic for him, but that seeing the world has been key to his career. "Everything I am professionally has been given to me by travel. The vision we have of the company would not be the same if we had only stayed in Marbella", he assures. "Seeing the world allows us to see how small we are," he insists. He still doesn't have restaurants in a continent as large as Asia. Of course, he affirms that no matter how many times he has gone to New York or Paris, he has still not been able to step on the Statue of Liberty or the Eiffel Tower. "I'm always going to work", concludes he who asks the future for a wish: to have time to be with the family, play sports, travel or play golf. "There is nothing more beautiful and free in the world than having the opportunity to decide what you do with your time."
Subscribe to continue reading
Read without limits