The pandemic was going to make us better and it seems that, for the moment, it has made us more flexible and sensitive when looking for the human factor in the objects that surround us. At least that's what it seems in view of the design innovations that creators and manufacturers have recently released. Modular seats, ubiquitous coverings, options adaptable to each user and, with that look at people, present in the designs.
The maxim seems to be to observe how objects can have the power to make us, at least, happier. We could classify it as empathic design. These are some examples and keys of the season.
One sofa, many versions
A cube, a cylinder and a ninety-degree bent tube: never have three modular elements given so much play. They make up the Offo modular system, designed by Arnau Reyna, a studio formed by Ramón Arnau and Mariola Reyna. With geometric, rounded shapes and a soft touch, it offers the possibility of composing multiple configurations. It is an individual armchair, a bench for two with an intermediate cylinder (perhaps more suitable for hotels or offices, but no less attractive for this) or a sofa with two, three or infinite seats, because the number of cubic modules can be attached as desired. It is produced by Annud, and it was one of the most outstanding novelties at the Hábitat Valencia fair. Versatile and functional, it is also easier to transport when moving than a standard sofa.
the kitchen of the future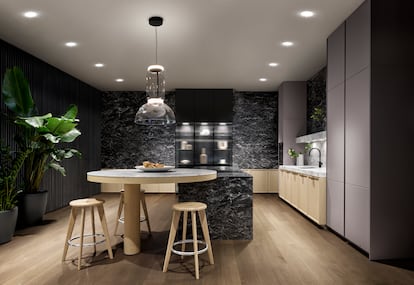 Minimalist, geometric and with floor-to-ceiling cabinets. This is Mondial, the new program to equip the kitchen from the SieMatic firm, which honors the famous motto of German engineering but this time applied to the kitchen. Oak fronts, solid limestone surfaces, strategic light points, plenty of storage space and fluted glass cabinets are some of the attractions of this novelty.
flexible light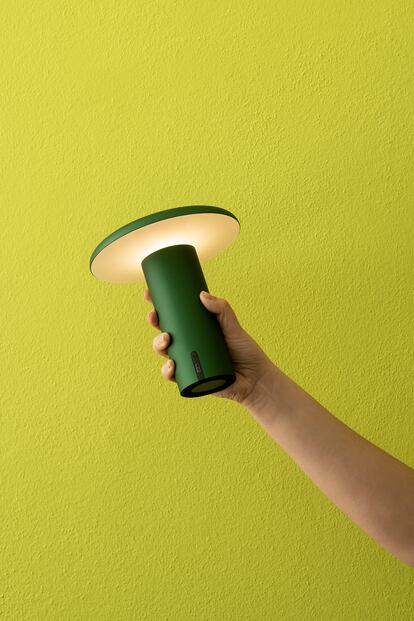 It's called Takku and, although it was released at Milano Design Week, it has already received accolades at national fairs such as Hábitat Valencia and InteriHotel Madrid. From the Artemide firm and designed by Foster+Partners, it is a portable luminaire with 20 hours of autonomy, very suitable for work surfaces or for reading because, although the beam of light is directed downwards, it is designed for perfect lighting performance and the light profile around its perimeter demonstrates this. Sober and elegant, like almost everything Norman Foster devises, the soft light it emits is added to the pleasant texture of anodized aluminum, to choose from in red, blue, green and gray colors or in classic lacquers, white or black.
Skin adaptable to surfaces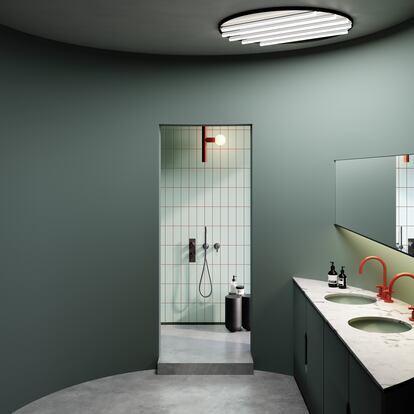 X-KIN is a flexible surface by Fenix, an innovative coating made from acrylic resins, suitable for covering kitchen or bathroom walls and other elements, such as pillars or columns, because it is applied vertically or horizontally. This material, which stands out for its soft texture and matte finish that hardly reflects light, is resistant to the sun and fingerprints. It is available in such inspiring colors as Rosso Jaipur Red, Comodoro Green, Grigio Londra Grey, and Grigio Bromo Grey. It is sold in rolls, it is installed like traditional wallpaper and, being very durable and even repairable, it is also sustainable. A plus: it is a product that does not leave a carbon footprint.
of a playful nature
This coffee set, which belongs to the Fête des Yeux (feast for the eyes, in Spanish) collection, eludes the traditional round shape of the plate and is completed with a cup without a handle that does not condition its use. It is made of porcelain and decorated with romantic floral prints that speak volumes about the man behind the design, Sacha Walckhoff. The creative director of the French fashion house Christian Lacroix has once again collaborated with the Vista Alegre porcelain firm to produce this collection that is also completed with fun table games, also in porcelain.
Looking at Japan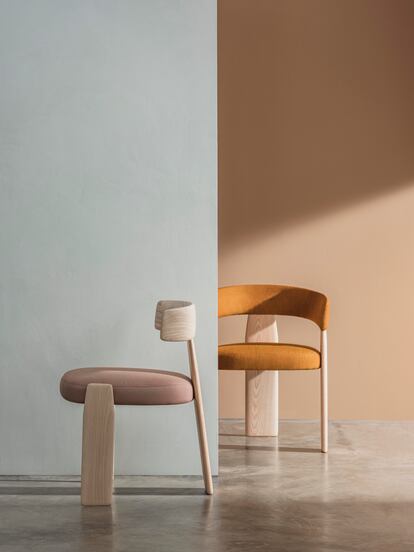 The architectural designer Patricia Urquiola signs the design of the new family of Õru seats, inspired by the aesthetics of the seventies of the last century and somewhat reminiscent of Japan. Its lines and contours can be reminiscent of sumo wrestlers or the obi, the girdle that adjusts the kimonos. As the creator's website announces, "it is an eco-designed collection created for the circular economy, with a minimal carbon footprint and designed so that all the components are easily separable and recyclable at the end of their useful life."
It is a collection made up of chairs and armchairs, available in two widths, and stools, these in two heights, and version lounge chair. All the seats are upholstered with recycled fabric and foams made from recycled fibers. The ash wood structure is supported by three unique legs, finished off in the shape of an oar, which gives it a totemic and solid appearance. It is completed with coffee, auxiliary, dining and meeting tables in different sizes. The Andreu World factory.
The human factor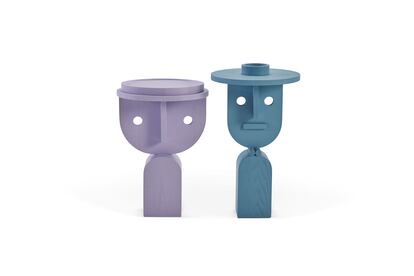 Sancal proposes the Faces side tables which, as their name suggests, represent friendly faces for an allied object in any corner of the house: next to the sofa, next to a lamp, flanking the bed, in the hall as a pocket emptier or as a base for a plant. They are designed by Nathan Yong and are made of oak wood, whose visible veins give it extra expressiveness.
limited series sculpture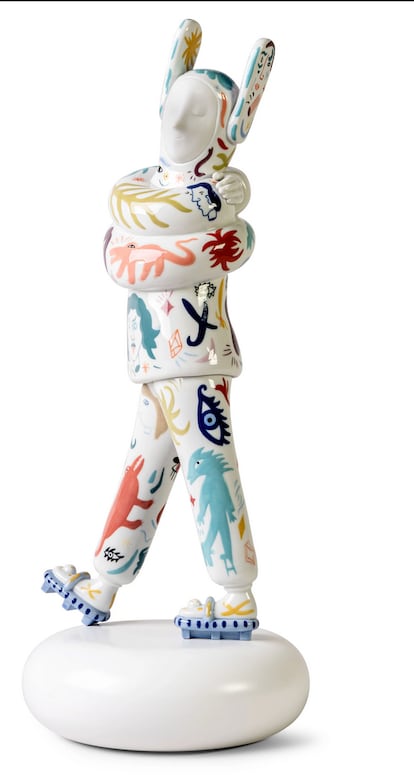 A decade after Jaime Hayon, 2021 National Design Award winner, designed the endearing character The Guest for Lladró, the new piece created by the prestigious creator for the Valencian publisher is called Embraced and wants to convey the idea of ​​self-care and harmony. This new character is made of porcelain with a glossy finish and is also available in plain colours, pink or yellow. A detail: it is part of the essential exhibition infinitemindthe first major retrospective dedicated to Hayon that is being held at the Center del Carmen in Valencia until April 16 as part of Valencia World Design Capital 2022.
bidirectional light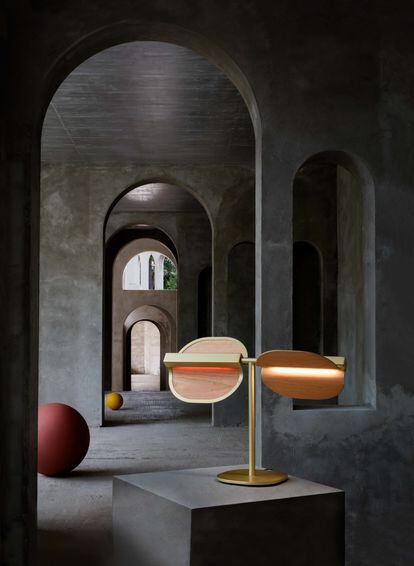 A lamp to create various environments; This is the Omma model from LZF Lamps designed by Eli Gutiérrez. It is made up of movable wooden sheets, edged with metal, that rotate 180 degrees to adjust and direct the light beams at whim. It exists as a suspension lamp, with two, three or four leaves, for example, to illuminate the dining table or rectangular or oval tables, tabletop, with one or two leaves (like the one in the image), and, in a wall lamp version, with a single leaf, with a hypnotic effect. The mix of woods in natural tone can be chosen in white, beech or cherry to combine them with matt metallic finishes in black, ivory and gold.
the magic of color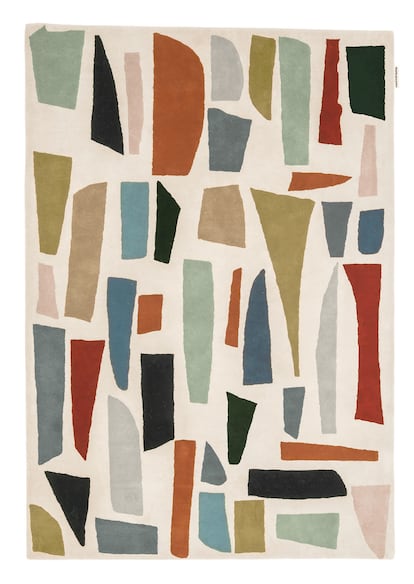 Color is the protagonist of the Tones rug collection created by the painter Clàudia Valsells for Nanimarquina, because colors influence mood and "provide calm and energy". The series consists of four models of rugs; one of them, Tones (in the image), is inspired by the tones of musical instruments to create a harmonious chromatic universe. They are available in two versions; hand tuftingin wool, and kilimin hand-spun Afghan wool.