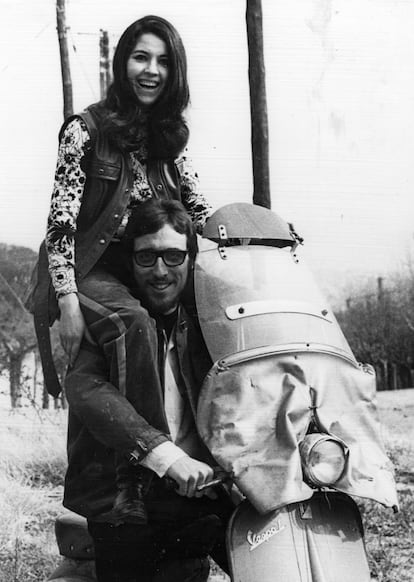 Eugenio Jofra Bafalluy was 24 years old and married to his girlfriend when one day he ran out of tobacco and crossed the street to buy a package of Ducados. In the bar he sang like angels about a 26-year-old girl, very pretty, with whom he had met when taking the bus. He approached to ask her name. Concepción Alcaide told him. Also where he was from, a small town in Huelva. "The most beautiful brunette in Sierra Morena," replied that man of almost two meters. It was 1965, the summer holidays had not yet begun, putting a cassette of his in the car; he had not yet reached that level of fame that allows a first name to be appropriated and anyone, upon hearing it, to know who they are talking about. Eugenio Jofra had not yet become Eugenio. Conchita was studying drawing and her passion was singing. It was with her that he finally married, in July 1967 and with some alliances that he had made himself.
"The artist was my mother. When they met, my father was a jeweler and it had never occurred to him to go on stage," explains Gerard Jofra, 53, the first child of the couple. The couple formed a musical duo: Els dos. She sang and he accompanied her with his voice and guitar. They performed in pubs in Barcelona, ​​participated in a Christmas carol contest, in the Eurovision selection… At the end of the performances, Eugenio told a joke. "And my mother knew how to see that he was the star. She stepped aside and let him shine in the spotlight," Gerard writes in a book he simply titled Eugenio. "The truth", he says today, "is that she made him as a man and as an artist. She was the first to realize how much fun she was. She didn't understand how he hadn't developed that gift, but he doubted himself a lot. Traveling with him, years later, when he was already well known, I still wondered: 'What if they don't laugh?' He had stage fright his whole life." One day, Eugenio Jofra Ballafuy had heard his father, Eugeni Jofra Pau, say: "You will do nothing in life."
Conchita fell ill with cancer. She had a breast removed, she made her new musical project compatible for months, tramuntana, with chemotherapy and children. It seemed that she had been cured, but a year later, there was no going back. Eugenio began to go out more at night. "My father was a big boy. He didn't know how to face it. For him, she was everything and I think she behaved like this out of fear, fear of seeing her suffer, "explains Gerard. "The night before my little brother Ivens's communion, he took us to dinner at a restaurant and said, 'Mommy won't last much longer.' The next day, after my brother received communion, she stopped breathing." Eugenio was then 38 years old. His children, 11 and 8. It was 1980.
The day Conchita was buried, she had arranged a performance in Alicante. Eugenio took the car and left. "At that time, for him, going on stage was the best way to thank my mother, who was the one who owed her success. He dedicated the performance to her. I remember that day perfectly because I stayed to sleep at my aunts' house and nobody understood anything. I don't even want to think about what that trip must have been like for him."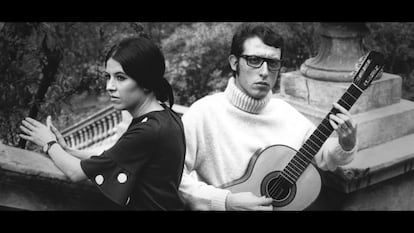 It was not the last time that he went on stage broken to make others laugh. Because Eugenio was a very funny man, but also sad and fragile. It was this singular mix — he presented himself seriously, always in black, as if he had just left a funeral — together with a masterful and revolutionary use of silence, that is, of pauses, that fascinated the public. Once, in an interview, he said that he would like to be Tom Thumb, because he would be very small and no one would see him. The genius wanted, sometimes, to go unnoticed, but it was no longer possible. Overnight he went from charging 10,000 pesetas per performance to 400,000 and signing autographs on necklines and napkins. "And if it wasn't right, it didn't matter, he made people laugh. I remember one day when he felt bad and in the hospital they had to catheterize him. He first got on a plane and then on stage with a bag and no one knew anything, "Gerard recalls.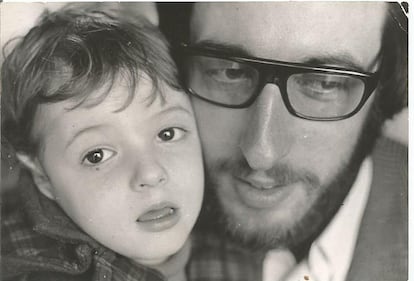 One afternoon at the bingo, where he liked to go to have fun, he meets the mother of his third child. She is also Andalusian, pretty and dark-haired, and her name is Conchita, like her first wife. in the documentary Eugenio, by Óscar Moreno, Xabier Baig and Jordi Rovira, she recounts that he told her: "If you give me three bingos, I'll marry you". She gave them to him. They did not marry, but they were together for 12 years. "She appeared in our lives shortly after my mother passed away. He wanted to give us a family (Conchita also had a son from a previous relationship) and I know that he loved her very much, but life sometimes takes you places…", explains Gerard. They built a house in an urbanization in the woods 50 kilometers from Barcelona. The absences began to multiply and lengthen. In 1993, the couple broke up. "My father," Gerard explains in his book, "he was a tightrope walker, the best of all time. But when he came down from the wire and stepped on the ground, his life was a disaster ".
For years she had seen him more on television than at home; Sometimes, the Three Wise Men did not arrive on January 6, but days later and with the extra generosity that guilt brings. But when he turned 14, Eugenio's eldest son became "the road manager youngest in history. "My father was my father, and also, an artist. He shared it with the whole country, but for me it was something natural. Eugenio belonged to everyone and the 'Saben the one that diu…' It was not Catalan, it was universal. I began to accompany him on all the trips. She knew what he was thinking just by looking at him. Sometimes he would ask me at dawn to go buy him tobacco or other things or he would wake me up so that I could meet someone. He had to see and hear things that because of my age it was not for me to see or hear, but those were life lessons. He never hid anything from me. And until the last few years, when things appeared that I had seen before but he had not, he was a professional. I knew that if it came to that, my father wasn't one for middle ground. He was a man of extremes".
– It refers to the drug.
– Yes. For years he hadn't tasted it. She didn't need anything to work. I suppose that she fell there to camouflage shortcomings, fears…
Eugenio was "very hypochondriac", but he gave himself up to self-destruction and isolation. A heart attack separated him from the stage in 1990. He got depressed. "There were many things: fear, insecurity, my mother's death, her sense of responsibility… It was tremendously funny and tremendously depressing," summarizes Gerard.
He met another woman who, according to his eldest son, "took him away from the world." "We no longer had access to him, he didn't even answer the phone." In 1997, he married her, on a boat. Gerard says that, at first, he refused to attend "the worst performance of his life", but finally he did. "I went up to him, wished him what I knew was impossible, and walked away," he recalls in his book. Economic needs forced Eugenio to return to the stage, but he was no longer the same. When Gerard had his first daughter, Andrea, he called him to give him the good news. "It was half past one in the morning, he was at home, alone, and I noticed that he was a bit tired when I told him: 'You're now a grandfather!' The next day he came to the hospital to meet the girl. He wanted to talk to me and I sensed that it was not good at all. He told me that I no longer needed him, that he had no strength and that he wanted to leave. Gerard had his blood pressure and pulse checked. Everything seemed in order. "I told him that of course I needed him, I hugged him, but that day, when I became a father, I also said goodbye as a son. He chose the moment when he saw me as the strongest, when I had just brought a little person into the world and had this great responsibility. That night in March 2001, at a dinner, Eugenio collapsed and died in the arms of a friend. The doctors would say that he had a heart attack. Gerard, "sorry." He was 59 years old.
"He never got over my mother's death," he recalls. She "She deceived herself, she hid that pain with other things, but she didn't recover. For years she carried her ID in her wallet and her wedding band hanging from the chain with that cross that she never took off. "In his life he had a great time, but I say that he died of grief because in recent years he was very aware of his mistakes, of what he had left on the road." A production company has bought the rights to Gerard's book, which Albert Espinosa will turn into a film script. Eugenio's first son, who now has his own comedy show, knows what kind of movie he would like to see. "My father's is, above all, above anything else, a love story."