Montse Vela caresses her 38-year-old baby with the tenderness of the first day. With her index finger, she brushes her forehead, her cheeks, tracing random lines all over her face until going down her belly and ending in the tiny hands that she embraces with her little finger. The girl, named Alondra, outlines a half smile, and without blinking or flinching she stares at Montse while she is combing her blonde hair while she blurts out:
-You are a vain!
The 60-year-old woman waits with Alondra in the shade of a tree in front of the Puerta de Alcalá, where she has met some other friends to play on Saturday afternoon with their babies. reborn, hyper-realistic silicone or vinyl dolls that imitate the appearance of a real baby. Around him, dozens of fathers and mothers with children go in and out of the Retiro park trying to deal with the tears that emanate from the maxicosi. However, both Montse and the rest of the women who are joining the meeting do not hear any moaning from their children and just greet each other with joy.
Two American tourists from Seattle (Washington) sneak up and stand petrified in front of the baby carriages. Marga López, 62, organizer of the event, discovers them and asks: "Do you want a photo?" (Do you want a photo?). They, somewhat nervous, nod in agreement and take out their iPhone to start photographing each and every one of the dolls with the burst mode of the camera. "Many people have not seen this in their lives. They stop us as if we were famous every time we go out, "says Marga while she takes care of Margarita, a baby in the shape of an alien, in her arms dressed in a white polka dot dress and a headband that helps to highlight her black and bulging eyes. The little girl is not hers, but her sister Mari Carmen López, 57, with whom in October 2018 she started the idea of ​​periodically meeting lovers and collectors of the reborn.
The group forms a line and crosses the Retiro to the astonishment of those present. "90% of the messages we receive are positive. There is always someone who calls us crazy, or tells us that we are dragging the dead. Everyone sees what they carry inside, whoever has sensitivity knows how to value it for what it is: an artistic object", explains Marga, an official of the Madrid City Council. Lopez found in the reborn the way to materialize a desire that has been with him since he left childhood behind, when "due to maturity" he abandoned his toys.
What affects the most is what happens closer. To not miss anything, subscribe.
subscribe
"We are not deprived people, many of us have children, grandchildren, and we are happy with them. This is not a substitute for anything, we know that they are not real babies, we do not give them the breast or bathe them, it is a playful object ", she points out. "We claim the female right to play at all stages of life. Women are not educated for the game, it seems that we must always maintain our composure when we are adults. The man can spend the whole afternoon playing video games and nobody is surprised. We have freed ourselves from 'what will they say' thanks to babies", she says.
In the rear, Luisa Molló, 58, and Nani Abarca, 54, slow down and separate a few meters from the group. "Will you take my car?" asks Luisa. "I want to have a cigarette and if people see me with the cigarette and the child, they later accuse me of being a bad mother", she affirms with irony. Next to her, Nani smokes without complexes and offers her a light. Her green eyes are the most tired of the party. She lives in A Coruña, yesterday she caught a bus at half past ten at night that left her in Méndez Álvaro at half past six in the morning. "Today I am leaving again, I come expressly for this. Babies provide company, but the raison d'être of this hobby is the friendships that are born. No matter the distance, one likes to be with their likes, "she says. In her hands she holds Estella, one of 35 babies in her collection. "The most special", according to her.
With a flattened nose, small ears and slightly slanted almond-shaped eyes, the girl shows the physical characteristics of Down syndrome. "These children are my weakness, I have lived a large part of my life with them. They transmit a sweetness and superior love to you. Not all dolls have to be cute boys and girls with the perfect smile. We must also attend to diversity ", she assures. Nani does not take her eyes off her "spoiled girl", and on the way to the hotel where they will spend the rest of the afternoon, she sticks a magnetized pacifier with the Mickey Mouse logo on and off her mouth while pressing a small speaker on her belly that imitates laughter and crying.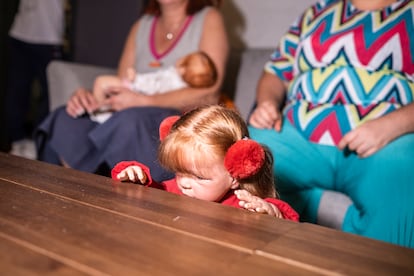 At the Hotel Vincci Soma, on Calle Goya, they are having a wedding, but no one is looking at the newlyweds. The line of baby carriages queues for the elevators to go up to the first floor. "They're fake!" exclaims a woman accompanied by her adolescent son who looks at the dolls with reluctance. "They are not bad," admits the young man. In a small library room of the building, the first meeting of reborns in Madrid since the end of the summer. Hotel employees arrive with trays of sandwiches mixed drinks, soft drinks and some sweets.
As if they were entering a nursery, they carefully avoid the cars and babies that are sitting on the floor or in the armchairs. There, as in the gatherings of any group of friends, they talk about everything and nothing. The women exchange opinions about the babies and catch up on their lives. "Clothes always from Primark, good, pretty and cheap," says one. Many are dedicated to the sale of the dolls, they paint and decorate by hand every detail of their bodies according to the customer's demand. They use natural hair mohair who graft hair by hair on the temple and then glue them inside the skull with heat-sealable paint. "This is the fundamental part for there to be a feeling of realism," says Marga. Prices range from 250 euros onwards, depending on the quality and exclusivity of the piece, usually made of silicone or vinyl.
During the snack the dolls go into the background. "The best of reborn It is that they neither grow nor complain. I don't like children, I've worked all my life as a make-up artist in hairdressers and when a child arrived I went elsewhere", admits Montse, who has her trade in her blood and cannot avoid combing her hair with a toothbrush. those most neglected babies. "When I see that they bring them with crazy hair I condemn myself. There are hands that deserve sticks, "she declares in small committee.
Spontaneous games arise such as the potato game. The afternoon goes smoothly and, nevertheless, there is something very important that disturbs Marga. "Will it sound good?" She asks a colleague, referring to her mobile phone. She wants to surprise the group and play the anthem of the reborn, although the noise of the wedding that is celebrated in the adjoining room makes it difficult to aim. "It doesn't matter, you turn it up to the maximum and, if it is not heard, we sing it a cappella", he asks his sister.
-Silence! This goes for all of you. May we never forget…
A barely perceptible instrumental roll paralyzes the room until the first verse unleashes jubilation:
people point at me
they point the finger at me
whisper behind my back
And I don't give a damn…
The group forms a conga in the room with the babies in their arms, who shake their heads from side to side until their hair is completely disheveled. The desire to continue playing has joined their paths and to the four winds they launch their war cry so that no one forgets:
Who cares what I do?
Who cares what I say?
I am like this, and I will continue like this, I will never change.
subscribe here to our daily newsletter about Madrid.