Japanese fashion designer Hanae Mori, known as madame butterfly For her butterfly motifs and for becoming the first Japanese person to be considered an official haute couture designer in Paris in 1977, she has died at the age of 96, her studio reported Thursday. Mori, who gained international recognition for her themed designs East meets West (East meets West), died on August 11, added his study, which did not provide further details.
Born in Japan's western Shimane prefecture in 1926, she moved to Tokyo where she developed her career, eventually dressing the Japanese Empress Masako in her wedding parade in 1993. She studied literature at the Tokyo Women's Christian University, but She decided to reorient herself towards fashion after marrying Ken Mori, a manager in the textile industry.
At the age of 25, in a Tokyo reborn from World War II, he opened his first store, Hiyoshiya, in the Tokyo district of Shinjuku, in front of a cinema. And it was lucky: coming out of a movie, a Japanese director noticed his designs and commissioned the costumes for his next movie. film, the first of hundreds of Japanese feature films that he would collaborate on. After these beginnings linked to the big screen, her career took her to New York and Paris, seeking inspiration by exploring as a client in the galleries and haute couture stores. So she went to Coco Chanel's studio who, after quickly studying her Japanese client, suggested a bright orange outfit to contrast with her jet black hair. That advice perplexed her and became a revelation for Hanae Mori: "The whole Japanese concept of beauty is based on concealment (…) I suddenly realized that I had to change my approach and make clothes that would help women to stand out," he later explained.
In 1965, he held his first show abroad, in New York, under the name East meets West and that drew attention for fusing traditional Japanese kimono designs into Western-style dresses. Twelve years later, in 1977, she opened a haute couture salon in Paris, becoming the first Japanese person to join the Chambre Syndicale de la couture in Paris and thus being recognized as an official haute couture designer. He kept his studio in the French capital until 2004. Mori also designed the uniforms for the Japan Airlines flight attendants, where he introduced the miniskirt, as well as the official uniform for the Japanese delegation at the 1992 Barcelona Olympic Games. Japanese women, one of the few to head an international corporation.
Mori, who was already retired, still ran some stores in the well-known fashion Harajuku neighborhood of Tokyo, as well as her perfume brand, still active and manufactured in France. Her death comes days after the death at the age of 84 of the Japanese designer Issey Miyake, internationally known for his creations that combined Japanese tradition with avant-garde materials and cuts, was announced.
Her star design was the butterfly, which can be seen on many of her garments, and earned her the nickname of madame butterflyan opera for which he also designed the costumes during his career, in addition to others such as electraor ballets and musicals like the Japanese productions of Cinderella either Avoid. He also designed for operas that were staged at La Scala in Milan and for the ballet at the Paris Opera.
In addition to dressing Empress Masako, his clientele also included Princess Grace of Monaco, former US First Lady Nancy Reagan, and other celebrities, leading to his being awarded Japan's Purple Ribbon Medal of Honor, the maximum cultural decoration that is awarded for important contributions in the world of arts, sports and technology. In 1989, Mori also received the French Legion of Honor, the highest distinction in this country and which is given to French or foreign citizens for merits in the civil or military field.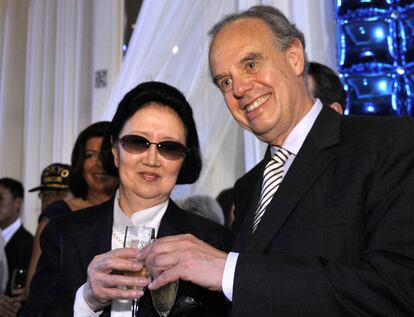 The designer used to highlight the need to transmit to the new generations "the importance of craft creation", pointing out that "the capacities of the human being are disappearing in this age of information technology". "When human beings work with their hands, their creative capacities are amplified," she told AFP in 2006.
Last January, Mori summed up his feelings on the fashion industry in a special column for the Japanese newspaper Yomiuri Shimbun. "Fashion is something that pushes you, gives you the courage to spread your wings and allows you to have adventures," she wrote. At its height, Mori's stylistic and commercial empire occupied an entire building in Tokyo, designed by architect Kenzo Tange, but it was later torn down and replaced by another structure, with typical Japanese speed. From the loss of the building to the departure of his couture fashion house, "it wasn't all positive," he reflected in the column. "It was like my butterfly wings were ripped off. But this butterfly was able to fly around the world for 70 years because I loved making clothes."