It is one of the temples of seafood in Madrid. An almost secret address, with some clear signs of identity: the excellent product that arrives daily from the Galician markets and the restrained price of the goods with which they work. A recipe that has worked for them since the sixties, when Salvador Ramos, from Sanabria (Zamora) and grandfather of the current business owners, opened a bar in the Tetuán neighborhood. He had worked in his youth in O Grove (Pontevedra) and from there he took his love for seafood and fish. Without any pretense, he began to offer shrimp, some mollusk or hake. Little by little, a niche was made in the area, where small industrial companies and printing presses proliferated. They had a menu of the day that was in high demand by the neighbors, which disappeared with the arrival of the next generation.
In 1991, the son of the founder, Alfonso Ramos, and his wife, Maxi Ramos, took over the reins and transformed the business, eliminating the bar service and turning it into a restaurant, La Castañal. There it continues, in the hands of the third generation, the twins Alfonso and José Pedro Ramos, 45 years old. At the age of 18, they were already working on the premises, parking customers' cars. They were always there, but it wasn't until 2016, when the parents got older and the parent got sick (he died three years later), when they stopped their jobs —one had a perfumery and the other, a chip and pickle shop— and They take full control of the business. They begin to make small modifications: "To improve operations, so that the person sitting at the table did not notice it at first, but in the end they ended up realizing that something had changed," explains José Pedro Ramos.
What they did not touch, nor do they intend to, is the letter. It works for them. Because what the customers (they have very loyal ones) who come to this house are looking for is a fresh, quality product that is hardly handled, which the chef Manuel Villegas takes care of. The preparations are simple: either cooked or grilled. "We wouldn't be successful if we did other things. We do well what we know how to do and why are we going to innovate", explains Ramos.
The premises, with capacity for about 40 people, have become an embassy for Galician products in Madrid at affordable prices. Thus, for example, they offer generous portions at their point of pan-fried clams for 19.80 euros; the cockles, at 18 euros; the brown crab, at 45 euros per kilo; shrimp, at 130 euros per kilo; the carabinero, at 125 euros per kilo; or king crab and king crab from the estuary, at 63 euros per kilo. Of the latter, they dispatch more than 500 kilos per month.
Other outstanding dishes, in addition to the Galician broth that serves to tone the meal (5 euros), are the cockle empanada (9.50 euros); crabs (54 euros per kilo); the Galician-style hake (21.80 euros), prepared with a slight boil and accompanied by a juicy potato, also from Galicia, with turnip tops and a garlicky paprika; the neck of hake (21.80 euros); turbot Galician style or back (23.80 euros). In season, they always have lamprey from the Miño river. For carnivores there is Galician veal, in ribeye format (29.5 euros) or entrecote (19.5 euros), and pork shoulder with turnip tops (19 euros). The brooch must be put on with a pancake filled with cream (3 euros).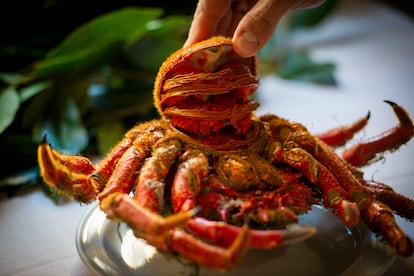 The cellar is discreet. The wine list is not overwhelming, it is dispatched on a single page, and it contains a repertoire of Galician white wines, at discreet prices, as well as a small selection of recognized labels from other denominations of origin. The champagne offer is limited to four of the most commercial brands, as well as cava, of which they only have a single reference. They have great success with the house Albariño (16.90 euros), which a Galician producer has been making for them for more than three decades and of which they sell more than 4,800 bottles a year.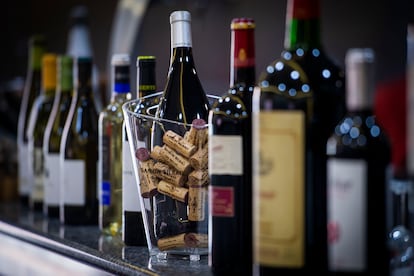 They assure that they have no competition in Madrid: "There are not so many seafood restaurants that offer a quality like ours, with some we even have the same suppliers, at the price we have." Seafood is expensive, warns Ramos, but they have an advantage. The local, small in size, is owned, which allows them to save "the large rents that are paid in the capital", and the staff is made up of seven people, "so this expense is also adjusted". All these ingredients make this house a stable business, where traditional cuisine is extolled, without fuss.
Subscribe to continue reading
Read without limits