Plastic can take up to four centuries to disappear. So why not come up with the best way to creatively give it long life? Despite the fact that Spain is the fifth country that recycles the most waste (60.5%), compared to the average for Community Europe (39.2%), the percentage of plastic that is effectively reused reaches only 9 %. Therefore, recycling is not the solution. What is desirable for the planet is to reduce the consumption of virgin and single-use plastic materials, but the current situation, once the garbage is generated, requires preventing it from reaching the environment.
Some analysts suggest that recycling contaminates more than manufacturing a new product because it is necessary to consider the cost of energy, water and transportation generated by the entire process involved in recovering plastics, which, moreover, are of different types and cannot be mixed. At this point, what can be done with plastic packaging? Art, design and crafts are the answer, and creators, artists and companies are decidedly involved in not being part of the problem. Here comes into action a word that goes beyond recycling: upcycling, a process of creative reuse that consists of transforming by-products, useless or useless waste materials into products of equal or greater quality or utility and, therefore, with greater value. ecological. This word coined by the architect William McDonough and the chemist Michael Braungart, parents of the Cradle to Cradle seal, is key to the future of the environment.
Thanks to the creators, these containers destined to be mixed with the rest of the waste end up being converted into an armchair, a side table, a lamp and even a headdress, like those made by Candela Cort with containers that are exhibited in the Madre Natura exhibition, curated by Teresa Herrero and open until April 9 at the Fernán Gómez Cultural Center of the Villa, in Madrid. In Spain, Oiko Design Office, Alejandra Gandía-Blasco and Rocío Gambín, Ainhoa ​​Garmendia with Mazedonia Design, Nagami Estudio and Helena Rohner are just some of the creators who investigate and work to finally reinvent objects from plastics that transform faces to new applications.
Industrial design engineers from the Elisava school in Barcelona José F. López-Aguilar and Salva Codinach are the founders of Oiko Design Office, a design consultancy specialized in "the analysis of the environmental footprint, the development of materials and the circular economy that accompanies the main design companies in Spain in their transition towards a more sustainable production", according to what they say. biography of a chair is one of his projects, consisting of 27 seats made from recycled plastic from detergent containers and turned into unique pieces, halfway between design and art. The result is sculptural and the video of its manufacture is hypnotic. A mass of randomly colored plastic goes through a process that, at the end, presses the material to result in a unique piece that retains the aroma of washing machine soap for several days. "The resulting burr demonstrates the honest process, without manipulation, and makes the chair more comfortable and expressive," explains gallery owner Xavi Franquesa, from Il.lacions (Barcelona), where these chairs are exhibited and marketed.
For Franquesa, at Oiko Design Office they understand recycled plastic "as a material with its own meaning, with a language that enters the domestic sphere and with its own aesthetic code". They redesign and produce, but, at the same time, they create an integral procedure that connects the designer with the operator. According to its creators, "although plastic is the quintessential industrial and synthetic material", design can take it beyond homogenization and turn it into a unique object. "Matter with its properties, the industrial process with its determining factors and the person with its will govern the process and express themselves creatively, emotionally and physically," they warn.
In addition, Oiko Design Office has manufactured 8′33′', a series of basic household equipment designed for a nomadic lifestyle by ARO, acronyms that respond to the names of Alejandra Gandía-Blasco, Rocío Gambín and Oiko Design Office. Promoted by the Gandía-Blasco Group, it is exhibited until March 19 in an exhibition at the Carmen Center for Contemporary Culture in Valencia under the name Scenarios of the near future. Curated by the journalist specialized in design and architecture Tachy Mora, it consists of pieces of recycled material developed by Oiko Design Office from detergent and soap bottles with aesthetics inspired by different types of marble.
Its name corresponds to the 500 seconds (converted to minutes) needed to assemble the entire collection and its design is based on a grid created by Thomas Lommée, promoter of Open Structures, an open design platform. The pieces are easily assembled and disassembled by means of a press fit made with grooves, so they can be transported in flat packs, hence its nomadic design quality. According to Alejandra Gandía-Blasco, they are part of some pieces that he co-designed with Rocío Gambín for Lommée in a workshop of the Hannes-Meyer Campus in Berlin, "following its grid opensource, that allows to assemble different types of furniture".
Another Spanish creator with great international projection who transforms plastic through design is Ainhoa ​​Garmendia. Trained at the Fábrica design residency in Treviso (Italy), she has been working with Mazedonia Design for years. They consider themselves "plastic craftsmen" and their job consists of recycling packaging remains contributed by both anonymous people and companies and deposited in the Tabakalera center in San Sebastián. In this space for the promotion of art there is a workshop open to citizens that has 3D machines and printers, made by the Precious Plastic collective of the Netherlands, which allow the transformation of waste.
Mazedonia Design creates domestic objects, such as stools or the lamp donut, but also surf fins or swings. In fact, they just exposed plasticizer, an itinerant exhibition of their works that they have developed for the Bangkok Design Week. The name of one of the pieces, Plastic Cake, says a lot about the "creative process carried out with ovens as a way of working similar to cooking", says Ainhoa. This study is focused "on the practical experimentation of materials throughout the design process, in order to learn why materials matter and the importance of craftsmanship." They are ambassadors for Precious Plastic in San Sebastián, where they create and lead workshops to expose the work of recycling plastic and thus share it with citizens.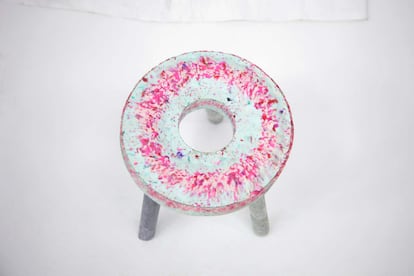 The jeweler Helena Rohner joins the upcycling with side table series uda. Created together with product manager Nadia Arratibel, from the Ondarreta firm, it consists of a metal tube base made from a material composed of post-consumer polymers and recycled materials, such as plastic caps, which thus extend their useful life. These manufacturing materials that reuse containers have the particularity of giving the designer the possibility of creating unique pieces because it is impossible to control the process and achieve homogeneous and regular finishes. "This lack of uniformity, far from being a problem, is part of the identity that makes this material and these tables special," says Ondarreta. The PET lid with a smooth and matt surface, in addition to being suitable for indoor and outdoor use, is easily repairable with paper and sandpaper, thus the useful life of uda it stretches much longer.
As proof of the involvement of companies with sustainability, the theme of the 21st International Design Competition, from the furniture firm Andreu World, was focused on the circular economy. And, precisely, the project called Link 8:16by industrial designers Werfil Davicino and Iñaki Gorostidi, from Córdoba (Argentina), won second prize "for its interesting construction process in recycled plastic, flexible to build different structures and highly scalable to manufacture in different magnitudes and with many uses, very versatile and that provides a solution to an existing problem: avoiding a large amount of plastic", according to the words of the jury.