Looking for a life in Portuguese fashion, the showcase for David Catalán and Víctor Huarte from La Rioja
There are barely 24 hours left for the presentation of his autumn/winter 2023-2024 collection to close the 52nd edition of Portugal Fashion, the biannual showcase in Porto where Portuguese fashion exhibits its stripes as a textile powerhouse, and David Catalán does not have them all with him. "Here they have dinner early, so we'll see if people come back to see me," he jokes, although it is not appropriate in view of the circumstances: he had to parade at ten o'clock on a Saturday night and, on top of that, occupying the place of the superstars Alves/Gonçalves, who this season have left without Show to their multitudinous parish for the benefit of the business (they are developing a complete line for a hotel chain). "Of course I am already a Portuguese name", Catalán intervenes. What an ace up the sleeve for this designer from La Rioja.
A native of Alfaro, Catalán has made his eponymous firm a prosperous business reality on the other side of the western border. He arrived a decade ago to round off his training at the prestigious Escola Superior de Artes e Design (ESAD) in Matosinhos, and today, at 34 years old, he can boast of industrial, institutional and commercial support. "The facilities that you find in Portugal to produce cannot be found anywhere else. Even I myself now produce for third parties. I always have a house full of Spanish friends who come looking for factories or fabrics. The minimum orders from the factories are not yet nonsense like in Spain, "he explains to EL PAÍS. The first news we had of him as a designer dates back to 2014, when he won the Ego emerging talent award, the day for new creators at Mercedes Benz Fashion Week Madrid. But it was the Lusitanian incubator-program, Bloom, under the umbrella of Portugal Fashion, that gave it meaning as a label: "I was already studying here when I won Ego, where I continued modeling for three more years, but I didn't see the point of staying in Madrid without have a trademark.
His decision to settle in Porto for personal/sentimental reasons would be providential for the consolidation of the David Catalán brand. Employed in different textile companies, he had the opportunity to learn the ins and outs of the clothing business first hand and knows from the beginning the risks of missing the strict delivery deadlines of the orders. "The problem is that if you produce in a factory that works for Off-White, Prada or Loewe, which is usual here, it is very easy for them to let you down, because an order of one million euros will always have priority over another of 200. Having to resort to an alternative factory and make an extra outlay happens more than desired. Money moves everything", says the designer. He assures that he has always made a living for himself and that he is used to pulling chestnuts out of the fire: "What he earned from contests he invested in the firm. I started making women, but I stopped because it wasn't selling, simple as that. It is also true that the market for men is less hypocritical, and that it amuses me more".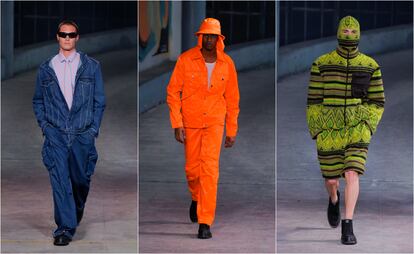 Next autumn/winter will be an acid and irreverent season for the not necessarily fluid masculinity proposed by Catalán, the surname as a logo on T-shirts, sweatshirts and jackets. His usual game of volumes finds a generous ally for the occasion in cargo pants with wider legs and more exaggerated pockets, the backbone of an oversized silhouette that, miraculously, does not surrender to the cliché. oversized dominant in the latest catwalks and that together with windbreakers, fisherman hats (with ear flaps) and balaclavas put the collection in context: a memory of the days of rave and works behind the bar in electronic music clubs by his author. Hence also the pieces inspired by work clothes (denim or nylon) and fluorine tones even in knitwear. The German multi-brand Zalando and the American Urban Outfitters, giants of electronic sales with a fondness for urban style, can be happy. "They are our main clients, along with South Korea," reports the man from La Rioja, discovered by the world after parading in Milan under the umbrella of Portugal Fashion.
The task of internationalization in which the Portuguese platform is engaged, vital to expand horizons and convince that Portuguese fashion is also creativity, as well as clothing, has continued on the air since the call last October, waiting for the Government gives the green light to the inclusion of Portugal Fashion in the 2030 Agenda and thus be able to once again benefit from the relevant European funds. For this reason, the National Association of Young Entrepreneurs (ANJE), organizer of the Porto catwalk, is already working to depend less on public subsidies. In this 52nd "commitment" edition, they have not even had the help of the City's Municipal Chamber. "Postponing it has never been a possibility, because it would mean letting down the brands and designers whose success depends, to a large extent, on our support. We firmly believe in the validity, relevance, interest and necessity of the project and we cannot lower our guard", says Mónica Neto, director of Portugal Fashion, who admits the enormous financial difficulties that a call finally orchestrated in two weeks has had to deal with. thanks to private initiative, after months of uncertainty. "Now we must seek a new strategic direction to strengthen our role in the industry as a catalyst for innovation and creative talent. It is necessary to debate, study, reflect and find an alternative to the current catwalk model".
Located in an old underground car park, a perfect metaphor for the situation, the 33 parades held between Wednesday and Saturday of last week were a show of strength in the face of adversity. Also confirmation that Lusitanian creators control and manage the reality of their market like few others, with fair commercial proposals that make concessions to trends and are highly calculated in terms of risk. He streetwear Alexandra Moura's gothic style (the interesting wet effect of the fabrics calling for drama), the sport hyper-feminine by Maria Gambina, the anabolic tailoring of Miguel Vieira (endorsed, as usual, by its luxurious leather goods), the impeccable guest dresses by Diogo Miranda (pleated and draped as a novelty and with a bride at the end, in case there were any doubts about their intentions) or the very graphic knitting exercises by Susana Bettencourt have never had less loss. Neither is the Marques'Almeida collection, a twist to his extravagant narrative riddled with self-references and Y2K winks. Even Ernest W. Baker, the other epic in Flanders of contemporary Portuguese clothing, played it safe by directly appealing to women in her proverbial dandyism.
Once again, the Portuguese showcase has not forgotten to display the shoemaking muscle of its industry, led by Luis Onofre, or to focus on the excellence of its craftsmanship, this time recalling the traditional silk spinning of Freixo de Espada à Cinta , the only town in the Iberian Peninsula where it is still done manually. In addition, it has once again served as a European springboard for African and Afro-Caribbean designers financed by the Canex program, such as the South African Ntando XV, the Malagasy Eric Raisina or the Trinidadian brand The Cloth. And, sweeping again to Spanish territory, he has attended the promotion to the first division of the Huarte catwalk, the firm of Víctor Huarte, another from La Rioja who has found his professional place in Porto. "It's not just that you have easier access to raw materials, suppliers and clothing workshops, they also open doors for you, help you and sponsor you. In Spain it would have cost me a lot more effort and money to get to where I am, for sure. Everything has been very fast and the progression of the brand has been very good", the 32-year-old creator tells this newspaper, who began in 2019 sewing masks during confinement due to the covid pandemic. A participant in the Bloom program to date, a couple of years ago he won one of the contests for emerging talents organized by Portugal Fashion, which led him to create a capsule collection for Salsa, the Portuguese denim giant. Today he is head designer of its men's knitwear and shirt department.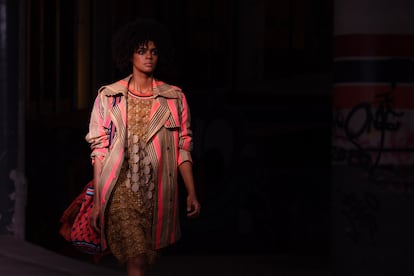 "My current commitment is with the company, I have a responsibility with it in which my professionalism goes. That is why my brand is in the background, for the moment", continues Huarte, who in addition to studying design (in Portugal, as Erasmus at ESAD) has a double degree in marketing, business management and business administration. "If there is no economic return, you will not last in this. I am missing fingers to count the number of colleagues who have given up after two years, "she says. His presence at Portugal Fashion has already positioned him in Tranoi, the main trade fair for ready-to-wear of Paris, surrendered to his mixed proposal of an eminently youthful scope, the denim as a recurring lead. Rusty and cut into miniskirts and shorts, also for men, prevails in his autumn/winter 2023-2024 collection, in contrast with knitwear that stops before the navel and mid-thigh. The sensuality preppy this was. "I think I'm lucky. Portugal Fashion gives you visibility that is otherwise difficult to achieve", she concludes. "But it is also true that what I have is because I moved, because I called and sent emails. Nobody gives away anything."
Subscribe to continue reading
Read without limits