"A room. a table. A menu". The card of the Madrid restaurant Room.1 (Calle del General Arrando, 16) already anticipates what is to come: a private gastronomic experience for a minimum of eight and a maximum of 12 people from the same group at a single table. Hidden behind some orange curtains, there is a green table and a purple carpet. All this festival of colors contrasts with the sobriety of the exterior façade, where there is no sign, name or sign that identifies the restaurant that is inside. That little card, along with his Instagram account, is the only way to find the place. They opened in July 2022 and according to their manager, Nacho de Orellana, what works best is word of mouth. "More and more people are coming, the first year is going very well and we already work more or less a week and a half in advance for reservations," he assures EL PAÍS. In fact, if all goes well, his goal is to open a Room.2 soon.
The idea behind Room.1 is for diners to feel at home, "with the advantage that they don't have to stay to clean up," as De Orellana says. This exclusive experience, which is used both for family celebrations and friends as well as for business lunches, consists of a five-course tasting menu, to choose between two starters and two main courses, designed by chef José Gallent, who has joined this project as chef. This season the proposal includes ratatouille with lace, cured yolk, dry tomato and papadum or lamb medallion, cabbage farce, dates, bacon and glazed baby carrots, among other dishes. Its price is 85 euros with drinks apart, which raise the average ticket to 130 euros. "A minimum of eight people have to come and if we do four or five weekly services they give us the numbers," De Orellana acknowledges. The staff consists of a cleaning person, Gallent and him.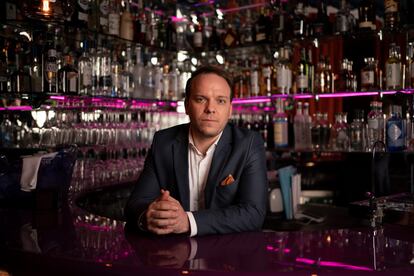 El Altar, located in the La Boquería market in Barcelona, ​​launched something similar four years ago: a private space made up of a table and a kitchen for a minimum of eight people and a maximum of 18. "It's as if it were a gastronomic society", explains its chef, Óscar Manresa. It only opens by reservation and builds the menu as you go, with products from the market that catch your eye that day. The average price is around 100 euros, but Manresa, which has eight other catering businesses, confesses that if this model survives it is thanks to all the others. "A table is not profitable, you should fill it every day and there are weeks when we have nothing," he says. His strategy, therefore, is to use chefs and waiters from the other restaurants he has in the area when El Altar needs them. "If not, it would be difficult to maintain it," he says.
At Mercès One, also in Barcelona (Avenida Diagonal, 541), the personalization of the service reaches such a point that, in addition to offering the privacy of a single table for a closed group of 24 people at the most, they can choose the decoration, the table linen or the flowers that adorn it. In his case, it is also one more leg of a larger business that includes a catering and a prepared food shop, which has allowed the establishment to last more than nine years, according to its chef, Antonio Cornejo. "The boss (Mercè Solernou) has it because she is excited about it, but she doesn't support the company," he admits. He and a waiter are the only permanent staff, to which more people from the rest of the businesses are added depending on the number of people that have to be served.
Little investment, but a lot of wear
The reasons why Carito Lourenço and Germán Carrizo opted for a unique table model for their Valencian restaurant Fierro (Calle Doctor Serrano, 4) are different. "It was a consequence of the reduced space we had, less than 60 meters. It seemed like a novel bet to us because at that time (2015) there were hardly any restaurants like this", recalls Lourenço. The restaurant, which in 2021 obtained a Michelin star, had a table with capacity for 12 people (from different groups) and an open kitchen in the background. "Many times there were only two people at the table, but we never stopped providing a service because we believed so much in the concept," he admits. However, the pandemic forced them to modify the layout of the room to separate the different groups that previously made up the table. The current Fierro, whose menu costs 125 euros with drinks apart, is still for 12 people, but they are spread over four different tables. "The concept of the single table is very cool and surely in some future business it will have a special place, but in Fierro we are going to stay like that", warns Lourenço.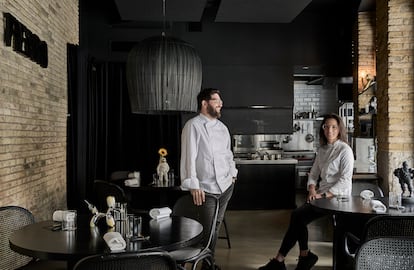 Chef Luke Jang also opted for this model at Soma de Arrando, his first restaurant in Madrid. And it was for pure savings. "I am an entrepreneur with little investment and the restaurant's biggest expense goes to staff," he recalls. So he looked for a way for the kitchen and living room to be one and only need the help of a chef. Then, as the fame of his exclusive table for 14 people grew, so did his staff, although not much: "There were four of us because we couldn't fit more either." It's been four years since the restaurant closed and Jang is now immersed in other projects, but he doesn't rule out bringing back the Soma de Arrando concept in the future. "One of the reasons I liked the single table with open kitchen is that it creates the illusion of being in a theater where the actor is speaking directly to you. A very nice atmosphere is created, in fact, some clients send me messages that they have become friends and still go out to eat together ", he says. Even so, he confesses that all that exposure is also hard: "You cannot fail at any time because you are in full view of everyone. I finished each service exhausted because I poured all my energy into those two and a half hours ".
Additionally, Jang points to profitability as another flaw in this model. He says that "if you want to sell a very exclusive product, you have to raise the price a lot" and exclude many pockets. But that doesn't matter at Sublimotion, the restaurant founded in 2014 by Paco Roncero at the Hard Rock Hotel Ibiza and known as the most expensive in the world. Currently, its starting price is 1,650 euros, but Roncero considers "that there are many restaurants where, adding wine, people spend much more." In his case, the spectacle is not an illusion, but a reality. The table, for a maximum of 12 diners, becomes the setting for a Show immersive that mixes haute cuisine with technology, illusionism, music… "We bet on the single table because it was what the concept asked for: that all the people come together, that we could sit at the same time and create an emotional and sensory experience unique around her", defends the chef, who assures that they are "clearly very profitable products when you manage these prices". So much so that they have already exported it to Dubai and are considering the possibility of also taking it to the United States, says Roncero.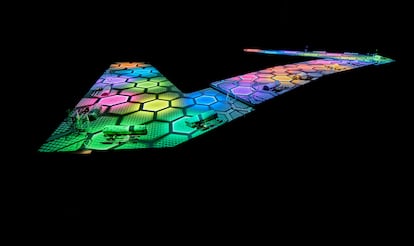 In the Valencian restaurant Samsha (Plaza del Periodista Ros Belda, 4) the concept of the show is so internalized that its chef, Víctor Rodrigo, assures that they do not make reservations, but that "you have to buy tickets (125 euros) as if it were a show ". The model of its only table for 16 diners is going to change after seven years of gastronomic shows around it. After a complete remodeling of the premises, only 12 people will be able to enjoy each pass and this time, they will be spread over two different tables that come together at the end. "My goal is to cook for 10 people four times a week and we are about to achieve it", celebrates Rodrigo. He has cost them his own, since his and his couple are in charge of cooking, serving and attending. The rest of the team are three people who help them. "For us it is profitable because we are making it so, but if we didn't work from sunup to sundown I can assure you that it wouldn't be", says Rodrigo. "In the first shows we did six services and there came a time when we either stopped or physically died," he recalls. Everything has a price.