Rodrigo Caselles was born in Alicante on a cold day in December 2007. The little boy arrived after nine complicated months in his mother's tummy. Vanesa Pérez Padilla (Granada, 47 years old) experienced a difficult pregnancy, which led the baby to suffer fetal and perinatal distress. "It coincided that at that time my father suffered an aortic aneurysm. I was even at risk of premature labor ", she recounts by phone. "There were problems before, there were problems during, but we don't know what really caused Rodrigo to be born with a developmental disorder," she continues. Pervasive developmental disorders are severe and long lasting. They can be physical, like blindness; affect mental abilities, such as learning problems; or they may be a combination of both, such as Down syndrome.
Although Pérez still recounts his personal experience with pain today, he has found relief in writing. Since 2014 she writes her daily routines and feelings on the blog And do you really have three? and on his Instagram account, a profile in which he has more than 21,000 followers. In addition, she helps other families who, like her, deal with disability on a daily basis.
Her story begins when her little one was only six months old. Pérez acknowledges that they were not aware of the problem until at that age they began to perceive strange things in their baby. He is the eldest of three siblings: "I cried a lot, I didn't sleep. And people told us that this was normal. But it was not, "he recalls. His baby did not meet developmental milestones: "How can it be leaning, sitting or crawling," he says. A psychologist by profession, she felt something was wrong: "My career was of little use to me. At first you don't want to see it, although you know the landmarks, you have studied them. Still, as a mother, she knew something was up. Rodrigo did not respond to his name, he did not want us to hold him in our arms, he was always lying down… and I remember that uncontrolled crying, it was not the normal crying of a baby".
What being a psychologist did help her with, as she explains, was the speed to act; in being very decisive, in insisting a lot on professionals, in seeking resources and finding solutions. From that moment on, she went a long way to try to have her son evaluated clinically. When they did, the diagnosis was clear: "Rodrigo had severe autism, grade 3—serious deficiencies in social communication skills that cause impaired emotional, social, and cognitive functioning—with 76% intellectual disability. In addition, he suffered from refractory epilepsy, with very frequent attacks that were difficult to control, and a degree 3 dependency, he needed the indispensable and continuous support of another person.
The couple had their three children very closely. Aitana was born 16 months after her brother and Alejandro, the little one, three and a half years after Rodrigo's birth. Three children, one of them with a disability, and the profession of her husband, Luis Caselles, who is in the military and travels a lot, made it difficult to raise them in Madrid, where the family lives. "Rodrigo had his first seizure at 15 months, it was at that moment that we realized that what we had before us was important. We both worked a lot and that had to change. I abandoned my profession in Human Resources to dedicate myself exclusively to my children", she affirms.
Rodrigo began with stimulation in a private center until they got a place in a public one: "I accompanied him and Luis stayed with the baby. But when my husband traveled, well, I would also go there with all the troops". Pérez's family lives in Benidorm, Alicante, "so the support network was scarce." The stimulation programs were worked on at home and lasted about three hours: "People may think that it was easier for me, but the truth is that at the blacksmith's house, wooden spoon. And I believe that in these cases parents should act as parents, and professionals as professionals. Especially because when you see that your child is not progressing, the stress and guilt are tremendous".
He also acknowledges that the first years of his three children are blurred: "I don't remember when their teeth fell out, when they took their first steps, what their first words were, which are things that parents normally treasure. They were difficult years. It was going to therapy, kindergarten, special education school, playing with them…. One task after another. And my husband traveled again and again. It is true that until the little one, Alejandro, was not three years old and started school, we did not stabilize ".
Write your experience and discover that you are not alone
"One day, a friend shared a post from an acquaintance of hers who was the mother of a large family, I read it and thought: 'My goodness, if this could be my life perfectly'. And something clicked. I said to myself: 'You like to write, to express feelings through words. And that's where the idea for the blog came from. She dared. that's how he was born And do you really have three? "At first, only some daddies and mommies from my children's classes and my family read it. It was my sister-in-law who encouraged me to go public. And I hit the button. Pérez was lucky enough to collaborate with blog platforms such as Madresfera or the Malasmadres Club, which made room for him: "My first post talked about having a child with a disability and how I felt and the flood of mothers who also felt alone and that they appreciated the publication was immense".
For her it was something cathartic, not only because it helped her to let off steam, but also to realize that many mothers don't have anyone to talk to: "I opened it in November 2014 and since then I've been better. Receiving that love and knowing that there are other people that I am helping is fantastic". Currently, she has made her profession of writing and listening: "I work to prevent unresolved duels (she refers to the fact of assuming the diagnosis). Chronic diseases are related to the sustained stress that occurs in caregivers, who are still 99% women, unfortunately".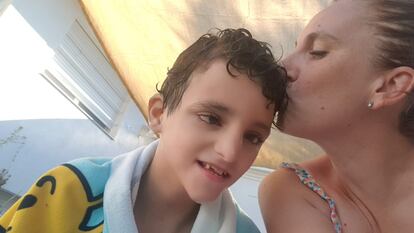 At the same time, it has allowed him to create a community of support. "Especially for those people who do not have a support network or close family, because many of us are alone and, sometimes, having someone on the other side of the phone, on the screen, we feel better," he acknowledges. This is exactly what Pérez works on every day: "I don't have an office, so right now I attend to everyone who needs it for a few hours in the morning in this way." She recognizes that the personal benefit she gets from this therapy, which she defines as informal, is being able to experience, from a distance, the entire process from the diagnosis of a disability. And she is not the only one who does it on social networks: "People need to share; you need to vent; ask questions because they are starting. There are many Instagram accounts like mine, so many mothers and fathers —although fewer, but there are also— who have decided to expose themselves, tell their story, open up on the channel". "These platforms are essential," she continues, "especially because they are a much-needed informal support community for many people who are lost, alone, or want to learn about disability."
This 2022 Rodrigo turns 15 years old. "We don't know how it will evolve because it depends on a multitude of factors. There is a biological one that cannot be ignored and that can limit you in certain areas and hit the ceiling, "says Pérez. It is also true that he will never stop learning, even if this process is slow: "For example, now he is learning to take off his clothes and put them on. We are in a period of calm and it allows me to see things from a different perspective". Rodrigo already has behavioral reactions typical of adolescence: "There has been a change in his behavior. We have a super-loving boy, he is very affable, very noble, but for a year now when he gets up he is angry or protests to go to school, that is, we have hormones there. Come on, Rodrigo is a teenager in capital letters and that he does not care how affected he is ".
You can follow Mamas & Papas on Facebook, Twitter or sign up here to receive our biweekly newsletter.