Cloth and paper tablecloths, waiters carrying various plates full of thorns, television with a sports program in the background, a table of locals playing cards and more than 100 people eating sardines in front of the sea. This is how an ordinary day can be at El Planeta (Tránsito de las Ballenas, 4), the oldest restaurant in Gijón, founded in 1846. It is located in the picturesque neighborhood of Cimavilla, on one of the liveliest slopes in the city, and It is a good place to go for seasonal fish.
The brothers Roberto and José Luis Cristóbal are in charge of this family business that their parents took over in 1967. "This was a neighborhood food house where the sailors came. In September 55 years ago my father took it over and every time he saved, he did a reform. The last one was in the nineties when we transformed the upper part into the current room —and now its tables with views of the marina are the most coveted—", says Roberto. On its walls there are stuffed fish given as gifts by fishermen friends, paintings that clients paint for them and some family photographs. "The decoration doesn't make any sense, but since they are gifts made with a lot of love, there is nothing better," he explains.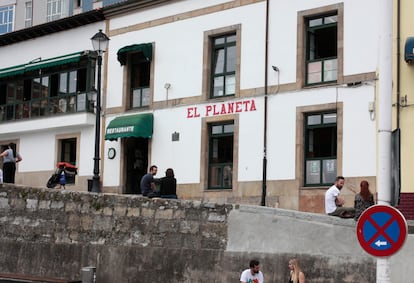 It is sardine season and the clientele turns to El Planeta because they know there is no mistake. "Until the eighties, the fish market was just below the restaurant. It depends on the day we buy from wholesale fishermen, at the port or they call me directly because we all know each other forever". Maybe that's why they always wear a good genre. "And because I try to pay for it for good," he says. They sell a ration of twelve sardines for 18 euros and their price has not changed for five years. Roberto confesses that to do them well there is no more trick than getting the best quality, iron and salt. "They are so successful because because of their smell, nobody wants to work with them. Everyone wants to eat them but not make them at home", he says with a laugh.
Another of its claims in the summer season is the tuna del Norte and especially its tuna belly. "40 years ago my mother began to clean it in a very curious way, grilling it with great care and it became famous until today," says Roberto. There are still days when his mother, Concha Victorero, stops by to help out in the kitchen. "Just yesterday he came to make a roll of bonito", she says while she shows a photo that she took in the kitchen. And his salads, simple and impeccable, are the perfect element to accompany any fish or shellfish dish. "We try to have the Asturian tomato, even if its season only lasts two months. And for the lettuce leaves, my mother has always had a special cut that she has shown to all the people who work here. She was born in 1931, her grandmothers raised her and she carries the cooker for frying and the copper squid on top of her. She is not worth anything, not even in cutting the lettuce, "adds Roberto.
Support to the local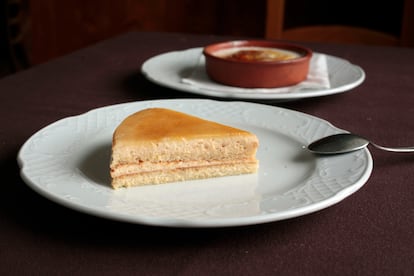 In the desserts they offer some preparations from the neighboring Ice Cream Shop Iceland (San Antonio, 4). "They were the ones who invented Cabrales cheese ice cream, then they made cider and rice pudding. To pay homage to the La Ibense bonbon —a classic Gijón cream and chocolate wrapper vintage— they invented a pink cream bonbon that we offer together with the classic cakes, also made in their workshop", he says. To drink, the cider they have at El Planeta has been protected under the Asturias Cider Protected Designation of Origin for three years: "We had always had both references, but we opted for exclusivity with the PDO to support the local product. Normal natural cider is not worse, but it is made with Portuguese, Polish or León apple. The one with the PDO is from Asturias". They pour it only at the bar, at the tables each diner serves it to their liking and it can also be taken out on the street.
All types of public mix in its halls. "It's funny because during the week business lunches are held and on holidays those same people come back with their families," says Roberto. But they also bring together neighbors and tourists, and have been inspiring artists since 1899. In that year, Armando Palacio Valdés wrote about the excellence of his cuisine in his novel The joy of Captain Ribot. And in 2021, the artist Amalia Ullman released her independent film The planetwith which it has achieved good international reviews and in which its main characters appear eating here.
Summer, a bit of fiction, cider and sardines. Little more can be asked of life.
The kitchen at El Planeta is open every day from 1:00 p.m. to 4:00 p.m. and from 8:00 p.m. to midnight, except on Sunday afternoons when it closes.
Subscribe to continue reading
Read without limits