Sotogrande: 60 years of the urbanization created by and for the rich where "the differential value is money"
Inflation is riding at a trot in Western economies. Putin threatens, day in and day out, by turning off the gas tap. The European Commission has just announced that it is considering "an emergency intervention" to stop the electrical escalation. But CB — "if it's to quote me, that's fine" — and his daughter walk oblivious to so much restlessness through La Marina de Sotogrande (San Roque, Cádiz). "Phew! Yes, sometimes you have to break the bubble to find out what is happening. We live so calmly that here there is only one traffic light, at school, to teach driver's education", explains the neighbor, friendly and with exquisite correction, before losing herself at sunset on her walk among yachts and sailboats moored to the private terraces of the apartments. .
Some people pompously call La Marina, with its colorful houses, its exclusive shops and its navigable canals, "Little Venice", although without historical heritage or hordes of tourists. But the truth is that it is only the beautiful visible, public and more modest face of that 2,000-hectare green fort that is Sotogrande. The urbanization (because, although it raises doubts in some foreigner, administratively it is just that) turns 60 this year, established as that oasis of nature, sports, sun and luxury, where hedonism can be practiced without remorse. A portion of territory located in the Strait of Gibraltar and, regardless of its problems, in which "the only differential value is money", as José Luis García, head of the HCP group, which publishes up to three publications, bluntly acknowledges. with which he intends to narrate "the reality" of Sotogrande that was left out of the local media in the area.
The most romantic —and repeated— history of Sotogrande marks its beginnings in the early sixties, at which time Joseph McMicking, a wealthy American colonel of Filipino descent who fought in World War II, commissioned his employee Alfredo Melian Zóbel to find a piece of land on which to build a kind of retreat only for the wealthiest. He locates it in 1962 in the Guadiaro valley, a green haven that, at that time, were "virgin fields and irrigated orchards with many orange trees and farmhouses", as the current mayor of San Roque, Juan Carlos Ruiz Boix (PSOE) recalls. ). McMicking ended up acquiring, unifying and urbanizing several of these farms with the support of the Franco regime, which declared the area a Center of National Tourist Interest.
Six decades, nine golf courses, 12 polo fields and a marina later, Ruiz Boix defends that San Roque continues to pay off that finding: "It compensates, emphatically yes. It is a high-rise urbanization standing with more than 5,000 homes with the needs of many workers. Employment has improved the quality of life of residents. In addition, it has allowed us to have new leisure options". Hence, the mayor closes ranks with the urbanization and with the future urban developments that remain, always focused on luxurious low-density villas: "The different governments have taken care that it stays that way and that it creates employment and wealth."
Under this premise, Sotogrande has grown so much that today it is articulated through various urban entities that now transcend the company Sotogrande SA itself, manager and developer of some of the most succulent assets in the urbanization. Under his umbrella is the marketing of The Seven, The 15 and El Mirador villas, developments of luxury homes that are articulated around La Reserva, which defines itself on its website as "an avant-garde country club surrounded by private communities overlooking the Mediterranean. Perhaps the most iconic and representative piece of how Sotogrande's social relations work is in The Beach, a 2,800-square-meter artificial beach built around a lake that is just over five kilometers from the real Sotogrande beach that bathes the Mediterranean.
The difference between one and the other arenal is in exclusivity. There are those who defend that Sotogrande has been democratizing and becoming more permeable in these six decades. For Rosa, who walks with her husband Ramón and two friends through La Marina on the last Monday of August, it is simply that there are "two speeds". "There are those of the macrocasas They don't mix with the rabble. We belong to the latter", the woman, who lives all year round between an attic in the port of San Roque and Catalonia, chimes in with a laugh. The editor García also does not believe that there are many transfers between one and the other: "They (the rich) have needs that you cannot emulate. People have to realize that everyone has a place".
CB does not enter which group he is in. He lives near the church of Sotogrande, in one of the original areas of the urbanization. There she arrived with her husband from Madrid to spend two years and they have been living in a chalet for 18 years where they have been able to raise three children surrounded by nature, sports fans and who "don't know what a disco is". "Here the plans are made more at home and if you meet a celebrity, you respect him, you don't ask for photos or anything," summarizes the woman as an unwritten rule. The code of conduct is summed up in a phrase that is repeated over and over again in those parts: "What happens in Sotogrande, stays in Sotogrande".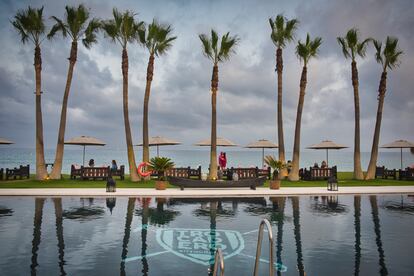 This also includes Trocadero, a luxurious beach club decorated with ethnic reminiscences that is accessed from the motorway through a booth with a barrier and a guard and an avenue littered with open gates, houses with stunning architecture and service women who take out the dogs with uniform blemishes. "Here exclusivity is sold. High-class people come, even more so than the post-polo events where, if you pay admission, you can go. This is a closed list", summarizes María Teruel, deputy director of the establishment, which belongs to a chain that operates premises with a similar philosophy on the Costa del Sol. Although Teruel prefers not to remember, between the sun loungers, tables of its exclusive restaurant and swimming pools —it two, but one is not used to preserve the aesthetics of the entrance— ex-soccer player Iker Casillas, Tamara Falcó and her partner, Íñigo Onieva, presenter Ana Rosa Quintana and model Inés Sastre have been seen this year, all three last stalwarts of Sotogrande.
"Come on, the Hello! whole", sums up Ramón, Rosa's husband, with a laugh. But in what there is unanimity to whoever is asked is that, among those figures of coated paper, the true power of urbanization does not move. "Many bank directors, Arab princes or royalty come here," says an anonymous source. That includes Tunku Ismail, the prince of Johor, and his $750 million fortune, with which he pays for whims ranging from Hitler's Mercedes to bidding to buy Valencia CF, though it never materialized. Among so much opulence —usually more silent and discreet than that of that heir— some drug traffickers who landed in Sotogrande years ago, much to the chagrin of their neighbors, interested in luxury and privacy, do not fit in. "I suppose that security attracts those who run from the law, but in the end they end up getting caught anyway," defends the editor of the urbanization newspapers.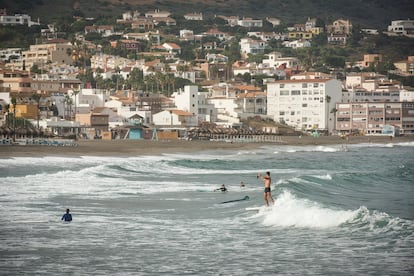 The humid easterly wind in the area has brought a gray beret of clouds with showers on this last Monday of August in Sotogrande. It's still summer, but the residential area already breathes a hangover atmosphere, after a final weekend of vacation fireworks for many. "It was great, the best was here", summarizes a source, referring to the final of the Gold Cup of the International Polo Tournament, which was held last Saturday at Santa María Polo Club. Many of those who double the floating population of San Roque – the town goes from 35,000 inhabitants to 70,000 people in August – have already left. The rest that the urbanization takes so proudly in its real estate claims has returned for those who already longed for it. "This is starting to be what it usually is most of the year. Before, a party was held here called 'Finally alone'", explains Ramón, amused. It never rains to everyone's liking. And the Eden of the richest is no exception.