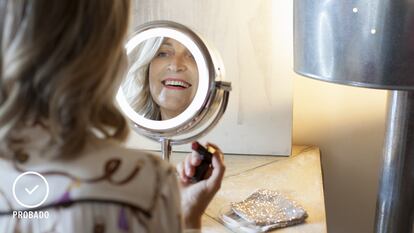 One of the objects that is not missing in any home are mirrors. Some are placed in the hall, others in the living room as a decorative object and also in the bathroom. However, those who participate in this comparison are completely different. We are referring to cosmetic mirrors, ideal for facilitating different beauty routines: makeup, facial cleansing, eyebrow waxing, to remove blackheads… What makes them special, in addition to their portability, is that they incorporate an LED lighting system that improves visibility and various magnifications for greater precision.
What magnifying cosmetic mirrors have we chosen?
These are the selected models: Auxmir BM-1915 (8.25), BaByliss 9450E (8.5), Beurer BS-59 (7.5) and Medisana CM840 (8.25). When analyzing and evaluating them, the aspects that have been taken into account are the following:
Design: how is its size, construction and manageability: for example, if the mirror can adopt different angles or be adjusted to use it in the most comfortable way possible.
Lightning: How is this lighting and if the intensity of the light is adjustable.
Autonomy: Some models work with batteries, but there are also those that do so with an internal rechargeable battery and connected to the electrical outlet.
Use experience: if the cosmetic mirror fulfills its purpose and offers enough precision and comfort to apply makeup, cleanse the face, shave…
Comparison of the best cosmetic mirrors: this is how we have tested them
To test these four models, different tests have been carried out that have consisted of three sessions: eyebrow waxing, facial cleansing and makeup. This has allowed us to verify how each one of them develops in different situations. Also test your lighting in various conditions.
The BaByliss 9450E cosmetic mirror was the winning model. It stands out from the rest thanks to its design, construction, quality of its optics and the different LED lighting options offered and which, in turn, can be combined with the light projected by its base.
BaByliss cosmetic mirror: our choice
The main handicap of the Babyliss proposal is that it works with a cable that must be connected to the electrical current. Thus, it would have been preferable to use batteries or an internal rechargeable battery like that of electronic devices.
Except for this feature, the first thing to note is its impeccable construction and its elegant finish that includes a satin finish that immediately attracts attention. In this regard, it looks like a rather curious two-in-one design because, on the one hand, it incorporates a main mirror with a single magnification and generous dimensions and, on the other, a smaller 'removable' secondary one that is magnetized to the first to use it only when necessary. This second mirror has a 10x zoom.
Data sheet
Functioning: with 1.8 meter cable.
Height: 400 millimeters.
Mirrors: It has two: one with a single magnification and another magnetized with 10 magnifications.
LED lighting: three settings (low, medium and high)
Others: satin finish and base ambient light adjustment (static and flashing mode)
The user experience is positive and pleasant, thanks to the proposed LED lighting options. All of them are controlled through the touch button located at their base: there is one less dim, another of medium intensity and one higher. In addition, the base that supports the entire structure can also be illuminated with this same touch control, although it must be taken into account that the pulsations in this case must be longer. Of the two modes proposed -static and intermittent- the first is better.
The best: design, build quality and lighting options.
Worst: It is the least economical option and works connected to the electric current.
Conclusions: With an elegant and careful design, it stands out from the rest due to the quality of its construction and the optics used. Its different lighting options perfectly adapt to most situations.
Auxmir magnifying cosmetic mirror: our alternative and best value for money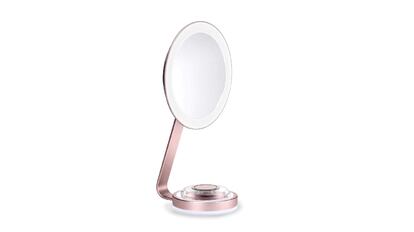 Its design is completely different as it has a suction cup that, due to its characteristics, allows it to adhere without too much difficulty to the chosen surface, so that the mirror remains hanging. However, and to avoid unpleasant surprises, after using it, it is advisable to save it until the next time because as the hours go by, this suction cup loses strength. The other option is to place it directly on a table, but since it cannot be adjusted in height, it is not as comfortable.
With a 360º rotation, it works with a lithium battery that is recharged with the USB cable that comes in the box. In order for this battery to last as long as possible, the manufacturer has included a function so that it turns off after 30 minutes. The mirror, which has a diameter of 170 millimeters, is controlled through the two tactile buttons located on its base and they respond perfectly to touching its surface. One of them turns it on and with the other you choose the color of the LED light thanks to an adjustable and customizable lighting intensity: in addition to a natural or neutral light, there is a warm yellow and a white one.
In total, the lighting area concentrates 46 LEDs, standing out from the rest of the proposals. Finally, comment that when using its 10 magnifications to put on makeup, the sensation at first is somewhat strange. On the other hand, to wax your eyebrows or remove a blackhead or pimple is fine.
Medisana cosmetic mirror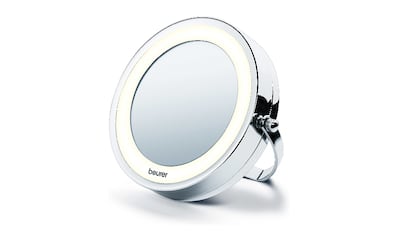 With a simple but elegant chrome finish, it has a comfortable and practical design thanks to dimensions of 205 x 135 x 315 millimeters. Its main claim is that it incorporates two surfaces, both illuminated: one reflects the real image and the other multiplies it by five with the help of a very precise zoom that is recommended not only for putting on makeup, but also for cleaning the face or plucking the eyebrows comfortably. . This lighting is, on the other hand, optional since the on/off button of its 16 white LEDs is located at the top; It uses, in this respect, the same system as the Beurer mirror.
The projected light is uniform, it illuminates quite well, there are no reflections and its power is more than enough. It works with four AAA class batteries that come as a gift, and which are placed in a compartment located inside the mirror. Thus, following the instructions in your manual, it is accessed by unscrewing the side of the mirror that contains the five magnifications in an anti-clockwise direction. The mirror is cleaned using a soft, slightly damp cloth.
Beurer cosmetic mirror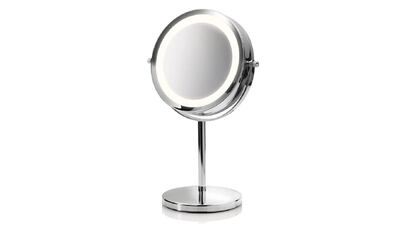 By incorporating a removable design, it is possible to use it not only as a table mirror, but also as a wall mirror thanks to the folding arm included in its box: this second option is much more practical and allows for greater comfort than the first. In addition, the screws are included and the assembly process stands out for its simplicity; A subsection about this arm is that, although at first the feeling is that it is not stable enough, after the first few uses this perception disappears. The quality of the chrome used is correct, although some details can be improved.
Like other models in its class, it runs on triple A batteries and features rotating reflective surfaces, one normal and one 5x magnification that comfortably and precisely magnifies the surface of the face. In this respect, the experience when using one side or the other is similar to that of the Medisana mirror, so in this respect the model has performed well in tests. Meanwhile, its LED light system shines quite well, but at certain times it falls short. The same happens with the diameter of the mirror surface, which is somewhat small.
*All purchase prices included in this article are current as of September 3, 2022.
(Remember that if you are a user of Amazon Prime, all purchases have free shipping costs. Amazon offers a free, no-obligation trial period for 30 days.)
You can follow EL PAÍS ESCAPARATE at Facebook and instagramor subscribe here to our newsletter.