The co-president of the Club of Rome: "Racism persists in South African classrooms, we haven't talked since 1994"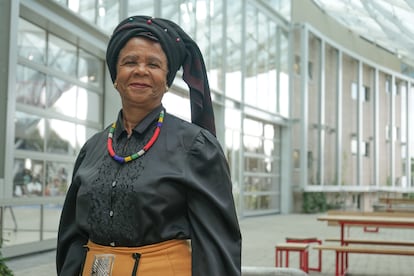 The South African Mamphela Ramphele (75 years old, Transvaal) is an institution in her country and that is how she is received at events. Merits are not lacking: she is co-president of the Club of Rome ―an influential laboratory of ideas with a hundred experts from 52 countries―, former managing director of the World Bank or being one of the leaders of the movement against apartheid along with Nelson Mandela and his then partner, the historic Steve Biko, who died in 1977 in a torture center. Ramphele, who graduated in Medicine on a campus for whites, inaugurated this March at Cape Town University (Cape Town, South Africa) ―of which she was vice chancellor― Reinventing Higher Education 2023, a summit of the world of universities organized by IE University at the that this newspaper was invited. The activist, who unsuccessfully founded a party, Agang (Build), in 2013 to challenge the African National Congress in the elections, wore a typical dress from her country to claim her origins; on the yellow skirt a huge silhouette of the African continent and a motto: Ethnic Africa (ethnic Africa).
Ask. How has the education system changed in your country after 30 years without apartheid?
Answer. It has gone from bad to worse. Although theoretically the poorest children have free access to school, its quality is outrageous. My granddaughter, who is two years old, is ahead of a four-year-old boy without resources. Our Government has failed miserably in socioeconomic transformation. If you fly into Cape Town, you encounter the beauty of the mountains and the appalling living conditions of many people. That divides society. Most live in extreme poverty and around 40% relative. These are the most humiliated. If you go to a school where the children arrive in a Porsche with a iphone And you don't even have a phone, it makes you feel less.
Q. Inequality starts in early childhood education. Are children without resources enrolled?
R. To transform the education system in South Africa we have to reimagine teaching, knowing how to prepare children and their families for talent to emerge. Most people in government still think black people are worth less. They see themselves as important because they have political power and access to material benefits and do not think about promoting the values ​​of each person to collectively have a better world.
Some teachers turn to drugs and drink and don't go to work after a long weekend.
Q. In an interview, you assured that poor children received half the hours of class than rich children, mostly white. Is it still like that?
R. One would not imagine that 30 years after the end of the apartheid (1948-1992), there are still elementary school children learning under a tree. And the teachers don't know the subject they teach. Some would not know how to answer a sixth grade (12 year old) Mathematics exam; nor language. Because? Even during the apartheid, many became teachers because it was the only profession they could opt for. It's a vicious circle, they don't feel good about themselves, some turn to drugs and drink and don't go to work after a long weekend.
Q. Does no one take action?
R. The South African Democratic Teachers Union, instead of trying to improve their professionalism, protects them when they do so. Many poor children see a teacher who does not deserve their respect; That is why there is a lot of violence in primary and secondary schools. Some stab themselves to death or fight with the teachers. We have not become a society governed by human rights, ethics. Poor people are stuck on a conveyor belt of failure.
Q. Funds are also needed for the change in the school.
R. The African National Congress has ruled since 1994 and funds the party whenever it gets the chance. We had an arms deal, but who are we fighting against? There are power cuts because they have emptied the state companies that produced more energy than was consumed (on the day of this interview the Minister of Electricity resigned due to the chaos). We have the highest education budget in Africa and almost equal to any number of middle-income countries; but those resources don't reach the school either, the party makes sure that, when a classroom is built or in the school bus, their friends keep a part of the funds tripling or quadrupling the price. It is a mafia state on the verge of collapse. Young people and many people my age are mobilizing to end this culture of impunity that has prevented South Africa, which is one of the rich and beautiful countries in the world, from becoming what it should be.
Q. College students have spearheaded many of the protests, as well as tuition hikes.
R. Unfortunately, most of the students who are involved in these protests only think about them. If you break a window at the protests, what will happen to the children who follow you? The first few weeks on campus should be spent understanding where each of these young people is coming from, so that they can take pride in where they come from, even if they are poor, and have the opportunity to show that they can do things. When I was Vice Chancellor here (at Cape Town University) we created the Center for Student Development. We talked: who are you? What are your strengths and what are your weaknesses? Many students are much more interested in how to position themselves in the university to be members of Parliament of this or that party, than in leaving campus with new visions, hopes and energies. How can you afford that? When you close your mind to the different political options at the age of 20, you are finished.
Q. Any ray of hope?
R. I'll give you an example, the LEAP Schools, Google it. There are six schools in the poorest areas of the country and, nevertheless, each year they outperform the rest of the public school system in Science and Mathematics. They learn in their mother tongue (there are 12 official languages) and guide students through life. They are reconnected with their origins since they introduce themselves with their family name every morning. If the roots of a plant are in the air, it will not live. You have to teach them to respect the other, not to insult them because they don't think like you.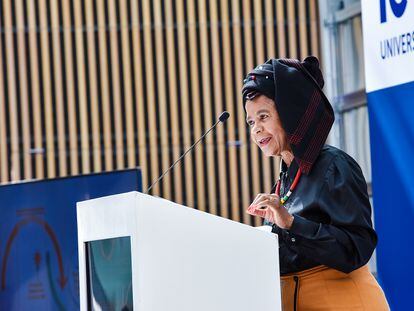 Q. Is the black population reaching the universities?
R. This university was a white boys' college founded during the colonial era. When I came to the city (in 1991), 90% of the teachers were white men and 5% white women, there were hardly any black teachers. And when I left in 2000, there was a more equal distribution. Today, we are closer to 50%. And of course, the university student population is predominantly black, as it should be in a black country.
Everywhere there is racism, because we have not had conversations since 1994
Q. Doctor, PhD in Anthropology, activist… Why did you jump to university?
R. My predecessor recruited me in 1991 as vice chancellor because sexual violence was a way of life. Not only among poor black students, but also white men, the right to other bodies was widespread. We eliminate impunity regarding violence, sexual and racial harassment and all other intolerances.
Q. Does racism persist in the classroom?
R. Everywhere, because we haven't had conversations since 1994 (first African National Congress government) about how to unlearn superiority and inferiority to become a new society. At the end of last year, we had incidents at the University of Stellenbosch. A white student, to express his disgust at having to share a room with a black person, walked in and urinated on his classmate's computer. And it is not the only incident. Some are subtle. It was some time before the university expelled the student. Because? This boy turned out to be the son of one of the big patrons of the university. Racism is tied to this stolen legacy. It is not recognized that Africa, like any other continent, has its ancient wisdom.
Q. What does your Africa Reimagine association do?
R. People said they wanted a different world, but come election day, they went and voted for the same parties. So we founded this platform to help South Africa understand that it can jump from an oppressive system to a democratic one by breaking bad habits. We are a small entity, but what we do is identify points of light wherever they are and we work with people to make the light shine brighter. For example, in a mining town where there was a massacre.
You can follow EL PAÍS EDUCATION in Facebook and Twitteror sign up here to receive our weekly newsletter.
Subscribe to continue reading
Read without limits