The paradox of inheritance in Paris fashion week: why the ghost of the past is sometimes a burden and other times a liberation
A model walks the runway in an incredible white dress that resembles a silk sheet wrapped around her body. This is one of the dozens of metaphors that Loewe's creative director, Jonathan Anderson, has used to reflect on the after, a concept far removed from fashion, which bases all of his discourse on the now. "It is, in a way, a continuation of the men's show that we presented a few weeks ago, and of the previous collection. Here the pixels that we print on the garments fade over time", explained the designer after the show last Friday, alluding to the pieces on which, like a trompe l'oeil, photocopies of faded garments were printed, an idea that began to explore Martin Margiela, the great inspirer of present-day fashion, in the nineties, and that at Loewe it is not useful to talk about the metareferential but about the temporary, wear and tear, use, that moment when a garment begins to wear off. understood and explained by the woman who wears it and not by the brand that designs it.
Anderson's proposal takes the form of extremely fine leather coats that could function as dresses, long knitted sweaters that could function as coats, clogs, flat ankle boots, ballet flats with a bow and, in short, much more minimalist ideas (or, as they are called the designer, "reductionists") to which the banner has accustomed us. Anderson has set aside his exploration of the boundaries between garments and objects to focus on fabric, on texture "and how they relate to the body and it is the body that gives them meaning", he comments. There are no more lips coming out of the neckline or anthurium flowers running down the torso, there are designs that seem simple but hide a very complex preparation, outer garments that seem to fall freely on the figure, dresses that seem half-draped or two-piece sets where the Leather is so ductile that it looks like cotton. Also extra large and moldable bags, thought from architecture but also from extreme comfort and pragmatism. Anderson thus demonstrates that he is not only a genius of visual sensationalism and conceptual games, he is also very capable of adapting to the current times, where practicality and basic clothing seem to take center stage, without losing weight in his discourse. At Loewe there were no blankets wrapped around the body, but subtle pieces of leather and silk, almost rectangular, draping themselves as if it were not the machine but the body itself, which gave them shape.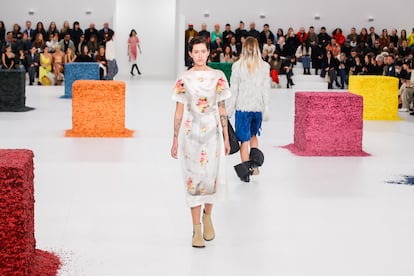 If Anderson was talking about the after, a good part of the shows of these last two days in Paris have revolved around the before: is the legacy a privilege or a burden? What is done when the present is designed within a century-old brand? On Thursday, Julien Dossena gave a brilliant answer to that question at Paco Rabanne, a firm where he has been creative director for a decade. A note signed by himself awaited the guests in which he paid tribute to the founder of the house, who passed away barely a month ago, "for his sincerity, and for that style manifesto that defined a new modernity." The parade, presented at the museum of modern art, ended with several archive dresses that monsieur Rabanne designed between the 1970s and 1990s, but what was interesting about the collection was the way in which Dossena reinterpreted that heritage: if Rabanne made dresses that were as visually radical as they were hardly practical in everyday life, Dossena mixes metallic mesh with leather and knitwear. , converts woolen fabric into fake leather and mixes lurex with cotton, innovating, like its predecessor in materials, maintaining the sculptural vocation of the garments, but turning them into something real and, at the same time, absolutely recognizable.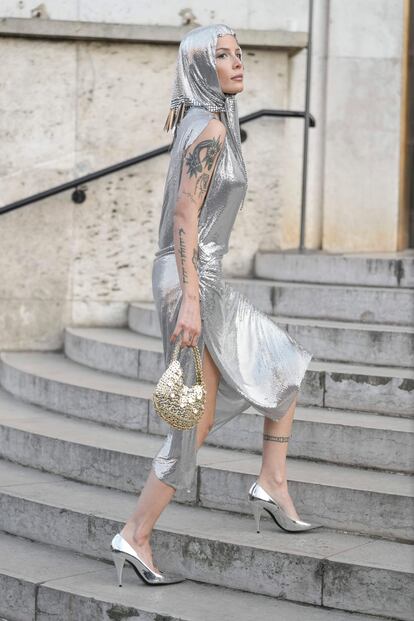 "When I walked into this house, they told me that Balmain was some kind of sleeping giant. I didn't know what they were referring to until I discovered the archives and how they influenced the women of his time", explains Olivier Rousteing who suddenly decided to pay homage to Pierre Balmain's heritage and put aside his festive and exuberant side. . He did it by bringing back the 1950s silhouette, the 1960s monogram, and some of the hats (made by Stephen Jones) and accessories that the founder made landmarks. The idea, although disconcerting for a designer who has been playing the card of sensuality and maximalism for more than a decade, is pertinent: if these fashion weeks are demonstrating anything, it is that luxurious clothing can also be real and functional, and that the reign streetwear and the urban, with which this sector has made (a lot) of cash in the last decade, has definitely ended.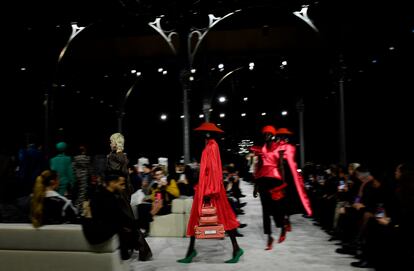 For sample, Matthew Williams in Givenchy. The house hired him in 2020 to repeat the success he had with his urban firm, Alyx, a success that he has not fully achieved in these years. For this reason, last Thursday Williams decided to mix his codes with those of the centenary banner, in a collection in which structured coats, tight dresses and jacket suits had one foot in the delicacy of haute couture and another in the pragmatism of casual clothing. Like Rousteing, Williams has turned his identity around, seeking hypothetical relevance at a time when luxury looks reluctantly to the near future.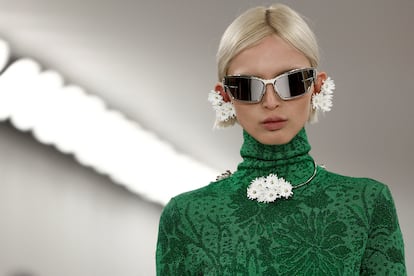 Hermès, the only luxury house that never seems insecure or wavering about tomorrow, was basing its collection this Saturday morning on an idea that has haunted a number of designers these days, from Dries van Noten to Loewe: the way in which the garments relate naturally to the body and its movement. Hence, with a resounding color palette, from red to classic beige or rigorous black, the banner has used pleating as a common thread in skirts, shorts or dresses reminiscent of the mythical Delphos that Fortuny invented in 1909. Pleated silk it naturally amplifies and shrinks as it reflects light and shadow in its path. In short, exquisite materials and very high-level patterns and techniques at the service of everyday life.
None of that, not even close, happened in the debut of the young Harris Reed in Nina Ricci. Here the legacy of the house was reinterpreted, according to the designer after the Show, "for the drama". "That idea of ​​the parades of the sixties, at least, that idea that we young people had of what the parades of that time were," said Reed. There were all the keys that have passed to posterity in the signature, the polka dots, the tulle, the bows and the dove that crowns the fragrance The air du tempsthe great milestone of the brand, but passed through the filter of Reed, a designer of the TikTok era, a young creative whose visual imagination has grown with Instagram: crazy volumes, impossible silhouettes, flared suit jackets in powerful colors (another sign Ricci's identity card), wide-brimmed hats, rotund platforms… A show so dramatic that many have criticized it and have even compared it to the fictional catwalks that appear in the Netflix series Emily in Paris. But Reed's attitude is necessary, not only because at this time when fashion is devoted to basics and functional clothing it's refreshing to contemplate something frivolous without guilt, but also because we must not forget that the red carpet is still the prime mover of certain brands.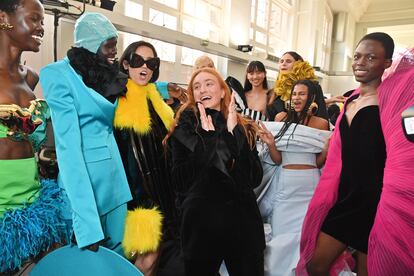 Reed has the protection of Harry Lambert, the stylist who turned Harry Styles into a style icon (he himself went out to say hello in one of the suits the singer wore a few days ago), but he also belongs to a generation in which questions how diversity and identity seem to have been overcome: hers was the only fashion show where the models had different sizes (naturally, not opportunistically) and in which gender fluidity was more than assumed. But above all else, Reed has reinvigorated a house that several creative directors have passed through and failed to make it relevant. He recounted on Friday how incredible it was for a young man in his early thirties to "find a workshop where ideas materialize" and several people from that same workshop spoke of the hope of having someone with Reed's visibility working with them. Don't forget that Emily in Paris It is very criticizable, but nobody can stop watching it.
Subscribe to continue reading
Read without limits