The president of the Association of European Universities: "We see a deterioration of academic freedom in certain countries"
Josep Maria Garrell (Tarragona, 53 years old) will become on July 1 the first Spaniard to lead the Association of European Universities (European University Association, EUA for its acronym in English), which includes 850 institutions from 49 countries. Rector of the Ramon Llull University between 2012 and 2022 and Professor of Artificial Intelligence, Garrell takes over with 77% of the votes – there were three candidates – at a time of enormous changes in Europe. After Brexit in the United Kingdom -which leaves out some of the best universities in the world- and coinciding with the construction of 44 campus alliances thanks to the solid political and financial commitment of the European Commission, staff and students will move and investigate jointly .
Ask. What will your first step be?
Answer. The EUA strategic plan is still valid, but we did it before the (Ukrainian) war and the covid. We have to rebuild ourselves. we suspended membership to Russian universities that have signed a public declaration of support for the war; but it is necessary to see how the Russian academic community can be helped. We have a working group to see how we can help the Ukrainians in the future reconstruction. We are also working on the Universities and the future of Europe project, on what we believe should be done to contribute to solving the continent's challenges. And this means influencing policy. What are we finding? Something that has been brewing for a long time and is related to the decline in the quality of democracy throughout the world and particularly in Europe. Not only in Hungary, other things are happening in other countries, and it is detrimental to university autonomy, academic freedom… The University Autonomy in Europe: Scorecard 2023 (an analysis by countries on university autonomy) has brought to light problems that are occurring, such as the reduction of the democratic quality in Europe.
Q. Is Hungary the most serious case?
R. Yes. We have devoted a chapter of the Autonomy Scorecard. In the Hungarian public universities, which have become something akin to a foundation, the one who appoints the trustees – without a counterpoint from the university community – is essentially the Government; automatically lowers its real autonomy. Then there are symptoms in some countries that are surprising. For example, the rectors' conference in Sweden is reacting very strongly because the duration and selection of trustees have suddenly been changed. It is a governmental decision without the participation of the universities. Things are also happening in Poland and Turkey and it must be analyzed from a global perspective.
Q. And in Spain? Its public universities are in the third of four levels of financial and academic autonomy in their study.
R. You have to see what they need to be able to decide, you have to trust and you have to organize accountability mechanisms. This is the only way to be able to compete better in this international environment. I'm not talking about independence, I'm talking about autonomy.
Q. Do you agree with Minister Joan Subirats that the European Commission's university policy now needs to be viewed from a national perspective?
R. The European Commission is able to get you a European strategy for universities, the initiative for university alliances, the Erasmus mobility program or a framework programme; and this has a very direct influence in the medium and long term on the politics of the States, which are the ones who have the powers. I am pleased that the minister tries to influence so that European policy is in accordance with his ideas. It is what suits us, there are other countries that have exercised it (their power) for many years.
Q. What States?
R. France, Germany and Poland have a very professional agenda to influence university and research policy, very much aimed at defining what is best for the European Union, I am not saying to benefit its interests. Logically, if you have the ability to influence policies, it is very likely that, at least psychologically, you will be more prepared; and then you can benefit a little more. In Spain we understand more and more that Europe is the future.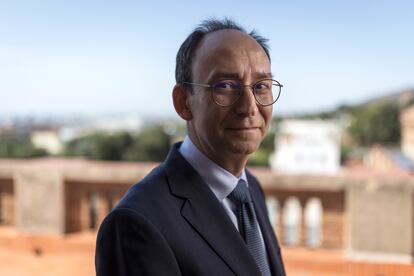 Q. Was his rectors' conference behind Emmanuel Macron's commitment to university alliances?
R. I don't know who came up with the idea, but his conference tried to convince the rest of us. I remember a meeting of Higher Education ministers in Paris in 2018. It was closed by the French Prime Minister, Édouard Philippe, and when I saw that he was talking about the issue without papers, I thought: this is serious. We'll see how it ends, because no one doubts the cooperation, but it will be the details that make it a success or not.
Q. What can run aground?
R. One of the objectives is that the alliances only include 10% of the universities, and what happens with the remaining 90%? We cannot afford the luxury of it being interpreted as elite and nothing more. There are universities that cannot or do not want to be there due to their own strategy, but which, nevertheless, play a tremendously important role of social cohesion and should not be considered second-rate universities, right? If the alliances are a pilot program to see how it evolves, welcome. The Commission would be very intelligent if it listened to the experience of the participating universities in order to gradually adjust the instrument.
Q. There are also differences within alliances.
R. Some States have invested financially, some have facilitated legislation… If you are a Spanish university, for example, that participates in a consortium with a German one, you have to know that the latter is going to receive the money from the Commission and, very Probably, it will multiply it by two with the funds from Germany. What we must do is clearly identify what we need (in the alliance system) to do it better, because we have to reduce bureaucracy or generate a common framework to do, for example, joint degrees. When the Commission presented the European University Strategy at the conference of ministers, the reaction was not good. They were accused of jurisdictional interference.
Q. Spain wants to take advantage of its European presidency to propose the inclusion of Latin American universities within alliances in cutting-edge fields. What do you think?
R. If one believes that knowledge has no borders, well, for reasons of consistency, it does not have them outside of Europe either, with which it would be necessary to promote joint titles, mobility, projects… If Latin America had a horizon of convergence, as it has existed in Europe for many years, it would probably facilitate it.
Q. What will happen to the UK? After the agreement for Northern Ireland, the rectors hope to return to the Erasmus programme.
R. We must be very aware that the post-Brexit negotiation priority is not us. What happens in the general framework will apply to the universities themselves. Now the issue is how to negotiate that the European (research) programs and the Erasmus program are fair to both parties. They have launched their Erasmus ―which is not exactly the one we know (Turing Scheme)―, they are launching Pioneer, also known as plan P, in case they are not able to negotiate (the next) Horizon Europe (the research and innovation framework program of the European Union for the period 2021-2027 endowed with 95,500 million euros). They are going to put money to attract talent, encourage the collaboration of their research groups with others and for infrastructure. It is clear that if the United Kingdom, and let us not forget Switzerland, are not part of this framework, perhaps economically it will turn out the same, but there will be more difficulties. The EUA is committed to a good agreement that would at least mitigate the departure of the United Kingdom from the European Union. That British universities are out of the alliances creates a lot of problems. It is evident that the United Kingdom, a knowledge power, is a less attractive destination to go to, because there are many people who went to stay and now you do not know if you will stay. The truth is that many people leave.
You can follow EL PAÍS EDUCATION in Facebook and Twitteror sign up here to receive our weekly newsletter.
75% discount
Subscribe to continue reading
Read without limits