The return of wallpaper: from something old to a new decoration trend for which many are not prepared
Thinking that wallpaper is a thing of the past is, in terms of interiors and today, a flagrant mistake. Framed in the wake of new decoration trends that violate the hegemony of minimalist interior design —in force until very recently—, decorative wallpaper for walls claims a leading place in living rooms, bedrooms and even bathrooms. From the decoration headlines and interior designer-inspired profiles on social networks, a renewed appreciation of this element is perceived, which not long ago was associated with an aged and out-of-fashion style. Behind it, a call to preciousness, interest in detail and creative work and even the tradition of the craftsmanship that goes hand in hand is intuited.
As minimalism loses ground as the only aesthetic response to domestic interiors, more saturated and darker colors gain importance on the walls of the rooms. In 2023, the great references confirm that the fear of color has been lost. In the case of wallpaper, interior designers seem to be clear about it. 91% of stylists surveyed by the Apartment Therapy platform for this year's trends chose wallpaper over wall paint, which only garnered 9% of the vote.
The inspiration: botany, traditional Chinese porcelain and modern art
Since then, two examples of this trend have followed one another in the timeline of Instagram, from which it is possible to detect the most repeated motifs. A pattern dominated by illustrated oranges dominates the walls, and even the ceiling, of an eat-in kitchen in a New York apartment, creating a kaleidoscopic effect. There is no doubt that the botanical is one of the most seconded classic bets as far as wallpaper is concerned. There is something that makes one think of tradition, in the plots designed by William Morris and in traditional trades. A heritage that is also reflected in the colorful plant proposals that flourish in the wallpapers of the House of Hackney, the French Isidore Leroy or even from the Florentine fashion house Gucci.
The success of British artisan wallpaper brand De Gournay offers one of the best metrics for this growing interest. The fact that he has more than half a million followers on his Instagram for such specialized and niche work within the decorative trades is an eloquent piece of information. "Within 100 years (our wallpaper, our fabrics and porcelain) will be sold at auction as valuable antiques," he says on his website. Hand-painted by its artisans, delicate floral landscapes dotted with birds make their appearance behind a sink in a palatial tourist mansion in Britain's Norfolk. It is just a small sample of how even bathrooms are daring with this trend, apparently so unfriendly to humidity.
Bathrooms are, in their efforts to move further and further away from the sanitized and clinically sober spaces they used to be, one of the areas of the home that is most inclined to welcome these creative expressions of style on the walls. It can be seen in the examples inspired by traditional Chinese painted porcelain, another of the great wallpaper trends —which accompanies bathtubs roll top inspirational vintage—, offering a landscape and a horizon to those who relax in the bathtub.
But beyond the traditional reasons, there are also those who strive to offer a refreshing perspective to something with so much prejudice of old man like wallpaper. In the work of Maison C. Studio, the impact of slightly more recent and avant-garde pictorial arts is perceived. It was the case of the wallpaper chosen by the actress Sienna Miller for her country house bedroom, as they themselves were in charge of advertising on her Instagram. Hand-painted by Costanza Theodoli-Braschi, a graduate of London's renowned Saint Martins School, Maison C. Studio is proud to print its product eco-friendly in the USA and claims to draw inspiration from mythology, nature and folklore.
There is also the possibility of thinking about wallpaper in terms of minimalist aesthetics. This is what distinguishes the work of the Italian firm Glamora, which starts from the subtle motifs and the chromatic balance to dress walls with birds, plants, landscapes or artistic compositions of an abstract nature, without the vocation that the wall becomes the absolute protagonist.
Why does the wallpaper come back?
Decorative paper is still associated today with a style from another era. Even the way in which you capture the attention of the eyes in a room can cause a certain feeling of overwhelm. An association of ideas that even gave rise to the famous psychological horror story of the late 19th century written by Charlotte Perkins Gilman, The yellow wallpaper, now published in Spanish by Alpha Decay. In the story, a woman going through postpartum depression succumbs to the feeling of unease and claustrophobia caused by the yellow wallpaper in her bedroom, in which she sees figures moving and escaping from her gaze.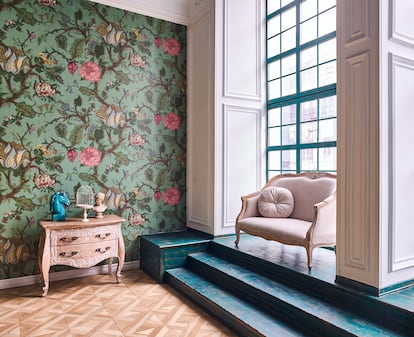 Why is it coming back as a trend then? As reported by Pinterest in 2021, the previous year the image platform registered a 41% growth in searches for the term wallpaper. Almost coinciding with the entry of major fashion players such as Gucci into this market and providing the umpteenth sign that aesthetic minimalism is no longer the only option of interest for interior styling.
Without a doubt, it is a decorative decision that must be considered before launching into it, and it never hurts to listen to the advice of experts. A very valuable one was the one that gave to the digital edition of the magazine vogue usa graphic designer-turned-interior designer Marissa Zajack: "For large spaces, large patterned wallpaper makes a statement." While she qualified: "Too small a pattern in a large room can be dizzying and annoying." Was this what the protagonist of Charlotte Perkins Gilman saw?
With large or small designs, of vegetation, animals, graphic compositions, pictorial inspiration, landscapes or even personalized images, they work from Photo Wall, the Stockholm-based company that makes it possible to transfer this trend to homes with a tighter budget. . Their murals and wallpaper rolls are available from 35 euros per square meter, but another of their interesting proposals is the trend report that they produce each season. For the spring-summer of 2023, they predict the rise of that baroque style that grows in the vegetable mentioned above, but they also open the door to formulas impregnated with color, futuristic aesthetics and modernist inspiration in murals with subtle balanced color compositions that set the tone. emphasis on generating sensations. A wallpaper that, instead of causing fear, becomes an aesthetic turn that seeks to get out of the conventional.