Before world gastronomy began to speak Spanish thanks to Ferran Adrià, French was the language that reigned in the kitchen. Joël Robuchon, a chef who died in August 2018, was one of his greatest exponents and with 32 Michelin stars he became the chef with the largest number of them (currently, his brand retains 27). In 2003, in love with Spanish tapas bars and the Asian culture of show cooking, the Frenchman combined the two concepts and elevated them to haute cuisine by creating his restaurant L'Atelier in Paris and Tokyo. It was such a success that it later opened in cities such as Las Vegas, New York, Singapore, Shanghai or Montreal and, now, the company that manages his legacy has opened in Madrid, being the brand's first restaurant in Spain. He has done it in a place as emblematic as the corner of Paseo de la Castellana (at number 12) where the Embassy stood. And at the helm they have put Jorge González, a chef trained in France and responsible for the gastronomic proposal of the Ritz hotel in Madrid for 15 years.
This new Robuchon restaurant has several spaces —bar, high and low tables— that share the same menu and are now open to the public. In the coming weeks, the gastronomic L'Atelier will join with a tasting menu located in the upper part and the cocktail bar on the lower floor of the premises. It has been in operation for a week and there is not a day that neighbors do not enter to thank for having opened something so beautiful in a place so special for them as was the Embassy tea room, closed in 2017 for not being able to afford the space rent . "That is why we have created a menu of teas and snacks," says Jorge González. This cook from Irún confesses that he did not get to know Joël Robuchon, but he did admire his cooking. "The culture of French gastronomy is in my blood and he has been the best French chef in history. Being able to reproduce some of his dishes and shape this menu by introducing Spanish products is a source of pride", he says. "I knew L'Atelier in Paris very well, I really liked going and when they called me for this opening I said yes even though I had my own restaurant in Madrid".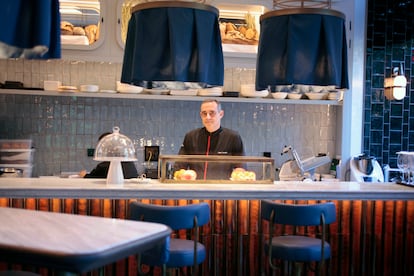 Tapas and menu
The chef explains that the recipes that have marked the history of Joël Robuchon are kept in all his stores. "And in the L'Atelier area we will have their crunchy egg with caviar, the lobster consommé with spider crab and caviar, the quail stuffed with foie or the tournedó Rossini". Until then, in the other more informal spaces of the place, you can already take other mythical French creations such as the croque millefeuilles Robuchon style (19 euros), a kind of mixed sandwich. "This is Robuchon's personal version of the traditional croque monsieur Comté cheese, Emmental, ham and béchamel. It is a mixed mille-feuille to which we add height, cut into rectangles and mark on all sides. An emblem of the house".
You can order the sandwich to share and then try some of its tapas, another important part of the establishment. "Thanks to them we play with French cuisine and the best Spanish product or vice versa," she clarifies. This can be seen in the honeyed croquettes of confit duck (the portion is 20 euros; average, 12 euros). "We don't make them with ham and we use duck fat to replace part of the butter," González details. The cod fritters with alioli (portion is 14 euros; average, 8 euros) are another nod to Spanish gastronomy. They also prepare marinated salmon pitas with avocado, Galician-style octopus or tomato with Iberian ham (12 euros each dish) and cornet of sea bream tartare with lime, beetroot and apple or beef tartare (9 euros ).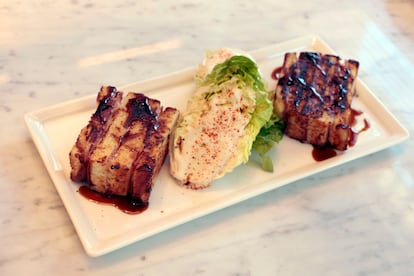 Each day they have a quiche different (22 euros) and a soup of the day (10 euros). And on the menu there is no shortage of chicken escalope Milanese with tomato and Parmesan shavings (28 euros), pasta, hamburgers, meat, fish or salads with an impeccable presentation. It is advisable to leave room for desserts, try something like rice pudding with caramelized peanuts and salted butter caramel (11 euros) or tartlets and let yourself be advised on the wines. In charge of the winery is Alberto Ruffoni, an attentive sommelier who is a pleasure to listen to because of his knowledge and enthusiasm when it comes to counting each reference. He was the winner of the last Vila Viniteca Tasting for Couples contest and for this project he has created a winery with the majority of French and Spanish wines. "We have around 650 references from the regions that we like the most in both countries and that work best with our cuisine. On the French side of the Pyrenees there is Champagne, Burgundy and Bordeaux, with a special focus on the Loire. And from this, Rioja, Ribera and Priorat, with great affection towards Galicia ", he assures.
Breakfasts and snacks
The activity of this establishment begins from 8:30 a.m. to 12:00 p.m. with artisan breakfasts. In their own workshop they make pastries, pastries and bread for savory toasts, such as the house-marinated salmon with avocado and ponzu sauce (11 euros). "Sourdough bread can also be bought to take away," says Jorge González.
From 5:00 p.m. to 7:00 p.m. they have wanted to maintain the essence of the old Embassy and offer more than 12 types of teas in the space where the old tea room was, and give the possibility of accompanying them with sweet tartlets, biscuits, cakes and a tea set for two with pasta, mini sandwiches, savory canapés and two glasses of champagne for 78 euros. With this high-flying opening, life returns to one of the corners with the most history of the Castellana, which now boasts a French accent.
Subscribe to continue reading
Read without limits