The starting price was one million dollars and it was finally sold for 15.5 million, the highest reached until then (2017) at auction for a wristwatch. It belonged to Paul Newman and had been given to him by his wife, Joanne Woodward, with the inscription "drive carefully". In other words, it wasn't a watch, it was a symbol, the closest a mortal could get to the incorruptible love of the couple with the best photo album in history.
the documentary series The last movie stars (HBO) —not yet released in Spain— dedicates six one-hour episodes to tell the true story of the most handsome man in the world and the wonderful actress with whom he shared more than half a century. Through unpublished material, more than a hundred interviews with the couple, friends and colleagues —Newman intended to use them to write his memoirs—, as well as talks with the children and grandchildren of the couple, the director, Ethan Hawke, achieves the most difficult yet: magnify the legend. And he does it by bringing them down to earth, showing that their relationship was not perfect —because none is—, humanizing the last stars, as his friend Gore Vidal, a writer, called them.
Newman: "We pounced on each other, leaving a trail of lust everywhere: hotels, motels, public parks, bathrooms, rental cars, swimming pools and beaches"
the actor of the hustler he burned the tapes one day, but the transcripts survived. And it was the family that commissioned the documentary. Says one of her daughters, Melissa: "People think of Joanne Woodward and Paul Newman and they think of the perfect marriage. To some extent, I feel guilty for dismantling that story because everyone needs those kinds of heroes, but at the same time, I think they deserve more credit. It was not easy, it was hard work, sometimes ugly". And that is precisely what triggers their merit, what gives them, also off screen, the essential quality of good actors: authenticity.
They met in 1953 in the office of their common agent. "Climbing the stairs," she recalls, "there appeared this advertisement creature. It looked as if he had been kept on ice. And I hated him." That first negative impression was quickly overcome. He says: "Orphans have a great appetite for everything. And we pounced on each other like orphans, leaving a trail of lust everywhere: hotels, motels, public parks, bathrooms, rental cars, pools, and beaches." "Woodward," says Gore Vidal (one of the interviewees, voiced by actor Brooks Ashmanskas), "came home saying that she had met the man she was going to marry. And he was already married!" The affair lasted five years until Newman divorced his wife, Jackie Witte —also interviewed—, with whom he had three children under the age of five. One of them, Stephanie, explains: "The divorce destroyed my mother. She wanted to be an actress, and on top of that, Joanne won the Oscar!" Because at the beginning, the star was indeed Woodward. Then everything changed. "I'm just a creature that she made up," Newman declares, referring to her "sex icon" image.
They married in 1958 and had three children. Newman's fame multiplied and Woodward's career, now the mother of a large family, suffered. "They are all wonderful. I love them. But if I had to do it again, I'm not sure she would have children, "she confesses in the documentary. Despite everything, Stephanie today has the name of her stepmother tattooed on her arm. "She was the one who made us a family," explains her sister Melissa of her.
Woodward: "Every time the phrase about the hamburger comes up I want to kill. I'm not a piece of meat!"
The couple then interpreted an unfair and universal script: while she got older and took care of the children, he rose and became more interesting. "What is it like to be married to Paul Newman?" She was asked in interviews. A presenter addressed the public one day, in front of the actor: "Would you let him leave the house if you were his wife?" It was at that time that he uttered a phrase that went down in the history of romanticism: "Why am I going out to eat a hamburger if I have steak at home?" She didn't like it at all: "What a chauvinistic statement," he explains in one of the interviews in the documentary (voiced by Laura Linney). "I'm not a piece of meat, for God's sake. Every time that phrase comes out, I want to kill."
They also overcame the terrible death, due to an overdose and at only 28 years of age, of Scott, Newman's eldest son, —"The guilt will accompany me until the day I die"—, and the actor's alcoholism. Finding him on the ground one day with a gash across his forehead, Woodward took the girls and left home. He gave her an ultimatum: drink or them. Finally, they reached an agreement: "Only beers."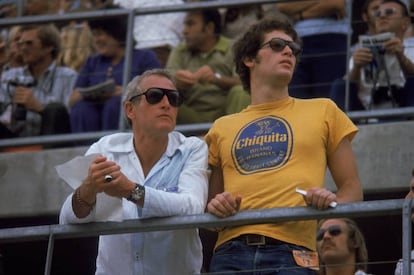 The most beautiful man in the world was surprisingly very insecure. He doesn't speak highly of himself throughout the documentary, where actor George Clooney voices interview transcripts that his friend, screenwriter Stewart Stern, recorded for that memoir project. Woodward not only "invented" him as a sexual icon, he also taught him to love himself.
In 1983, on their 25th anniversary, after many difficulties, they renewed their vows and remarried. The text they both read says: "Happiness in marriage is not something that just happens. You have to create it. Cultivate patience, the ability to forgive and forget. Being together in front of the world".
In 2007, Woodward was diagnosed with Alzheimer's and nine days later, Newman, cancer. Before going to the hospital for the last time, he looked for one of those stockings that Americans hang from the chimneys at Christmas and he put his compass inside his wife's so that she would have a gift for the first holidays that they were not going to spend together in 50 years. By then he had burned the interview tapes. Paul Newman had had enough of Paul Newman. Fortunately, his friend Stern had already transcribed everything.
Burton: "She was so extraordinarily beautiful that I almost laughed out loud right there. Unquestionably beautiful. In short, it was too much, and if that wasn't enough, he completely ignored me."
With them came the scandal
If that of Newman and Woodward was the story of exemplary love, despite the fact that it began in adultery, that of Liz Taylor and Richard Burton was that of scandal. They met when he was 28 and she was 20. "She was so extraordinarily beautiful that she almost cracked me up right there. She was unquestionably beautiful. In short, it was too much, and as if that weren't enough, he was completely ignoring me," he would say. "She wouldn't stop flirting with me, but I refused to be another notch in her belt… Little did I know," she would say.
They did not see each other again until nine years later, in Cleopatra. By then she had already been married four times: to Conrad nicky Hilton Jr. —heir to the hotel chain—, at 18; with the English actor Michael Wilding, at 20; with producer Mike Todd at 25—he died a few months later when his small plane, called lucky liz (Lucky Liz)—and with Eddie Fisher—Todd's best friend and married to one of Taylor's best friends, Debbie Reynolds—at 26. Screenwriter Mario Parra, author of film romances (Editorial Berenice), explains that the press began to accuse the actress of "homebreaking" and he lost the series The Eddie Show which aired on NBC.
Sparks flew on set. Taylor and Burton didn't get off even though they were married to other people. "The Vatican", recalls Parra, "came to condemn the couple, accusing them of 'erotic vagrancy' and Fox tried to sue them for damages, alleging that the extramarital affair and all the bad publicity it brought had a negative impact on the film, despite Cleopatra It ended up being the highest grossing of 1963."
After separate millionaire divorces, they married in 1964. Burton gave her an emerald and diamond necklace valued at $150,000. The book also includes the history of La Peregrina, an impressive jewel gifted by Felipe II in 1554 to Maria Tudor: "Burton won it in a bid for $37,000 from Alfonso de Borbón, who wanted to return it to Spain. When losing the auction, the royal house, in a show of good Spanish losing, denied the authenticity of the pearl, proclaiming that the real one was in the possession of Queen Victoria Eugenia, a fact that was denied. The grave of the third husband of the actress, by the way, was desecrated in 1977 by some thieves who were looking for the engagement ring with which Taylor wanted to be buried.
After the initial scare, the press fell in love with this explosive couple who, as Burton said, created "more commercial activity than many small African countries." So he started drinking—up to four bottles a day—and in 1973 the couple broke up. In the summer of 1975, accompanied by their respective lovers, they met in Switzerland to finalize the divorce, but instead they decided to remarry. They lasted less than a year. He married another woman and she married her number seven husband, John Warner, a Republican senator "whom she quickly got bored with," recalls Parra. In 1982, Taylor interrupted a Burton play by going up on stage to whisper to him in Welsh, "I love you." The audience broke their hands applauding. Actor Gabriel Byrne would say: "The most theatrical and unforgettable moment I have ever seen on stage." But it does not work. At one point, Burton eloped to Las Vegas with one of her young assistants and married her. Taylor checked into a detox clinic.
At the end of the summer of 1984, he said goodbye to her on the phone with "goodbye, love." She was 58 years old. His widow forbade Taylor from attending her funeral. She respected her decision and waited to visit the grave. A few days later, she received a letter that the actor had sent her before she died. They had never stopped corresponding, not even when they were married to other people. As Joanne Woodward said: "No one understands the relationships of others. Only the two people involved know what is keeping it going." The two loves lasted, each one in her own way, a lifetime.
Subscribe to continue reading
Read without limits