To live calmer and not put up with a boss: the new entrepreneur no longer wants to be rich, just happy
grand resignation, burnout, silent resignation… the semantics around the field of employment have been nourished in recent years by concepts that reflect a social reality experienced by a large part of workers: boredom at work. In a situation of professional dissatisfaction, leaving a job may be the most desired option, but not the most viable, since a soft economic mattress is needed to cushion the effects of such a significant decision. The challenge can be even greater if you seek to bet on your own project, start a business and trust in your own vision.
Something like this is what Esther Cid did when, upon returning from her maternity leave in September 2019, and seeing the limited options she had to promote herself at her job, she decided to drop everything and follow her instinct. "Reorienting your professional career is not easy," explains Cid, and assures that when he decided to undertake the situation it was not the most favorable: "It was not easy to say it at home when you are in a stable position with an indefinite contract and you have your first six month old baby. Her desire buried her doubts and she launched her own project, Tipscool, a platform that aims to connect students with mentors to guide them in their professional career.
An idea that emerged from Cid's own work as a psychologist and professor at the Pompeu Fabra University in Barcelona, ​​where she found that "85% of second-year students who drop out of their studies is because no one has guided them correctly with a mentor or a mentor." And she adds that she "was very clear that this need existed in the market." In entrepreneurship sessions that took place over a weekend, she developed the idea together with various partners. Her success was such that, in July 2022, the tool was sold to a multinational interested in integrating the service: "The name is confidential and I cannot say the amount of sale either, but we are not billionaires," she points out.
In his case it went well, but undertaking is not easy. And the pandemic gave the sector the finishing touch, although the numbers reflect that the havoc caused by the health crisis is beginning to be left behind. This is what Fernando Muñoz Bullón, professor of the Department of Business Economics at the Carlos III University of Madrid, points out, when pointing out that "with a TEA (Entrepreneurial Activity Rate) value of 5.5%, entrepreneurial activity in Spain would be beginning to overcome the consequences of the health crisis. In 2020 this rate was 5.2%, and in 2019 it was 6.1%.
Facing these statistics that point to the decline of emerging companies during the health crisis, we find the project of the sisters Esther and María Fábrega Moyano, both lawyers by profession. It was in the middle of the pandemic when Esther decided to start and relaunch Cashfana, a fashion firm started in her university years and now transformed into an artisan jewelry brand with hand-painted ceramic pieces in Italy. "On March 1, 2020 I left law and went to the tourism sector. But tourism lasted 15 days and they put us in ERTE ", says Fábrega.
Locked up at home and with all the time in the world available, she gave her university project a new opportunity, something she had been considering for years. "During my work in the world of law, I had always thought that I needed time to think and relaunch the project. The confinement and the ERTE made me decide ". From her house on the Costa Brava (Girona) she runs the business together with her sister María, a year older, resident in Los Angeles (California) and who also ended up leaving her job for Cashfana . "One of our challenges is to launch into the United States," says Esther. At the moment, the numbers add up and she assures that the reception "is exceeding expectations, since the brand started, it has been growing". She has also helped boost her visibility by having Queen Letizia wear one of her designs at the inauguration of Arco, the contemporary art fair held in Madrid last February.
The challenge of overcoming three years of life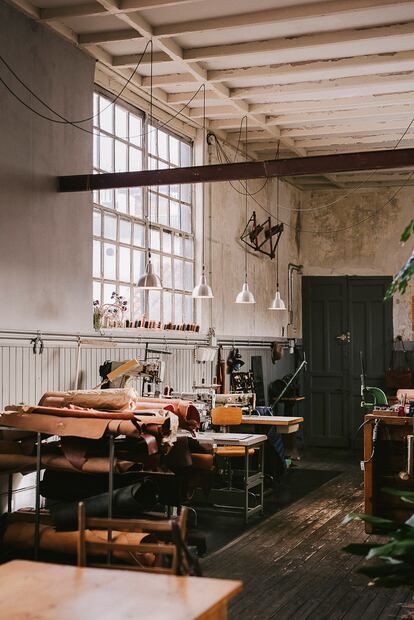 The so-called Law of start up, in force since last January, aims to encourage the creation of emerging companies, but the truth is that the percentage of new businesses that manage to consolidate is very low. Very few exceed three years of life, estimated time to know the feasibility of a project. Professor Muñoz Bullón indicates that "information on this can be obtained from the percentage of adults who started entrepreneurial initiatives and who have reached more than three and a half years of life. This is the consolidated entrepreneurial activity rate, which, according to data from the GEM project in Spain for the year 2021, was 7.2% (6% among female entrepreneurs and 8.3% among male entrepreneurs)" .
This year, Pepina Pastel has managed to overcome that three-year barrier. The Valencian dessert company, created by Lara Guerrero in 2019, has carved a niche for itself in its sector thanks to the sweets made with the recipes of Pepa, mother of the founder. Guerrero blindly trusted her mother's talent for confectionery and although she admits that "the decision was not very thoughtful", she was determined to undertake and discover to the world the flavor of the desserts that she had been trying all her life at home. . For this reason, she abandoned her previous business, a cafeteria, and focused entirely on Pepina Pastel.
"I sold my vehicle and with what they gave me I bought a refrigerated van to distribute and contact hotels to offer our desserts. At the beginning, our strategy was to get catering clients who wanted to have Pepina desserts in their restaurants", recalls Guerrero. The closure of restaurants in the coronavirus crisis forced them to rethink their business and from that moment, he says, sales began to gain strength. on-line to individuals of their cakes and homemade cakes. Mother and daughter have expanded the team to thirty people today. Shipments have also taken a leap and have crossed the geographical area of ​​Valencia to reach all points of mainland Spain. At the end of last year they opened their first physical store, located in Valencia, and closed 2022 with a growth of 120% more than in 2021, according to company data.
The 2019-2020 report prepared by GEM (Global Entrepreneurship Monitor) in Spain detailed several reasons why people decide to undertake: "Create wealth or a very high income", "make a difference in the world", "earn the life because work is scarce" or "following a family tradition". However, there are as many motivations as there are types of companies and there are projects, such as that of David Iglesias Resina and Melina Carranza Maciel, that are difficult to classify. Both left their jobs in the field of law and architecture, respectively, to enter an unknown world, that of crafts and leather. They decided to learn a job from scratch and in 2012, Oficio emerged, a brand of designs made of leather and made in a small workshop located in the Madrid neighborhood of Salesas. "We started a dynamic of selling to friends, then to friends of friends… and the word spread," explains Melina about the origin of the brand. They work leather by hand to make bags, backpacks, purses… Learning the technique took them 12 months, but when they pressed the right key, the gears began to work. Production is very limited because the team is small, and they have no intention of growing any further, so the motivation to get rich —one of the reasons given in the GEM report for starting a business— does not go with them.
"We did and do everything ourselves. We go to the tannery, we choose the skins, we bring them, we design the prototype, the production, the product photo, the website, Instagram, contacting the client… Everything, the team is the two of us and we do everything" , points out the co-founder of Oficio. The absence of intermediaries allows them to lower costs and place the price of their exclusive leather bags between 200 and 250 euros, in the sense that when they are made by hand, no two are the same. The work is hard, they usually produce one piece a day, but the effort is worth it and Melina is clear: "I would never have a boss again."