When Henry of England sat down to chat with Gabor Maté, the world's leading specialist in trauma
On March 4, one of the most unusual meetings in the history of the Internet took place. Many people were amazed at the announcement by the publisher of In the shadow that Prince Henry of England would have a long conversation with the Canadian doctor and writer Gabor Maté, the world's most famous specialist in trauma.
To gain access to the meeting, which took place at six in the afternoon (Spanish peninsular time), it was necessary to buy the Duke of Sussex's book, which could be completed with The Myth of Normal, the latest essay by the Canadian doctor of Hungarian origin. I myself attended this dialogue with skepticism, which raised quite a few criticisms before it took place.
As soon as this intimate talk began, in a small room in front of the fire, Enrique surprised by his humility when he openly explained the reason for the publication of his biography and this dialogue: after two decades fighting for his mental health, he needed to share his story to empower other people who aspire to be themselves, beyond the conventions and expectations of others.
In the conversation with Dr. Maté, which lasted an hour and a half, we learned about the prince's difficulty in finding a therapist to help him break the bubble in which he had lived since childhood. Only by finding him could he begin to free that boy who, at only 12 years old, had lost his mother. As a definition, Gabor Maté points out, trauma is an emotional wound that he has not healed. And the first step to getting out of trauma is to acknowledge it.
Enrique explains the moment in which his father, King Carlos III, entered his room to, tapping him on the knee, announce his mother's death. Immediately afterwards, after a laconic "everything will be fine", he left the room. The author of In the shadow explains in this regard that 99% of people go through some trauma, loss or pain without solving. In his case, the absence of hugs and caresses from his father aggravated an already extremely painful situation for a child. Maté points out that the fact that his father treated him coldly does not mean that he did not love him. He just didn't know how to express it due to his own upbringing.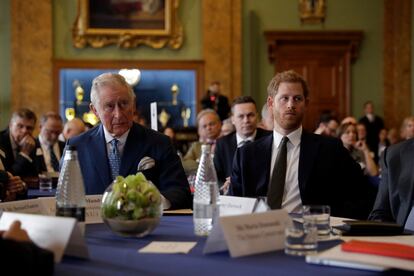 Enrique agrees with this comment and adds that, as a father, he tries to caress and hug his two children on a daily basis. He acknowledges that a turning point has been the publication of the book, since it allowed him to return to the point of trauma to understand it and not repeat the same mistakes with Archie and Lilibet. From that moment, he claims, he was able to complete his healing and begin to be himself.
At this point in the conversation, Gabor Maté recapitulates by stating that in every life there is a crossroads between two paths that can only be taken with pain:
1. You can choose the pain of not being yourself, of not being authentic, to please others.
2. You opt for the pain of being yourself and losing the support of others (or part of them).
Every human being must choose between these two vital options. And it is clear that only the second leads to personal fulfillment.
Along the way, one of the most emotional moments of the talk is when Prince Harry talks about his bouts of depression and anxiety. In protocol acts he had to shake hands with a long line of personalities, and many times he felt unpleasant heat on his body and sweat on his hands. Whenever he detected sweat on the hands of someone he was supposed to greet, he would stop. He knew that this person was also going through a moment of anxiety and he stopped to talk to her, even though the chiefs of protocol urged him to continue. That made him feel better.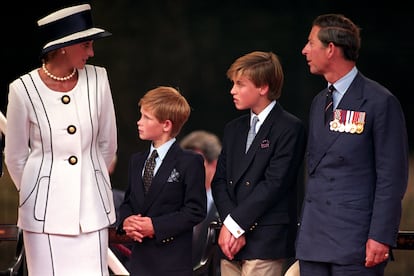 When asked about his tools to get out of trauma and pain, he answers that one of them is to allow us to grieve. He comments that during his stays in Africa he saw that the local population spent two or three days mourning a loss. That helped them process it.
The other tool is conversation. Being able to talk to people who know how to listen with love is key to healing. Even if you express it through writing. Regarding this, Enrique de Inglaterra confesses that at first he was frightened by the reactions that his biography could be generating in readers. To reassure him, his editor suggested that he look at Amazon's reviews. In doing so, the Duke of Sussex was amazed at the thousands of words of gratitude. "Feeling that I am helping other people to heal helps me to heal myself", he admits emotionally at the end of the conversation.
Gabor Maté adds that, in addition to having compassion and empathy towards others, you have to have it for yourself. This is the first step to get out of the trauma and start living a free and authentic existence.
'The myth of normal'
The latest book by Dr. Gabor Maté is entitled The myth of the normal. In it he explains that "trauma is not what happens to you externally, but what happens inside of you." To get out of the role of victim and reconnect to life, these fundamental needs must be met:
— belonging. Be well related to others.
— Autonomy. Feeling like you control your own life.
— Competence. Being able to deal with day-to-day challenges.
— Authentic self esteem. Not dependent on what you get or the validation of others.
— Trust. Knowing that you have the personal and social resources to sustain your life.
— Purpose and significance. Go beyond yourself to find the meaning of your own existence.