In the Sips there is no bar. Where once there was one —of the previous bar—, now there are three islands, one for work and two for diners. Breaking the physical and mental barrier between the bartender and the client was one of the main objectives of Marc Álvarez and Simone Caporale when they devised this cocktail bar in Barcelona, ​​which in just over a year of life -opened in June 2021- has become in the third best in the world, climbing 34 places in The World's 50 Best Bars list, crowned by another cocktail bar in the Catalan capital, Paradiso. Álvarez, with experience in the sector —he was in charge of the Elbarri group's cocktail party together with Albert Adrià—, repeats one word several times: experience. This is what cocktails have become, an experience increasingly enriched by refined techniques and top-quality products. The next thing on their mind is the cocktail tasting menu. It will be possible very soon in the Esencia space, which is being adapted in the same premises. And for a couple of months they have opened Glass by Sips in Madrid.
Open circulation area. This is what the client finds when he walks through the door of Sips, if he goes at rush hour probably after queuing for about 20 minutes. It is the price of going out in one of the most reputable bar guides. Demand has doubled, acknowledges Álvarez, who does not like that customers have to wait in line, but there is no other way to manage the shared desire to discover this Eden of mixed drinks. He and his partner, who ran the famous Artesian in London that was number one on the list for many years, like to call it drinkery housea drinking house (in English) that is open from Tuesday to Saturday from half past six in the afternoon to two in the morning and you can go in groups of a maximum of six people.
And in this open space, where bartenders and visitors can get confused, surprising drinks are prepared that arrive at the table with extraordinary containers. Krypta is surely the most involving. It is a cocktail of clarified kiwi, aromatic herbs, Sipsmith gin and Fundador Sherry Cask de Solera brandy. Few flavors that are tasted with a glass casing with an olfactory chamber. A container that allows you to drink and smell the cocktail practically at the same level, generating a totally absorbing experience.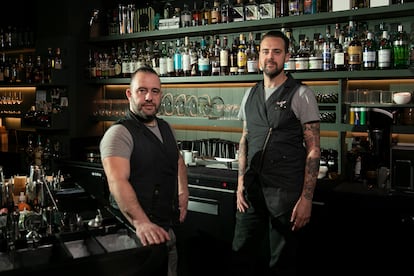 Oddly enough, many of the cocktails in this place are a mixture of few ingredients. "Simplicity helps," says Álvarez, convinced that sometimes less is more. Another of his most unique proposals is Primoridal, based on McCallan 12 whiskey, a Port wine called Ruby Port and also clarified Asian pear. This spirit arrives in a fiber container, in the shape of two hands closely joined, emulating that primitive gesture that everyone has made at some time with their own hands to drink, joining them to create a bowl.
To create all these drinks, the bartenders they have more and more devices, such as the smoke gun, which fills a drink with aromatic mist; he squasher, a pressure emulsifier that prevents oxidation of the fruit; the ice crusher or the centrifuge, which allows you to get all the flavor of a fruit or herb without the thickness that the pulp gives it. With the latter, the Millefeuille is made, another of the most successful cocktails. It has a lactoclarificada Catalan cream —all the flavor without the thickness of the cream—, Gray Goose vodka, vanilla, lemon leaves and soda.
The cocktail tasting menu arrives
If in restaurants we are already accustomed to the tasting menu, a formula that allows us to snack on a bit of everything and get to know a chef's kitchen in depth, now something similar to cocktails has arrived. Álvarez and Caporale are working on several tasting menus for a new space that they will call Esencia within the same Sips premises. They want to offer several cocktails with a plot line, which can be based on a product, such as cherry or cocoa, or on a concept, with small sips of between 40 and 50 centilitres. They do not want to advance much more, but in a few weeks they will inaugurate it.
In this new proposal they intend to delve into their values: hospitality, experience and technical rigor, continuing the discourse that has turned them into a pilgrimage cocktail bar. Everything has its meaning, from the choice of liquors and the different ingredients to the use of culinary techniques applied to liquids, dishes, customer service. Álvarez defends that there is already a Sips DNA, which resonates in the 30 cocktails that are currently on the menu. With a capacity for 35 people, customers spend an average time of 45 minutes and take a couple of mixed drinks at a unified price of 14 euros. According to Álvarez, "it is haute couture at a bargain price. ready-to-wear".
Since last November, this couple of bartenders He also runs the Glass by Sips cocktail bar, located in the Hotel Urban in Madrid, where they follow the same philosophy of cult to experience with the same drinks menu. Since August, they have also been running the Boadas cocktail bar in Barcelona. "It is a history museum" in the city, says Álvarez, to point out that practically nothing has changed. There they continue to serve the classic Daiquiri, María Dolores or Sofia Loren. "It's an iconic place for us," he adds, quite different from the new venues, which have led to a cocktail boom in the city, which has also become a tourist destination for its spirits, says Álvarez. In fact, at Sips they receive 75% of tourists, seduced by the new pillars of cocktails: much more creativity and staging, with a significant reduction in alcohol degrees. Thus, the new cocktail bar is better.
Subscribe to continue reading
Read without limits