Elie Saab Jr: "If we do men's haute couture it is because there is demand. Men who have the money and want to wear this kind of luxury."
The bridal fashion fair in Barcelona, ​​one of the most important in the world, has just broken all-time records in its latest edition, held this month of April: more than 21,00 visitors, 76% of them international, have been able to see the novelties of 350 brands (70% from outside Spain) and attending more than twenty fashion shows. Among all of them, the one from the firm Elie Saab stood out, which showed her bridal collection for the first time in the Catalan capital.
The Lebanese firm opened the fair on April 19 with a Show at the Maritime Museum of Barcelona attended by 450 guests, a large part from Asia and Arab countries. "Our price is not for everyone. We are perhaps one of the five most important bridal brands in the world, and to stay in that position we have to do what we do, which is to say, completely handmade dresses full of exclusive details. In reality, it is even difficult to put the price ", he explains about these pieces that sometimes exceed four figures Elie Saab Jr., the son of the founder of the exclusive firm, who has been at the helm of the company for four years.
Since his arrival, the businessman has been in charge of growing the business by greatly expanding its product lines, from watches to furniture, including children's clothing. "It is diversification that allows us to continue growing, because we vary the price range. It is the strategy so that everyone can access our universe ", he points out. Diversification, together with an aggressive commercial expansion (they intend to add 40 more stores to the 60 they already have by 2025) have made them grow in recent years. There are no exact figures, because it is a family business, but Saab Jr. gives a few brushstrokes. "Growth has been 35% on average, while most luxury brands have grown approximately 9% or 10%."
Interestingly, the firm, the epitome of maximalism, luxury and ornate designs that have captivated royalty and celebrities around the globe, grew during the pandemic years with a shrewd commercial dynamic. With the stores closed, they strengthened their digital presence and even partnered with the division premium from Amazon, Amazon Luxury. "I would say that the business line that has grown the most is ready to wearalso the perfumes, but above all the ready to wear", says Elie Saab Jr.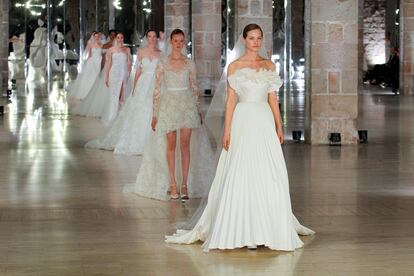 However, what makes the brand increase its turnover of garments produced in factories is the influence of its very exclusive designs made by hand, that is, its line of haute couture which, as the businessman assures, has also grown: "It is the top of the pyramid, which makes the rest of the company still attractive to the public." In a world that is increasingly economically polarized and preparing for a major crisis, the firm has introduced men's haute couture pieces in its shows. He explains the reason bluntly: "No more and no less than because there was demand. Men who have the money and ask for very luxurious clothes".
In 2002, Elie Saab Sr. became the first Lebanese to dress an Oscar winner. The dress with a transparent tulle bodice and taffeta skirt with which Halle Berry picked up the statuette as best actress for Monster's Ball (and which belonged to a previous collection of the designer) catapulted him to international fame. So much so that today it is exhibited at the Academy Museum of Hollywood, in Los Angeles. That piece allowed him to be invited by the very elitist Parisian Haute Couture Union Chamber to parade in fashion week. Twenty years later, he continues to do so, and the brand's headquarters are in the French city. "Although we maintain another headquarters and workshop in Beirut, that is where the heart of the house is," explains Saab jr.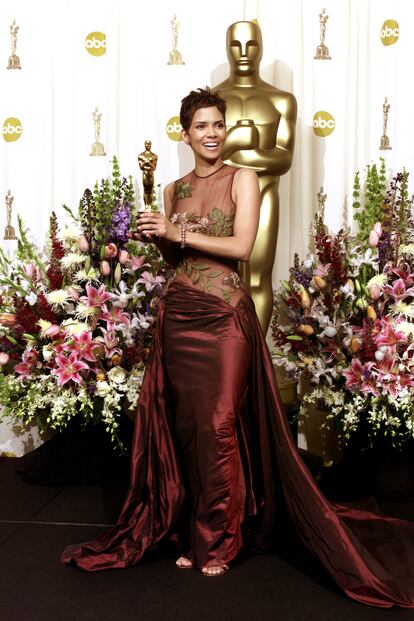 In fact, it was during the Lebanese civil war, in 1982, when Elie Saab decided to open a small haute couture studio. She was 18 years old when, after a year studying fashion at a Paris school, she decided to return to her hometown to try her luck with dresses full of embroidery and beading that she created on her own. "If we are here forty years later, it is thanks to my father's passion", comments his heir, "he went through many adversities at the beginning, but he has always surrounded himself with a faithful team that has pushed for things to move forward. I always knew that I wanted to take charge of the company in which I grew up because I saw how it worked and the motivation of the team. Now I would not say that we remain organic, there are always challenges, but I do say that this drive has stabilized".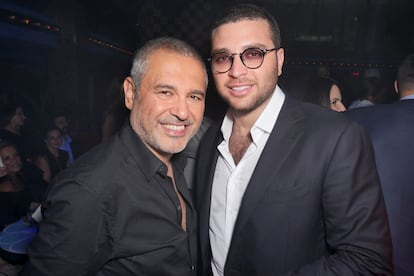 Elie Saab Sr. began dressing the wealthy women of Beirut for ceremonies and, thanks to another of his great ambassadors, Rania from Jordan, his influence spread to Arab countries, where he became the benchmark haute couture designer. "Obviously, our clientele has changed, although change is not really the word, because they remain loyal. Let's say it has spread, to other countries and between other generations, "she explains. For this reason, in full growth, the son of Elie Saab wants to open a new chapter in the family business. "We have a very strong identity, and a public that comes to us looking for the luxurious and the feminine, so now the next step is to turn Elie Saab into a lifestyle brand, beyond fashion."
Subscribe to continue reading
Read without limits