Jorge Lozano, the self-taught chef who claims the excellence of traditional tapas in Salamanca
"In Salamanca before you could find a bar with 70 skewers made from nine in the morning. I wanted to vindicate the importance of the classic tapas in our culture by updating them", says chef Jorge Lozano. That is why he set up Tapas 2.0 (Calle Felipe Espino, 10) in 2010. "I wanted to offer an ensaladilla rusa seasoned at the moment and prepared with care, some well-made patatas bravas, poached first and fried instantly, or my grandmother's croquettes." affirms this self-taught chef who was trained by watching cooking at home, reading many recipe books and working in various establishments in Salamanca. "Our first store was 60 square meters and we soon outgrew it," he admits. In 2014 they opened the second one in the same city and with the same philosophy, called Tapas 3.0 (Sánchez Barbero, 9) and with a greater capacity in the lounge and terrace.
Lozano says that he did not study in any hospitality school. "Since I was a child, my greatest entertainment was uncovering the pots that my Zamoran grandmothers had on the fire and asking how they made each dish. Then I studied two years of Teaching. I dropped out when I was washing dishes in a restaurant to pay my tuition because that hooked me. Later I went through the best restaurants in Salamanca, but the Michelin world never caught my attention enough to work in one ", he affirms. However, now the Red Guide recommends the establishment of Tapas 3.0 as one of the essential references for portions in the city.
His establishments share the impeccably prepared classic tapas that he took so seriously from the start. Some of them, such as Grandma Manuela's Iberian ham croquettes (1.60 euros per unit) or very bravas potatoes (4 euros per tapa) have appeared in some rankings prepared by specialized national critics. And the Russian salad with ventresca (4.50 euros per portion) was a finalist in the Spanish championship held at the San Sebastián Gastronomika congress in 2021. "They are the three tapas that people ask for the most and we take great care of them. The rest of the menu varies depending on the location and the season, "she explains.
Each head chef likes to give their point and in autumn, for their stews (another strength of Lozano's cuisine), they introduce local legumes such as lentils from La Armuña. From the rest of the offer, you must try the glazed black pudding with foie and crunchy tomato (6 euros a tapa). "Emilio Muriel invented it, a chef I had years ago at Casa Paca in Salamanca. I only added the tomato jam and the crunchy tomato", he says. Also noteworthy are the battered hake fritters with shrimp sauce (8.50 euros) or the kebab of Iberian cheek with goat roll (6.50 euros) that he came up with after trying one for the first time in Madrid. "I thought it was horrible, but as a concept it was good and I wanted to bring it to Salamanca with Iberian cheeks", he adds.
He emphasizes the importance of working with quality products from the area. "Iberico is the flag of Salamanca and everything we use in our kitchen is, except for pig trotters", he explains. Another detail is the house bread: they make it with Zamora wheat flour in the workshop they have downstairs. And also the cheesecake (5 euros): "Many people order it from us in advance for family celebrations. We make it with sheep's milk cheese from Hinojosa de Duero, from the Arribes area". In addition to this dessert, another of the most demanded by customers is the homemade flan (5.50 euros), also a family recipe. In the accompaniment of drinks there is a good wine list by the glass where there is no shortage of references to Salamanca, the Toro denomination of origin and an extensive list of generous and sweet ones to choose from.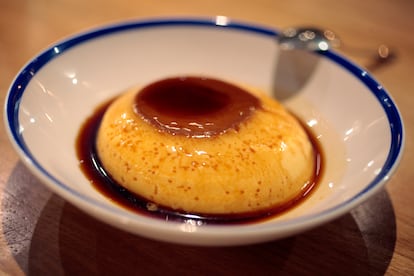 For a year and a half, his creations have also been tasted at Aires by Tapas, the restaurant at the La Valmuza Golf Course, in the Salamanca town of San Julián de la Valmuza. And before the end of the year, he hopes to have his third location open in the city. "It will be another concept where I will put dishes like sole a la molinera by Teodoro Bardají —a historic chef and writer— or some from Chez Víctor, the first to get the Michelin star in Salamanca, who died this year and with whom I got along very well" , account. Meanwhile, with an average price of 25 euros, its tapas continue to be the meeting point for residents and tourists looking for unbeatable bites. That is why it is important to book.
The reservation phone number for Covers 3.0 is 923 61 96 19. Monday and Tuesday closed.
Subscribe to continue reading
Read without limits