Remember and save. It is not bad advice for a business – to say industry, here, is still not acceptable – with a short fuse and even less memory. Juan Duyos applied the story 25 years ago, when he jumped into the arena alone, which is why he now assures that he no longer has anything to lose. "I remember a lot, the good and the bad, but, above all, I keep calm. I am more serene than ever, living each day without thinking beyond the moment", admits the Madrid designer, about to stage the significant anniversary of the label that bears his last name since 1998. A celebration with no greater concessions to nostalgia than a band sonorous of youth triphopera (Portishead, Massive Attack, ring a bell?). It happened this Thursday, September 15 at noon, during the opening day of the 76th edition of Mercedes-Benz Fashion Week Madrid. It is already spring 2023 at Ifema.
"In Spanish fashion, we all hang by a thread. And yet, it has never crossed my mind to throw in the towel, nor have I ever considered the possibility of devoting myself to something else, not even during the worst months of the pandemic. Mine has been tenacity, commitment and building a story little by little, according to who I am and what I am. It's my way of life", the creator continues in statements to EL PAÍS, who stops to evoke his first adventure companion, the ill-fated designer Cecilia Paniagua, and for whom two words are enough to summarize this quarter-century career of Fund: "Resistance and resilience". A demonstration of endurance that has its own choreography.
More than a collection, Duyos has come up with a ballet for next spring/summer. Very intelligent on his part to present the garments in almost aerial movement. Danced by 38 dancers from the National Dance Company commanded by Mar Aguiló (creative director, in addition, of the ElAmor collective), the jacquard, silks and tulles feel light despite the rigidity of certain volumes and the heaviness of those trademark overlays. The powdery colors and floral/vegetable prints have been inspired by a recent —"and exciting"— tour of Estonia. "It's more of an emotional imagery than a literal one," she explains. The recurring sequin embroideries refer to sunny arctic nights. They also insist on the idea that you can shine during the day.
Twenty-five years later, Duyos still finds it worthwhile to go out into the arena of the first Spanish catwalk. "I started here, they built me ​​like this, it is my habitat, for better or worse. In addition, it is what it is: in Spain the fashion system has its rules, which perhaps reason does not understand, and I no longer want to go against the current", she is sincere, before giving the last stitch, which feels lace: "I I have known how to fit what I am with sincerity and tranquility ".
Know who and what you are. That is, again, the question in the MBFWM. Some of the creators who devoutly come to his call every six months take a lifetime (commercial) to figure out. Others flaunt their self-knowledge as soon as they step on the carpet of Pavilion 14 of the Juan Carlos I fairgrounds. Jorge Redondo, from Extremadura, for example, made it to the official calendar last March, and won: L'Oréal Award for the best collection of the season before even going out on parade, with a proposal that fooled no one. Redondo Brand is, he affirms, a "guest brand", a disaffected definition for those who wear / walk through the little (or not at all) wild ceremonial side of fashion. In this second appearance, he would be missing, he has not gone around with niceties and detours: draped dresses and cut outnoble fabrics (silks, lace and Chantilly for the first time), mermaid silhouettes, Sophia Loren for a stylish flag. ready-to-wear semi-sewn, that is, impractical on a day-to-day basis —a pair of tailored jackets, well contrasting in tone and better cut, if anything—, but proven effective at weddings and red carpets.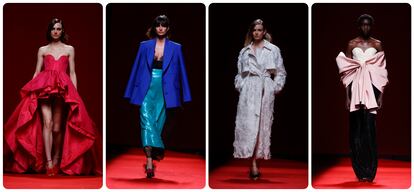 There is also no one who puts a but to Andrés Sardá, who opened fire with one of those showy parade-shows that always solve the ballot, at least visually. With cinema as a narrative thread (Hitchcockian anti-heroines, showgirls of musicals, supervillains and Disney princesses), the veteran Barcelonan school once again wallows in a theatricality that, however, ends up misleading what is really at stake: one of the best exercises in lingerie/corsetry and swimwear design of which there is news on the market, buried by a nonsense of accessories that border on disguise or, worse, caricature. The bralettes from the fifties to the satin, the mesh tulle garters embroidered with crystals, the sensational sets of geometric prints that were not even out of a few credits by Saul Bass or Maurice Binder, although sometimes it was difficult to distinguish them.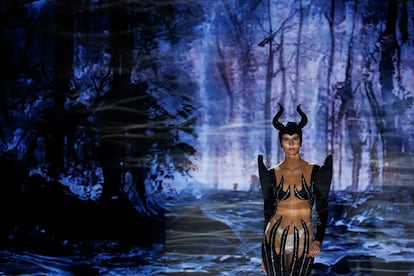 Technical excellence, in any case, is taken for granted in the house led by Nuria Sardá, the founder's daughter, who has been in charge of the collections since 1998. This is what happens when you have a job. Appealing to him is usually the handy solution when there are doubts about consistency/identity substance. Nothing like invoking it then as a craft, wild card par excellence of the current fashion of Spanish author. The willful Juan Carlos Pajares has drawn on it in that unique collection that he launches annually under the JCPajares umbrella: thread and needle work from Castilla-La Mancha, from crochet to embroidery from Lagartera, passing through fabrics made on hundred-year-old looms, ceramic appliqués and blown glass, all incorporated with modern sensibility into garments that speak, above all, the language of the street.
Of crafts and what they call slow fashion Likewise, Pedro del Hierro's contribution to next spring/summer goes on. "We start from the idea of ​​a couple who is shipwrecked, manages to reach a deserted island —with their luggage— and takes the opportunity to meet again, with them and with that playful part that involves dressing up," says Nacho Aguado, creative director of the women's line. A collection conceived from the sensuality and fluidity of lines, both feminine and masculine, intervened by three artisans who add a certain do-it-yourself play of hands. "It is a way of saying that it is always possible to turn the unforeseen into an opportunity," summarizes Aguado. Make virtue of adversity. If you know about that Spanish fashion.
Subscribe to continue reading
Read without limits