The chef Sergio García wants his residents of Coslada to try new flavors: "There is also cooking outside the M-30"
Sergio García has been saved by cooking on several occasions. Since 2019 he has been the owner of the Madrid restaurant Muyummy (Virgen de la Cabeza street, 26, Coslada), but his story with the stove began when he was 10 years old. "When I came back from school, my mother would leave me half-prepared food so that I could finish each dish as I wanted and thus eat it freshly made," he says. "Later, when I was older and went with my friends on vacation, I cooked for everyone and they treated me like a king," he recalls. His mother insisted that he study cooking, but she opted for a bodywork FP, which she left after a year; He became a Civil Protection volunteer and entered a factory where, in addition to his work on a truck assembly line, he took time to cook for his colleagues. "They had a little stove and the first week a man taught me how to make porridge. On one occasion they caught my attention because he smelled of paella from the other corner of the ship. Logical, he was making a kilo and a half of king prawns, "he recalls laughing. "My motivation was to cook, so while I was working in the factory I began to study at the Hotel Escuela de la Comunidad de Madrid".
His life took a radical turn when his mother died and his friends were arrested. "I was 23 years old, there was a police operation and they took all my friends to jail. At that moment the chip changed and I took refuge in the kitchen. It was my shield. I put on my apron and felt like a warrior. I left my job in the factory and turned to what is still my profession", says García. He did his internship with Joaquín Felipe in Madrid's Aspen, flew to London with Marcos Morán to join his Hispania restaurant, went through the Peruvian Ceviche in the British capital and returned to Spain as the hot head of Dani García's BiBo. "I also spent a month and a half working at El Chiringuito de Es Cavallet, in Ibiza, and living in a tent." He then received an offer to run the restaurant La Verónica, in the Las Letras neighborhood, and he stayed in Madrid. "There he fed people like (also a chef) Ramón Freixa and I was blown away," he recalls.
With concern as a flag, when a friend suggested that he go to work on a yacht-casino in Gibraltar, he did not think twice. But before packing his bags, he passed through his neighborhood of Coslada and had a crush: "I saw a place that I really liked and I began to think about a project to set up my restaurant." That is where the current Muyummy arose. "I lived with my sister and my brother-in-law, at home there was no contract and no bank gave me money. A friend who is an expert in hospitality accounting helped me draw up the business plan and I got a grant from Obra Social de La Caixa", he explains. In 2019 it opened. "We started without dishes, just with cardboard ones, because I didn't have to pay anyone to wash them. I assembled the kitchen and the decoration with things from the junkyard and I started to make noise. There were days when no one came, but we managed to resist. I have brought people like Chirie Vegas, an eminence of rap in Spain, to play, and people were freaking out", he explains proudly.
"Outside the M-30 they also cook"
Located in El Barral, in the municipality of Coslada, and decorated with graffiti, Sergio García was clear that this was the place where he should be. "I want to bring people from my neighborhood closer to the kitchen that only a certain public has access to, which is not the one that lives here next to the Fairgrounds. We make dishes with Thai, Chinese and Latin American influences with stews that are very much ours and we make people try flavors they have never known in their lives. The response has been incredible and the neighbors are the ones who feed me. Mine is a claim that cooking is also done outside of the M-30", he adds.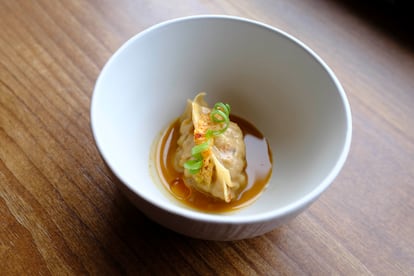 In Muyummy's menu, its dish of the day stands out for 9.50 euros and on Wednesday it offers a ramen made from stewed broth that they have been feeding every week for six months. "Many come daily for the dish of the day and leave satisfied. They don't ask what we have because they trust us and we vary it, because I cook according to what I see in the market. Later, some of these dishes have become fixed ", he explains.
Among the elaborations that make up the menu is the fried kale hamburger with glazed knuckle with peach sauce and Korean chili flakes, chimichurri sauce and Risolada potatoes (14 euros); the chicken milanesa marinated in kimuchi and empanada in panko, with feta cheese, peanuts and chives (11.50 euros); or the toast of bread Brioche with bacon cooked in Chinese brine (12.50 euros). "For this last dish we make a bottom of pork ribs, legs and tail, reduce, add a calimocho, mix with butter and with that we then glaze the bacon, which we serve with garlic milk aioli and a bouquet of aromatic herbs and Chinese chives" , describe.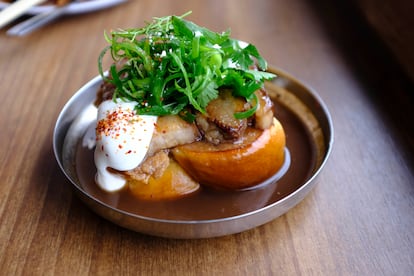 His proposal also highlights the ribs Mr. Ping (12 euros), pork ribs duroc ending in wok with a Chinese black vinegar molasses and chilies; or the Korean yearling lasagna with fermented beans (13 euros). In addition, the chef cooks every day gyoza with different fillings. "I have made them with peasant sausage with shrimp, braised pork shank with curry or leg of lamb, among many other things. I go shopping daily and make stews with what I take with me. It is the base of my kitchen. We work a lot at the moment, "she confesses. He also boasts of his leek croquettes with mojo picón (10 euros): "There are people who tell me that they have never tasted a leek in their life and they eat them two by two. Do you know how satisfying that is?" Then the smile lights up his face and it is easy to sense the boy who, at the age of 10, was trying out things in his parents' kitchen to eat hot and try something different every day.
Subscribe to continue reading
Read without limits