The fracture makes the union in the case of Andrés Gallardo and Marina Casal. The first, born in Lorca, Murcia, 45 years ago, fate caught him on a trip to Berlin where one afternoon, rummaging through an antiques market, he discovered a cardboard box full of broken porcelain pieces. "It was 2010 and I was a bit scattered. I couldn't tell you why, but they caught my attention and I brought them home with me, "he recalls. From that discovery arose the germ of the homonymous company to which the second joined (A Coruña, 1981). Together they have become pioneers in a sector, that of jewelry, which rarely uses porcelain as its raw material.
The two creators of this creative tandem come from a common interest: Gallardo, raised in Cartagena, moved to Madrid to enroll in the Centro Superior de Diseño de Moda. From there he went directly to Don Algodón, a national textile giant that was in full renovation led by Juan Duyos. There he met Casal. "We shared a slightly romantic vision of fashion, which was to slow down and stop functioning at schizophrenic levels. Unfortunately, the crisis in Spain since 2008 was not very compatible with our idea", she recalls. After the Stendhal syndrome from that trip to Berlin, her interest in finding broken porcelain pieces and reincarnating them in unique necklaces increased. "After passing through Don Algodón, I went away for a few years to work for Bimba y Lola and Marina at the Duyos workshop. We met again at the Raasta company ―founded in 2001 by the entrepreneur Kavita Parmar― and I began to talk to her about porcelain. It had to be Marina who encouraged me to change the direction and become my own boss, with her by my hand", reasons Gallardo. "It was the worst possible moment, taking into account that we were in the worst of the germinated crisis, but we needed to learn new things and not feel that we had already settled into a routine and that was life. So we made up a new one."
The love for her product spread like wildfire: in just six months, her necklaces with pieces of panthers, birds or flowers began to be seen in several multi-brand stores, magazine covers ―both remember the one that Lana del Rey starred in for S Fashion in May 2012― and on the necks of friends who became her best clientele. So much so that, just a year later, Casal and Gallardo packed their bags and began to take their pieces to fairs such as the Premiere Class in Paris, where they won the Who's Next contest for emerging creators. "The award allowed us to have a fixed space at the exhibition fair, but it also made us realize that we could not continue working with a formula that only used broken pieces found in antique dealers. Mainly, because there were clients who asked us for this or another variation of a necklace and we needed to give them something similar or we risked losing them", they recall.
It didn't happen. 11 years later, the firm has expanded its small universe to other accessories such as rings, bracelets and bags, and in recent years it has signed collaborations with Sargadelos, Peanuts or Adidas. They have also expanded their team with talents such as artisan Juan Carlos Vivas ―industrial design expert and Gallardo's husband― and have established their operations center in a pristine location in Madrid's Las Letras neighborhood that functions as a store, warehouse, and studio. "The pandemic made us realize that there were things that were not working and others that we had to consolidate much more: we stopped working according to the fashion calendar, with two collections a year, and now we work for small capsules, depending on what interests us. or inspire in each moment. That gives us more freedom and security in what we do", explains Gallardo, who carries the most creative weight in the project, while Casal supervises the business part and the day-to-day running of the studio, although they share responsibilities. "We are all aware of every aspect of the company and we function as a whole," she adds.
A large part of the clientele that Andrés Gallardo has amassed in this decade is of Asian origin, especially Japanese, something that both associate with its extensive ceramic tradition. His is the tradition kintsugi ―which consists of joining ceramic pieces with liquid gold― or the types of baking that in 2017 were declared national heritage. "It is difficult for us in Europe to understand porcelain as a material linked to jewelry because we have never considered it as such. Although projects like those of Helena Rohner or the French Marion Vidal have put this pairing on the map, Gallardo and Casal still remember how difficult it was to convince an artisan to help them make the leap to large-scale production. They found it in Barcelos, a city in the north of Portugal. "They told us about a family factory that was about to close due to the crisis. Its owner, Francisco, had gone from managing 30 employees to being forced to accept the lack of demand as a failure. But we arrived and asked him to associate with figures of animals and plants. It was hard for him to understand, but he celebrated like us the month we reached 300 orders, "Andrés recalls tenderly.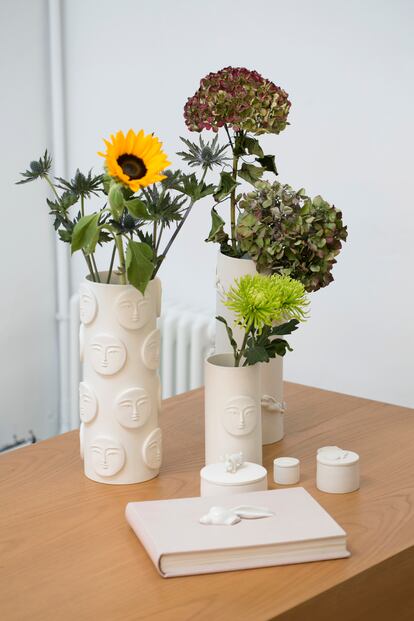 That link between veterans and new generations is precisely one of the factors that the firm is most interested in encouraging. "The key so that such specific trades do not disappear is that there is someone who makes them survive," says Marina. "In the case of Francisco, it is his daughter, but in many others no one has learned a unique technique and it is extinguished forever. That's what should never happen."
A brief look at your only physical store is to understand your universe in the best way. Grasshoppers as earrings, panthers set in leather bags and backpacks or jewels that replicate roses with thorns truffle the shelves of a place that this duo has managed to nurture and transform from a hobby amateur into a solid and viable project. Although they sell in meccas as diverse as Ekseption (in Madrid) or the Guggenheim Museum in Bilbao, they allude to their business on-line as his winning horse. "Technology should not be, far from it, the enemy of craftsmanship", reasons Andrés. "Social networks have helped us so that people understand the process, value it and pay attention to our brand beyond the fact that it seems pretty to them. This has also managed to highlight another value, that of Made in Spain, which we still have so much to defend".