The history of Ikea, turned into a book: from the sofa for children to jump into a kit to start cooking
They are low-cost products that have come into our lives and some have even become cult pieces of design, such as the Klippan sofa. Others have been awarded prizes in international competitions, such as the Lisabo desk. people and the planetfrom the Phaidon and Ikea publishing houses, is a book that breaks down the essential pieces of the Swedish firm for a better daily life, objects that help us live sustainably, so that the needs of today's people are met, without compromise those of future generations.
Maisie Skidmore, book editor, writer, consultant, and author of articles and essays on fashion and art and their intersection in contemporary culture, comments: "Since the 1950s, Ikea has based product development on home visits. , research studies carried out in thousands of homes around the world. With that model in mind, we visit artists, activists or athletes in their homes, gardens and workplaces, from Bali to Beirut, Moscow to Mexico, to investigate some of the little things we all do to try to live more sustainable".
Printed in Germany, it is divided into six sections: time, space, food, rest, play and togetherness. Sections that respond to different icons of the Swedish brand founded in 1943 by Ingvar Kamprad and that also includes photographic essays and delves into the lives of 12 different people and families from all over the world. The sons of the company founder, Peter, Mathias and Jonas Kamprad, preface the book and describe how their father, from the beginning of the brand, wanted to fight against the "waste of resources", which for him was "one of the biggest diseases of humanity", as he wrote in his Will of a furniture dealer. The point is that these ideas have been valid since the late 1970s and, more than ever, with regard to the new coronavirus disease and the climate change crisis.
In order to improve the daily life of the greatest number of people, these pages analyze what the day-to-day life of people from all over the world is like, from Lebanon to Canada, Mexico, India, Germany or Singapore. Multidisciplinary artists, photographers, writers, journalists, activists or brand strategists, portray their day to day throughout pages that intermingle the most iconic Ikea pieces that have become essential for a simpler life. This is a selection of the essential pieces for a better life:
Lisabo's desk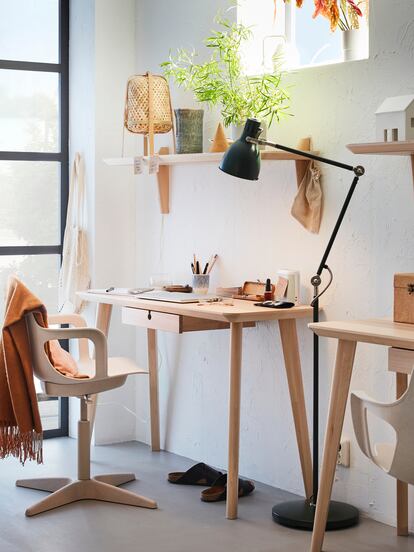 With teleworking, the desk is one of the key pieces of the house and this belongs to a complete collection of tables made of solid birch wood and ash veneer, whose main attraction is that it is assembled in a few minutes, thanks to the work of engineers Anders Eriksson and Göran Sjöstedt, without screws, bolts or tools. In fact, the montage video is hypnotic and its design has won one of the prestigious international Red Dot Awards.
The IKEA PS sofa bed
The pandemic and its consequent global confinement have made society see that you have to live from day to day and, to improvise a rest room in the living room at home, this two-seater sofa convertible into a bed is an easy and affordable solution. It was designed by Chris Martin and Thomas Sandell and introduced in 1999, it has become one of the landmarks of the Ikea fan club. Its simplicity hides a brilliant design due to its practical component and easy to transform with one hand.
Startbox Kok Nº1
It is one of the pieces in the Ikea museum. Designed to set up the first kitchen or that of a second home, without making a large outlay, this set of various utensils is an invention from 1985, based on the fact that Ingvar Kamprad wanted to "democratize the culinary process for students and people who have just become independent ", as the book indicates people and the planet. Designed by the Ikea team, as a curiosity, among the 50 pieces it included the garlic press, an essential piece of Swedish kitchen. It is a product that combined quality, functionality and sustainability because it was marketed in a cardboard container.
Symphonysk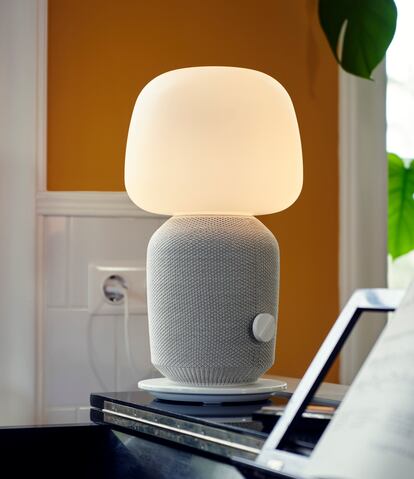 The design of this speaker-lamp is based on the fact that, when it comes to creating a calm environment, light and sound are two of the keys to success. To solve this double duty, Ikea teamed up with wireless sound pioneer Sonos to create Symfonisk, a table lamp with a built-in Wi-Fi speaker. Its creators, Andreas Fredriksson and Iina Vuorivirta, opted for blown glass for the reflector and organic shapes. The sound is also democratized with this piece.
The Klippan sofa
Who has not sat down to try it in the Ikea stores, raise your hand. Since it was launched in the 70s until today, it must be the sofa on which more children have jumped on than before the impassive attitude of their parents, because that was the idea that led to its creation, in 1979. Then, it was born in Sweden a new type of sofa that has been exported all over the world, dressed in a wide variety of fun and interchangeable covers. Its price is unbeatable, which is why it is part of this list of essentials. A curious fact: its design is inspired by another Ikea sofa, Lappmon, by the Japanese Noboru Nakamura and it is also on the list of the Ikea museum.
The Misteln accessory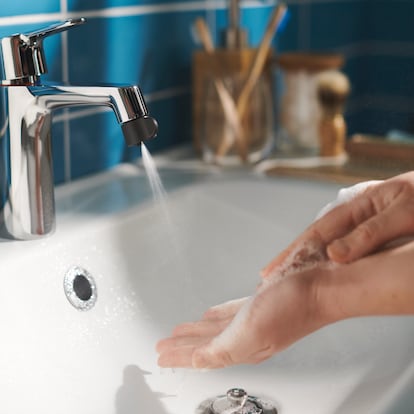 It is small, but no less important, especially if we think about the predictions of the World Wildlife Fund organization that suggest that, by 2025, around 75% of the world's population will be affected by water scarcity. This accessory is designed to avoid waste because, in Europe, we use an average of 150 liters of water per day, a figure that is much higher in the United States. This piece is the result of Ikea's collaboration with the Swedish innovation company Altered, which has been developing this faucet aerator since 2016 that atomizes water and represents a 90% reduction in consumption and which will be launched on the market soon.