A brand new Marbella luxury in La Cerquilla
The mansion is brand new, since it was built in 2022, and is located in La Cerquilla, an exclusive residential area of ​​Nueva Andalucía, north of Puerto Banús in Marbella. The house is located on the first line of what is known as the Golf Valley, one of the areas with the most courses in the province of Malaga. The Costa del Sol enters through the large windows of this house, which also has high ceilings to gain light. It has an open-plan distribution designed by the Tobal Arquitectos studio and has been equipped with the latest trends in interior design. The interior designer Pedro Peña has been in charge of furnishing this luxury home.
In its more than 1,000 built-up meters of interior surface there is room for six bedrooms and seven bathrooms, two professional kitchens, a cinema room, a yoga and gym area, a heated pool, Jacuzzi and a children's playroom. It has a terrace of 410 square meters and there is a separate apartment for service personnel. Its plot, with 2,342 square meters of extension and views of the Los Naranjos golf course, sports a rectangular pool and various rest areas.
Situation: Marbella (Malaga)
Surface: Plot of 2,342 square meters and 1,033 built
State: new construction
Price: €13.5 million
Phone: 951 12 23 13
Estate with hunting ground in Albacete
The farm has an area of ​​more than 1,700 hectares, of which 1,661 are intended for hunting and another 204 are crops. It is located between the towns of Yeste and Nerpio, in the province of Albacete, and borders two natural parks. The farm has several buildings for residential use that were built in 2013. The main house, measuring 736 square meters, is distributed over two floors and has a living room, kitchen and five bedrooms with bathrooms. Then there is another house with two floors and seven bedrooms, as well as three cabins (each one houses a living room-kitchen, three bedrooms and a bathroom), several agricultural and livestock sheds and stables. On the property there is also a well, two springs and a reservoir of 166,400 cubic meters.
Situation: Nerpio (Albacete)
Surface: Plot of 1,700 hectares and 11,500 meters built
State: Well
Price: 10.5 million euros
Phone: 961 15 20 23
Toledo rustic flavor
The Toledo property retains its rural essence and the various buildings for agricultural and livestock work for which it was built last century. The main stone house, which has been restored, has on the ground floor two living rooms with fireplaces, a kitchen with an office, a living room and three bedrooms with two bathrooms. The undercover floor maintains its original state from when it was used as a barn for the storage of agricultural products. The patios and corrals have pebble floors and other original elements that have been restored. Then there is the swimming pool and the old stables, which have been transformed into a porch with the original exposed brick arcades. The house is located in a small town about 170 kilometers from Madrid.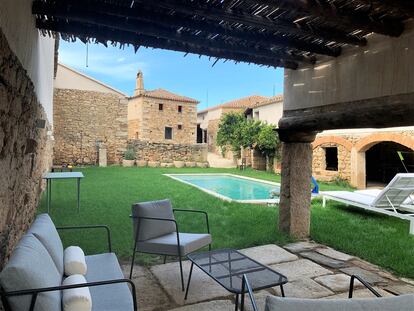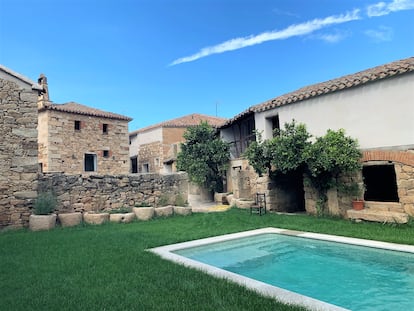 Situation: Valdeverdeja (Toledo)
Surface: Plot of 500 square meters and 1,258 meters built
State: Well
Price: 445,000 euros
Phone: 639 35 57 42
Follow all the information of Economy and Business in Facebook and Twitteror in our weekly newsletter
Five Days agenda
The most important economic appointments of the day, with the keys and the context to understand their scope.
RECEIVE IT IN YOUR MAIL