Santiago Rigoni and Patricia Alda are partly to blame for the boom of the specialty cafeterias in Madrid. They opened Toma Café in Malasaña more than a decade ago and soon similar spaces began to emerge in different parts of the city. Later they inaugurated a second branch next to the Olavide square (Take2) while they continued toasting the product in a Cuatro Caminos location. "The toaster was decorated with antique furniture and beautiful speakers that provided exquisite sound for listening to music. It was my office, I spent twelve hours a day there and, together with Patri, we dreamed of opening it to the public", says Santiago. In June 2020 they made it a reality and very close to Toma2, at Raimundo Lulio street, 16.
Despite having large windows facing the street, the place can go unnoticed. Not like the smell of coffee that invades the entire space and the smell of those who go to have breakfast in the morning. In the back, its beautiful toaster from the fifties is working, some high tables host tastings and in the corridor, the bicycles of the employees rest. At the entrance, the benches against the wall and a minimalist decoration serve as an ephemeral home for those looking to have one of the best coffees and toasts in the city with good background music.
The surprise comes on Fridays when Toma3 transforms into Proper Sound. It is then when Santiago's personal vinyl collection comes to life during the last hours of the afternoon and a menu of natural wines and craft beers prevails over the coffee list. "We always saw Japanese Kissa—small places with a bar where people go to drink whiskey, smoke, and listen to music—as a great source of inspiration. But we have taken this concept to our field, more during the day and early at night", says Santiago.
All the products found here have in common their ethical production, even the ceramic tableware made in its neighboring Táctil space (Santa Feliciana, 14). "Just as I know there isn't an eight-year-old boy carrying a sack of our coffee in Ethiopia, we have natural wines because we don't want any intervention, just grape yeasts and no added sulfites. Most of the wines we have are Spanish, but we also have some from other regions", explains Santiago. The references for drinks, starting at 3.50 euros, are dynamic and change from week to week. Also the little plates they offer to share. In Proper Sound it is not normally possible to book, whoever comes first sits down to enjoy, discover new wines and, with the mobile in hand, use the Shazam -application that discovers the name of the songs- to expand musical knowledge. They usually communicate through their Instagram account the scheduled sessions and the magic of the live performance does the rest.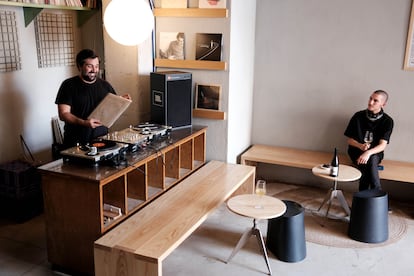 In the same line of good sound, vinyl and risky natural wines is GOTA (Prim, 5). Only here it is complemented by a larger kitchen —open at night on weekdays and also at noon from Friday to Sunday—, and based on the line of its artisan proposal. GOTA started clandestinely last year in the back of Antón Martín's ACID Bakehouse and opened its doors in this new location last April. "Soon it began to fill up daily," says Fede Graciano, one of his partners. The careful and simple decoration by Plantea Estudio, the wines under the supervision of Vicky and Nahuel —also producers of the Pequeños y Salvajes wine project—, a large wooden bar where you can have a drink next to the spinning vinyls and an intimate lounge, give shape a unique environment.
"People want to try new things and we try to have natural wine labels that are not found elsewhere. We change the drinks menu every two weeks and the food menu once a month", says Graciano. But among his salty dishes there is never a lack of fried polenta with kimchi mayonnaise (7 euros) nor in his sweets the ganache specialty chocolate Puchero with olive oil (9 euros). Now for dessert they also have grilled Garnacha grapes from the Pequeños y Salvajes vintage with burnt butter ice cream (8.50 euros).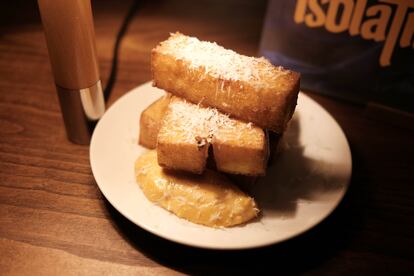 But the bad thing about becoming attached to a GOTA dish is that it disappears after a few days. For the hours when the kitchen is not open there is a letter of snacks with, for example, a terrine with pistachios (10 euros) or a Brioche with chicken liver pate (6 euros). In this establishment it is important to book through its website because, although the high stools are free for the first to arrive, they do not allow those who do not have an assigned seat to stand. "The idea was for it to be like a living room at home, but we don't want it to be a dance venue. That is why we do not accept clients who have nowhere to sit", explains Federico. No bars, no restaurants, no cafes. They are a hybrid model of artisan quality that convinces and engages.
Subscribe to continue reading
Read without limits