'Deluxe' austerity in Paris fashion: why the greats of luxury design dark, basic and protective garments
It's very cold out there. literally and metaphorically. After the fanciful splurges of the first post-pandemic collections, fashion for next fall seems to have suffered an attack of sanity. If the shows in New York and Milan have been a dose of realism, that is, of basic and even austere garments as a response to the recession and uncertainty, the first days of the Paris fashion week have taken the same thing further. idea: there are not only wearable pieces, what in the jargon of the sector is called investment (although in reality the luxury buyer does not usually wear the same garment over and over again). In most of the parades, a feeling of shelter hovers, almost of protection in the face of the current moment.
It was precisely Christian Dior who made his fortune during the postwar period when he presented his new look in 1946, an opulent and sophisticated alternative in a period marked by rigor and austerity. Maria Grazia Chiuri returned to this silhouette with a voluminous skirt and narrow waist on Tuesday afternoon, but with a purpose opposite to that of the founder of the house in which she works as creative director. Beneath a sculpture created for the occasion by Joana Vasconcelos —representing a luminous uterus—, the Italian presented corolla skirts with blouses, Gingham Bar jackets, combined padded skirts, also padded shawls, but also faded effect sweaters or structured coats with tartan print. In short, a revisiting in a feminist key (that is, comfortable and real) of the archive that monsieur Dior created for an idealized woman, but also an update of the dark time in which the couturier lived.
In Chiuri's Dior collection there were echoes of punk and beatnik, subcultural responses that responded to social pessimism with nihilism and rebellion. In fact, the creative director took as a starting point for her creations three women who challenged the social and, therefore, aesthetic norms of the moment: Catherine Dior, the couturier's sister, who fought in the French resistance and went through a concentration camp —Dior dedicated his first perfume, Miss Dior, to her, which was given to guests at the exit—, Edith Piaf and Juliette Gréco who, each in their own way, broke with the canonical idea of ​​elegance and feminine sophistication by dressing dark and austere. Many criticize that Chiuri's bold ideas materialize in garments that are too casual for a renowned brand, but the current fashion trend seems to be agreeing with her: not only because the global trend seems to be going towards the basics, but also because her clothes are Created with the real body of women and their daily needs in mind. Hence, despite the criticism, the numbers continue to prove him right: if LVMH, the group to which he belongs, has broken all records in 2022, it is thanks in part to Dior, his crown jewel after Louis Vuitton.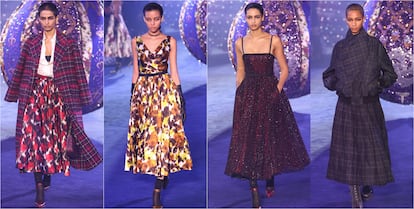 Yes, luxury fattens pockets while the world plunges into crisis. It is not a new dynamic, it is the logical consequence of the polarization of social classes through which the capitalist structure runs. But luxury has not been synonymous with tinsel and splendor for a long time. If Dior makes money by landing his file on the street, Saint Laurent triggers his revenue by proposing a royal wardrobe covered with the aura of the elite. Anthony Vaccarello, his creative director, has long been obsessed with that French bourgeoisie of the seventies and eighties that idolized the founder of the house; that feminine dream, halfway between the impudence of Betty Catroux and the challenge to morality that Catherine Deneuve embodied in Belle de Jourwho stomps in stilettos and wears expensive structured coats off her shoulders.
On this occasion, and giving another twist to that speech, Vaccarello has presented one of his best collections in years. Under some imposing chandeliers that emulated those in the ballroom of the Intercontinental Hotel in Paris—Yves's favorite for his shows—the models walked in jackets with very marked shoulders, high-waisted skinny pants, blouses with bows (the great bourgeois symbol) that fell to the ground, sunglasses and large blankets as shawls, one of the most repeated trends in these fashion weeks that appeal to shelter and protection. Vaccarello, who always plays with combining very few elements to create a powerful image, on this occasion has set aside dresses that are close to the body or tight-fitting jumpsuits. In their place are straight skirts, leather jackets, shirts and coats suitable for any audience that can afford it. Her proposal is attractive and practicable, designed for a client who is attracted to the image that the firm projects and who, at the end of the day, ends up filling her dressing room with coats, blouses and pants. Hence, Saint Laurent has grown by 34% in 2022 (in the first half alone, it had sold 1.4 million euros). Hence, also, that Vaccarello has not needed to parade not a single bag. The items are also sold out.
But if anyone knows about discreet luxury, it's The Row, the Olsen sisters' brand, which has become a kind of cult firm in the sector based on proposing very expensive cashmere basics and other ultra-exclusive fabrics, those types of garments that one imagines filling the dressing rooms of the characters of the series succession. On Wednesday morning they presented their collection for the third time in Paris in a house near Place Vendôme, the epicenter of traditional luxury, and in front of a small group of guests. Once again, the blankets —probably reaching four figures— were wrapped around the bodies of the models in a collection that subtly played at deconstruction (sometimes even reminiscent of the Yohji Yamamoto aesthetic): austere tailored suits over blouses white, long cashmere dresses with asymmetrical necklines or oversized coats combined with wool hats implicitly alluded to that aesthetic that dominated the nineties and the turn of the century and that the Olsen themselves staged: the so-called homeless chic, that is, wearing expensive clothes in order to appear ragged. Ironies of luxury and his clientele.
Reality, without irony or games for millionaires, has conveyed the extremely interesting proposal by Dries van Noten. As he explained in the notes that accompanied his Show, it was about "the love of clothes", those lived-in and worn garments that are already part of the identity of those who wear them and that for the Belgian take the form of coats with a classic appearance but full of small details, in superimpositions of garments or in silhouettes that reinvent and make corsetry practicable. There were old fabrics recovered, prints from his archive, nuances and finishes made by hand.
Despite being famous for his color and pattern combinations, Van Noten has always thought of the end customer. His fashion wears daily and transcends the entire fabric of virality or celebrity culture with which he now battles fashion. His fashion is clothing, in short, that establishes links with whoever wears it, that communicates in an individual and personal way and that does not succumb to the passage of time. That is why the fact that he, the king of colour, decides to take jeans and white shirts to the catwalk is not inconsistent or ironic. That idea of ​​reality and temporary transcendence that the Belgian has been handling for years is what the rest of the renowned firms seem to want to achieve in these strange moments, in which luxury swells their coffers, but is wary of the near future. Suddenly, fashion has its sights set on the long term, proposing basics that, in addition, dye luxury with an austere patina: in a good part of the fashion shows presented these weeks, models have appeared clinging to a blanket that surrounds them.
An image that necessarily refers to another recent one. Just six months ago, Demna at Balenciaga — which had not yet starred in the controversy that aroused her campaign with children — presented a parade, also criticized, that used that idea more literally. The Georgian refugee dressed his models in the same shabby-looking blankets and dark pieces to talk about what it means to have nothing but the clothes you wear and the little you can hold with your hands. Another irony of luxury, although this time, more than intended to sell to a hypothetical new distrustful consumer, it was made to stir consciences and then sell sports shoes.
Subscribe to continue reading
Read without limits