Nina Yashar, the woman who makes decorative fevers: "I am the antidote against standardization. I hate repetition"
The Milanese gallery owner, designer dealer and curator Nina Yashar (Tehran, 65) is interested in unique objects. And that fixation, sometimes, entails her own penance. "Yesterday a client came and asked to see a papier-mâché mirror by Gio Ponti," she explains. "Now he wants to buy it. And I resist the idea, because I know that if I sell it, I will never see it again. I know it sounds crazy, but there is no more!"
That the piece to which he alludes, a rare creation that the Italian architect and designer made to measure for one of his interiors, ended up in the hands of Yashar decades later –before moving on to its next owner– is a fact that sums up the keys to an atypical career in the world of design. Many of the decorative fevers of the last half century have gestated in the head of this scholar, born into an Iranian family dedicated to the Persian rug trade and emigrated to Italy in the early 1960s. At 21, Yashar asserted her judgment. "My father had a very commercial speech and I was attracted to the most special things," she recalls. "So I gathered about twenty pieces and debuted with the first exhibition of kilims that was in Europe. there was only kilims ancient, and all with the iconography of the rose. It was a very formal, very concrete bet, but I had grown up among carpet giants and knew that, at my age, I could not compete with them. So I took a different path, addressing issues that they did not deal with. They were less valuable pieces, but much more interesting."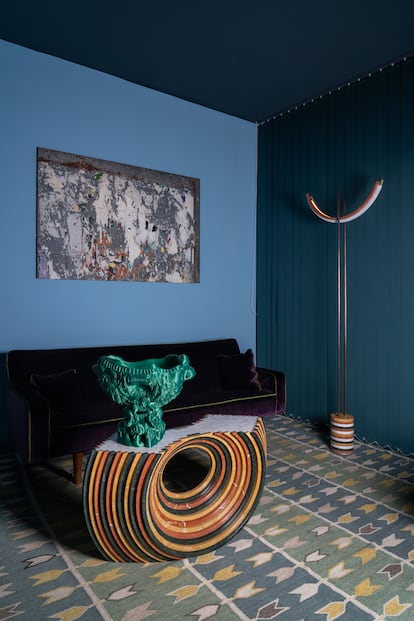 It was 1979 and the project already had a name: Nilufar, in honor of his sister. After the initial success, he settled in full gold ring Milanese and expanded his repertoire with French rugs. The eighties flowed, the nineties arrived and, with a business already consolidated, a turning point came. "I was in New York and I discovered a Swedish rug. I was so fascinated that I went to Stockholm to buy more. One day, to kill time, I visited a dealer who sold Scandinavian furniture. I liked them and bought about 15 pieces, having no idea what they were. When I got to Italy I showed them to an acquaintance, and he told me they were exceptional. There was a cabinet by Alvar Aalto, from the Paimio sanatorium, and a wonderful table by Hans Wegner. So he opened an exhibition of Swedish rugs and Scandinavian furniture in 1998, before the midcentury Nordic became fashionable. I was a pioneer in that too! That's when the fever started, and I started shopping in a bulimic way."
The interview with Yashar takes place in Nilufar Depot, the building inaugurated in 2015 whose industrial architecture, inspired by the Teatro Alla Scala, accommodates 1,500 square meters of different installations with furniture, objects, and works of art. These compartments, compartmentalized almost like showrooms or rooms in a house, are an ode to the art of juxtaposition. Yashar mixes designer furniture—literally, from all the designers who matter in design in the last century—with one-of-a-kind pieces, antiques from all over the world, rugs, sculptures, and objects fresh out of design school. "I like to create unexpected scenery. Now everyone does it, but I was the first. He mixed Tibet with India, Eames furniture and Aubusson rugs. My first books were titled Crossings, because I am interested in the intersections between different worlds and I love the contamination between styles. I like to baffle the public. I am the quintessential antidote against standardization. I hate repetition."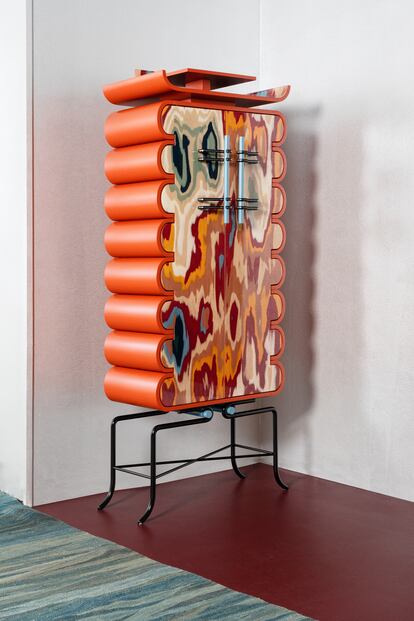 On the steel beams that support this industrial structure, small QR codes lead the visitor to profusely documented room sheets —author, date, materials, dimensions, price— and frequently updated: each time a piece is sold, it must be replaced by another. another, in an infinite combinatory chain that illustrates the encyclopedic vocation of this project. "I always push research to the limit," he says. "For example, it took me four years to put together the pieces for my Lina Bo Bardi exhibition. The conservator from Casa do Vidro even came to certify and authenticate all the pieces, and we organized a conference for one hundred people, because in this space it is possible".
The other space, Nilufar Gallery, remains where it always has been, in a location on Via della Spiga, enlarged and renovated in 1999 by Giancarlo Montebello. The turn of the century was also one of business growth, spurred on by successes like Scandinavian furniture, and later by Yashar's nose for emerging talent. Today consolidated designers such as Bethan Laura Wood or Martino Gamper took their first steps in this gallery.
Among her recent signings is Audrey Large, a young British artist —she just turned 30— whose functional sculptures, made with 3D printing on a material reminiscent of silk, are something like crystallizations of a computer bug. "I have bet a lot on her, because I am fascinated by how she uses such modest material with a very powerful technique and discourse. Perhaps ten years ago she would not have understood it, but I like to follow the course of time and the present. I am very happy to have encouraged her to develop her work and to transform herself from it. I have spent three years explaining to her that it was important to change the scale of her objects, because she could not spend her life doing nanetti (dwarf). And oh, I love those nanetti and, in fact, I have several at home, where I don't put anything in, but my work manages to make him consider ever higher horizons. Now he has made a bookstore and I am happy, because there are already two museums that have acquired his pieces".
Getting to the museums can be an extra gratification, but Nilufar's day-to-day life is built by clients who have trusted it for decades. "Before, there were art collectors who had wonderful million-euro works hanging on the walls, but then their furniture wasn't up to the same level. Today, luckily, things have changed, and those clients buy important and expensive pieces, which in any case will always cost much less than a work of art. Those collectors want pieces with a pedigree, unique items that are increasingly difficult to find. And then there is 80% of the public, who investigates and loves the design, but seeks to solve real needs, a dining table or some chairs".
His publications demonstrate this demand, authentic anthologies of design in a sector in which, except for a handful of star names, there are still no catalogs or exhaustive monographs. In recent years, this editorial activity has been transferred to the Nilufar website, a database like few in the world of furniture. In that sense, the name Nilufar Depot is delightfully misleading: to store all its holdings, better assorted than those of many design museums, requires a much larger warehouse. "Of course, this place has allowed me to grow, expand my vision and take on projects that I wouldn't have known where to put before," he points out. "It doesn't matter how much space you have anyway. It always ends up being too small for me!".
Subscribe to continue reading
Read without limits