Invest in summer to take advantage of it in winter: 'Indoor/Outdoor', the decorative trend that eliminates space problems at home
In 1959, the Danish architect and designer Bodil Kjær (Horsens, 1932) changed the history of furniture forever. With the idea that a round design arises in response to a need, she devised for the American market one of his most memorable collections: Indoor/Outdoor. This pool of furniture, created together with the Boston company CI Design, for use both indoors and outdoors, answered a simple question that was on Kjær's mind: "Why have two sets of furniture when one is enough?".
This question was the driving force behind a series of prototypes in teak material inspired by the compact forms of cubism. They remained outside for several days on a porch facing the Atlantic Ocean, with the aim of testing their resistance to inclement weather such as humidity, sun rays or wind. Manufactured uninterruptedly for 25 years (and relaunched by Carl Hansen in 2018 as BK 10-15), this line of furniture disrupted the way of understanding garden furniture and its use relegated to the dry season of the year.
The search for open and green spaces in homes that confinement promoted, together with the need to optimize space in homes with the implementation of teleworking (more activities in fewer square meters), has turned Kjær's formula into an intelligent way to understand the decoration in homes. The proposal is simple and easy to execute: invest in furniture and objects that can coexist in both spaces, reduce seasonal changes to details such as crockery or textiles, and opt for resistant materials that are also sustainable by prolonging their use over time.
Here are some ideas to optimize physical environments with a beautiful design that prioritizes comfort.
1. The side table joker
What in summer can serve as a table for lunch on a terrace or even on a balcony, in the colder months accumulates endless uses inside the home. From a coffee or reading table to a flower stand under a bright corner, or as a desk for the little ones. The choice of materials will determine its versatility; natural rattan or rope, for example, are resistant to sun and rain, and are very light to transport (in the image, Ander, from The Masie, for 429.95 euros).
In enameled metal (like this H&M table, for 19.90 euros) they can be recycled as a support table during the fall, in an industrial room or with a sober decoration. Synthetic materials such as polypropylene with an anti-UV finish are ideal for gardens or open spaces that experience long hours of exposure to the sun. In a matte finish (such as the Kailua table, by Gato Preto, for 90.30 euros) and neutral colors, they are easy to combine in any room, even as auxiliary furniture in a bathroom or bedroom.
2. Cordless portable lamps
These 21st century lanterns and lanterns allow you to illuminate any corner, inside and outside the house, with a simple gesture. They have no wiring and are recharged via USB, allowing several hours of autonomy without external electrical installation.
With a curved design created by the Reverse Consultancy studio, reminiscent of a basket due to its wooden handle, the Ridley lamp by Kave Home is already a contemporary icon. This summer it evolves with a flattened shape and metal in Tea (55.99 euros), which offers a warm LED light that will travel from the gazebo to the sofa as a reading light in just a few seconds.
3. Synthetic fiber rugs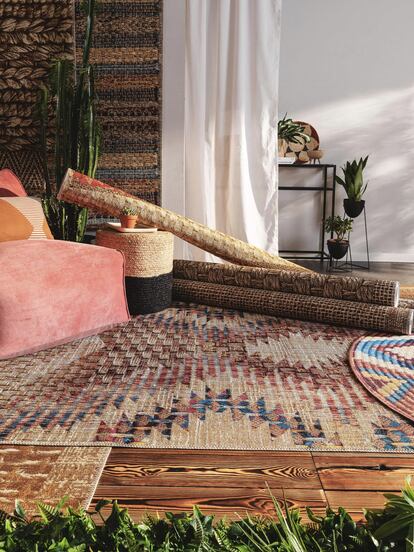 After functional furniture, rugs are the largest objects in a home and take up many centimeters of storage when not in use. Not for this reason we must stop joining the trend of decorating outdoor corners with them as a chill out, as long as we choose them in beautiful colors and textures to add to the interior decoration of the house when the summer ends. In bright tones and geometric shapes, they can even become a children's playground.
When choosing the material, it is better to lean towards the fake than for the original. Synthetics such as polypropylene (in the image the Kenya model from Maisons du Monde, starting at 72.95 euros) that repel water and with UV protection, or formulas eco friendly made from recycled plastic bottles (Assouel, by Kave Home, for 113.99 euros), they will withstand both inclement weather and a birthday earthquake in the kitchen.
4. Long live the 'waitresses'
Created in the Victorian era to transport the tea service, they reached their popularity (and best-known function) at the beginning of the 20th century as a bar cabinet. Alvar Aalto's 1936 design known as Trolley 901 (reissued by Artek a few years ago) transformed it into an icon, something that would continue over time with new models in the hands of the style middle century.
After several decades in disuse, they are making a strong comeback due to their functionality and, above all, their easy transport in different environments, such as from the kitchen to the living room or directly to the pool. When the cold arrives, it will serve as a portable cupboard to organize the dishes or store spices and all kinds of table companions. In the image, waitress Hiba from La Redoute Interieurs (130.98 euros).
5. A mountain of chairs
When configuring a dining room, the number of diners that we imagine at specific moments is the great determinant of space. But during the day, in reality, it is much less in proportion to the number of chairs that we choose. The same thing happens abroad, with the addition that they are only used a few months a year. The solution to have enough seats in a busy summer table without taking up space the rest of the time is to resort to lightweight folding chairs that can be stored vertically.
The white "monobloc" chair, that plastic classic from beach bars created in 1967 by industrial designer Vico Magistretti, has evolved into more contemporary and appealing designs. The giant Ikea is a master in the matter. Its Torparö seat (29 euros), inspired by the perforated metal chairs of the seventies, is an affordable and beautiful option to save space thanks to its applicable structure in powder-coated steel and plastic. Easy to maintain and fits in any space.
6. An original fire pit
LED solar torches are an easy alternative for those looking to include the warmth of a flame in the garden. But if you have the space and are looking for a more realistic effect, copper braziers dating back to Ancient Rome are a rising trend. In addition to providing dim light, they are a mobile heat source for warmer nights.
When they stop fulfilling their original function, they can be transformed into a bar table if they include a top in the same material (like this Terrain model, available at Anthropologie for 990 euros). In the case of not taking it, it will be enough to incorporate a glass of generous thickness to serve as a table for snacks and drinks in the living room.
7. A couch where you can do (almost) anything
The divan, that light bed without a headboard in which to lie around and read during the day (or even psychoanalyze), has been seducing man since its origin, back in the 8th century in Turkey.
Outdoor daybeds became popular in the seventies of the last century under bamboo structures, with a bohemian design that is resistant and withstands temperature changes well. Although they crack due to rain and light, their durability is not affected, acquiring a very suggestive old patina.
When the good weather arrives, they become synonymous with endless naps in the shade or as a recreation area, as well as an auxiliary seat when visitors proliferate. Indoors, the uses multiply, either as a bench for the hall or a seat on which to leave the clothes at the end of the day. In the image, WestwingNow Blond divan that includes white upholstered cushions (859 euros).
8. The seat of the new millennium
The year 2000 brought in decoration an unusual love for plastic, retro-futurism and sack seats popularized as poufs. After being forgotten for several decades, they now return with more refined forms, but equally comfortable, to once again become the favorite seat for afternoons under the sun.
This Zara Home design (available in gray and cream for 99.99 euros) stylizes its squashed shape and includes an outer pocket to store a book or the remote control. When not in use we can easily move it to the living room thanks to a rear handle in the same fabric. A perfect seat to rest (alone or with pets), watch a movie or just do nothing.
9. From sculptural vase to summer jar
As easy as changing its content and location. Alone or with bouquets, a simple borosilicate glass container can go from being a vase to a water jug ​​or a wine decanter for summer tables under the sun. The Gato Preto Miami model, available in two sets of colors (blue and orange or one hundred and grey), fulfills all these functions for only 9.99 euros.
10. A nomadic bank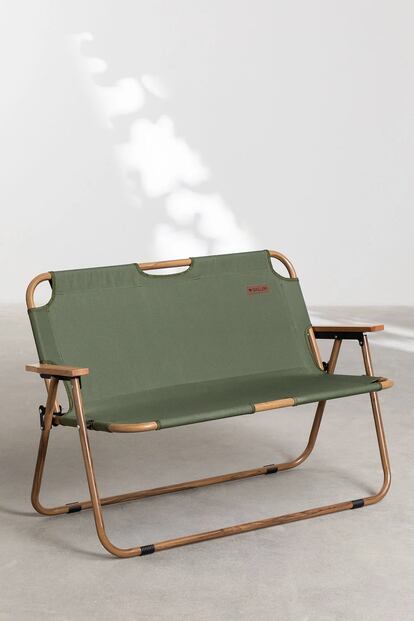 If stackable seats are the essence of a house that seeks to save space, structures that allow them to fold completely are the easy and light way to make them disappear in plain sight. Giancarlo Piretti, with the pioneering chair Plia from 1967 or the interpretation that Jasper Morrison made decades later with the model Folding Air-Chair are some examples of designers who have fallen for its functionality.
Normally linked to compact materials such as polypropylene and fiberglass, folding seats made of steel and fabrics resistant to light and moisture are a classic in furniture for camping that can be recycled indoors. This folding bench by Sklum upholstered in Oxford fabric (124.95 euros) does not require cleaning, and it fits both in a night under the stars and in the hall of a house. When it is not useful we can hide it under a sofa or a bed.
Subscribe to continue reading
Read without limits